Bring the countryside home
By Shelby Simon
Photos provided by Laura Jones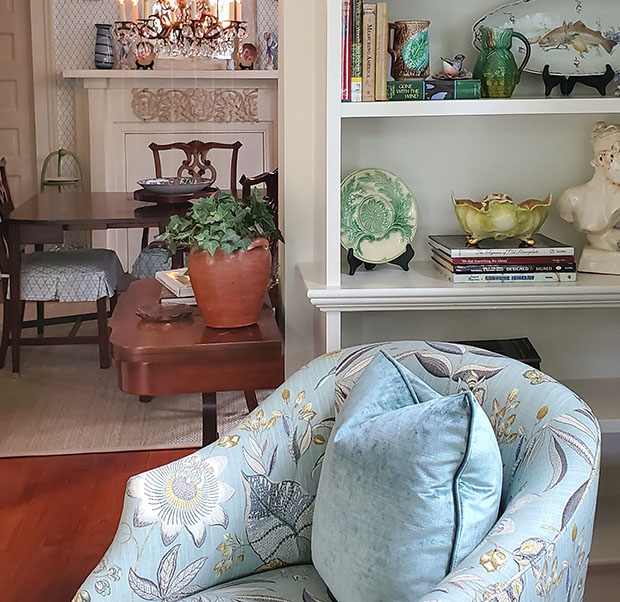 Born out of a desire to visit a "time gone by," the cottage core interior design trend embraces a sense of nostalgia for the simple comforts of home: a refuge from the high-pressure, technology-filled world we occupy.
The use of the "familiar" defines this style—elements that evoke coziness, sentimentality and timeless simplicity—coupled with nods to the architecture that first inspired the cottage aesthetic.
"When nations and kingdoms built great cities, castles and estates, the styles were mimicked in the countryside by the people of the day. It was a way to have the stylings of the very rich, but in a more simple form and with elements found locally, rather than imported from afar," says Laura Jones, owner of full-service interior design firm Laura Jones & Company based in Summerville.
The inspiration for cottage or provincial design can come from so many countries around the world, Jones says, but the trends most commonly found in South Carolina reflect the styles of English or French country homes, as so much of the region's heritage was shaped by those countries. In the Lowcountry, the proximity to the coast has influenced a popularity in coastal cottage-style homes.
Nearly any color palette can work to pull off a cottage aesthetic in the home, says Jones, who has been practicing interior design in the Lowcountry for nearly 30 years. The grounding of the style, however, should be in the home's architecture and existing accessories used in the space.
Once these things are established, the filling in of other furnishings can begin.
"The upholstered pieces and window treatments are the places where a color or pattern play can be assigned. The elements of cottage design incorporate small details in the fabrications and accessories around the house, like trims and passementeries. Again, the materials and resources are 'familiar' and classic."
Incorporating items with an emotional tie into your space, such as inherited family pieces, whether they be furniture, linens, China plates, silver, paintings, rugs and more can work as an excellent springboard for cottage-style inspiration.
If you're starting from scratch, it's not all about having a high budget: for "cottage core," personal items you may already have can complete the look.
Though naturally finer furnishings come with a matching price tag, there are always ways to get around with a lesser budget, particularly by utilizing and repurposing everyday items that may already be on hand or previously loved.
"Finding a sweetgrass or wire basket, a painted stool or something completely unexpected to use as decoration adds an element of surprise or conversation to the space," says Jones. "I love the idea of finding painted tole trays and decorative China plates to display on walls, or wall brackets with interesting found objects to create a certain pattern."
Decorative pillows, she says, can be the "jewelry" in a room where the pizzazz is needed to complete the look.
Mirrors and artwork can create "wall-scapes" where needed. Jones says mirrors are especially good accessories to use when added light is needed to reflect or add depth to a smaller room. If used outside on a porch or in a garden room, the mirror should reflect the garden and add to the overall coziness in the space.
Toiles or story board prints, ticking stripes, checkers, floral prints and small mini prints of fabric are additional elements Jones often uses in cottage core design. She loves incorporating window treatments to warm up a room, and even suggests using wallpaper — which has made a big comeback — as a great way to introduce patterns.
"With the right combinations, these time-tested elements can transform a space into a welcoming cottage," says Jones. "The idea of using ordinary things in decorating is where the treasures lie."