Creating Kitchens and Baths That Work
05 Feb 2016
Where do people spend the most time in their homes? The kitchen and the bathroom are surely top contenders, and if those rooms aren't right, the whole house feels off. If you're not sure whether you want to invest the time or money for a renovation, or even a whole new room, these professionals' enthusiasm may convince you.
By HELEN MITTERNIGHT, Photos by JIM SOMERSET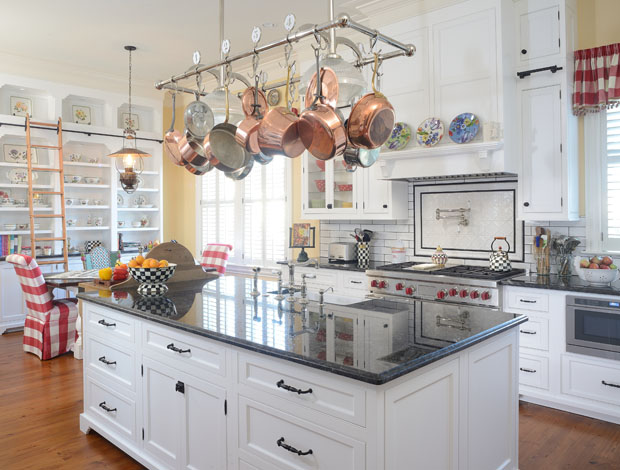 Authentic Kitchens and Baths Concepts
Rejean Gregoire and his son, Jonathan, have been working together at Authentic Kitchens and Baths for 17 years out of their West Ashley office. Gregoire moved to Charleston from Quebec and, in 2000, he opened the business, hiring his son as designer and field supervisor.
For a recent project on Daniel Island, Gregoire installed the cabinetry and countertops throughout the newly constructed house, including the kitchen, bathroom, entertainment center, and library -- a big job in a house that is about 6,000 square feet.
"The first step is once the plans are done with the architect, we have a meeting to get an overall look at the house," Gregoire says. "We ask the customer what kind of style they have, then we show them preliminary designs at a follow-up meeting."
This project called for maple inset cabinetry with a painted white finish. The countertops are granite.
In order to get the most storage, Gregoire built cabinets that went all the way to the top of the 11-foot high ceilings. To get to the top shelves, Gregoire suggested a library ladder that moves on a track all around the first floor.
"This is something I proposed, and they liked the idea," Gregoire says.
This kind of innovation is what keeps the job fresh for Gregoire.
"It's exciting because every project is different. All the customer's houses are different, and it is exciting to work with these people and try to pinpoint exactly what they envision for their home, and then come up with something that they would love," Gregoire says.
Authentic Kitchens & Baths Concepts
2457 Ashley River Rd., Charleston
(843) 852-9407
authentickitchenconcepts.com
Classic Remodeling & Construction
Sometimes circumstances force a remodel before the customer is ready. That's the case with the Callahans, who live in a Mediterranean-style house on James Island.
The family had lived in the house about four years and had wanted to redo the kitchen, someday. When an icemaker leaked all over the kitchen, someday got moved up to the present.
Classic Remodeling had done a project for the family a few years earlier, so it was natural for the Callahans to call owner Bob Fleming again.
Classic Remodeling will have been in business 26 years in August, and provides full service remodeling, from screen porches and decks to kitchens, baths and room additions.
"With remodeling, it's just a totally different way we function. We're in the client's home with their pets and their kids and all their belongings, interacting with the client every day, which is helping us control that expectation from beginning to end," Fleming says.
In the Callahan home, project consultant Krista Scheider says the icemaker leak required replacing the floor and subfloor, but at least it provided the opportunity for some improvements the family wanted.
"We pulled out all the existing cabinets and we worked with the interior designer to make it really open. We added a huge island with six barstools around the island so the whole family can sit in the kitchen. They definitely like to cook a lot and they like to have everybody in there with them," Scheider said.
The island is set up for teens who like to be connected to their technology.
"We did these cool outlets that recess down into the island countertop with USB ports and power, so the girls can sit there with phones and iPads and hang out in the kitchen. And we ran speakers in there, put a TV in the kitchen, and solar shades. They basically live and breathe in that kitchen," Scheider says.
The kitchen also features a coffee station with a built-in coffee maker, and a china hutch so the Callahans can display some of their nicer pieces.
"A full kitchen remodel such as this one can take 10-12 weeks, and we offer a one-stop shop where clients can pick out everything they need for the remodel," Fleming says.
"I love working with the client to change from something old and outdated, and then you get to the end and you transform their whole living space," Fleming says. "We become part of the family. I have clients tell me, 'I'm glad you're done, but I'm sorry to see you leave'."
Classic Remodeling & Construction
1832 River Rd., Johns Island
(843)763-3297
classicremodeling.com
Coastal Design Builders
Alan Wheeler, owner of Coastal Design Builders, wears three hats: he's a designer, builder and general contractor. His versatility was helpful on a recent project, when what started out as a swimming pool wound up as a whole new kitchen.
Wheeler was at a Summerville home discussing the costs of adding a swimming pool. When the wife heard what a new pool would cost, she gently reminded her husband that the house had a really old kitchen.
"The husband thought a minute," Wheeler recalls. "Then he said, 'Okay, honey, I will postpone the pool and we'll do the kitchen, but I have one requirement. It's got to be a badass kitchen.' He wanted the best of the best."
Wheeler immediately used his Computer Aided Design (CAD) program and created a three-dimensional drawing of the bare kitchen, then had the owners fill in a wish list of what they wanted to have.
The wish list included a gas cooktop with professional-looking knobs on the front to replace the old electric one, stainless steel appliances to replace the black, a wall oven with a microwave above and a bigger island to replace the small, mostly decorative island they had.
"There was a long opening between the family room and the kitchen, so I brought down a knee wall at 42 inches and put a granite eat-at counter there. They wound up with much more counter space," Wheeler says.
Pendant lights over the counter and under-counter lights gave the kitchen much more light than the old one had. He also helped them select a tile backsplash, simple Shaker-style cabinets and painted cabinets for the island.
Wheeler won't start a remodel until the cabinets are delivered because that is usually the main item that will hold up a project's timing. Once the cabinets are delivered, Wheeler begins the actual remodel, which can take about four weeks.
Wheeler prides himself on livability during the remodel. For the Summerville family, which had two middle-school children, Wheeler and the owner worked together to create a snack center by moving the old refrigerator into the dining room and setting up a table. The family also was able to create rudimentary dinners with the old microwave, the refrigerator and the coffee machine all in the dining room.
"What happens in these kitchen jobs is the man of the house winds up taking the family out for dinner several times a week," Wheeler says. "The ladies love that."
Coastal Design Builders
P.O. Box 71102, North Charleston
(843) 300-9383
coastaldesignbuilders.com
Mevers Kitchen and Bath Design Studio
Billy Mevers has been installing cabinets and countertops and doing remodeling for 13 years from his Mt. Pleasant shop.
During a recent project in Ion, Mevers was asked to do cabinetry for an entire new house, including a kitchen.
Designer Leslie King recalls that the owners first built a carriage house, where they stayed until the main house could be built.
"They went over all of the details and floor plan with us, and we took them to a couple of jobs that Mevers had done. They had an idea of what they wanted to do, a coastal feel with lighter cabinets and a different color island. At first they were going to go with plain white cabinets, but when we took them to a job (we) had done at Isle of Palms, they saw cabinets done with a glacier effect—it gives almost a brush-stroke look—and they fell in love with that," King says. "They picked the finish and the door styles and the hardware and let me know the specifications of all the appliances they were using."
King says the family wanted an open kitchen.
"They were thinking of family and entertaining when they were building the kitchen," she says. "They wanted a large island with a prep sink so they had a lot of seating and a lot of room to prep things. They also had very high-end appliances like a Subzero refrigerator and a Wolf range."
Mevers says this kind of show-stopping kitchen is one of the reasons he loves what he does.
"It's a gratifying feeling to take an old crummy kitchen and turn it into a really nice showplace kitchen," he says. "It's just the satisfaction of the customers. We have very satisfied customers and a very good reputation. It's the satisfaction of a job well done."
Mevers Kitchen & Bath Design Studio
630 Johnnie Dodds Blvd., Mt. Pleasant
(843) 277-9734
meverskitchens.com
Signature Kitchens and Baths of Charleston
When a hunting lodge becomes a primary residence, there's rustic and then there's too rustic. That was the case with the Branham home in Vance, SC.
Jim and Linda McLain, owners of Signature Kitchens and Baths since 1977, were brought in to make the former hunting lodge more of a home for the Branhams who love to cook and entertain.
"They said, 'Come and look and see what we're trying to do.' We were charged with getting them an updated, modern, functional kitchen in a log cabin," Jim says.
"We were working in a log cabin with a very open floor plan, trying to mesh it into an existing space with overhead timbers and make it look like it would fit and blend in with the log cabin," Linda adds.
The McLains provided built-in refrigeration, a professional range, wine storage and a microwave drawer. The Branhams had asked for adequate ventilation, so the McLain team replaced the recirculated micro-hood with a dry stack stone hood, vented to the outside, and built right around an overhead beam. The stone complements a stone fireplace in the family room.
The renovation also brightened the kitchen area with light granite countertops and a full height granite backsplash selected to complement the rustic cherry cabinets.
A huge, dark island with rough stone sides was replaced with a more streamlined island, distressed and painted with a lighter color and outfitted with deep pot drawers.
The family was able to live in the house during the remodel, which took only three weeks.
Jim says that Signature doesn't start a project until all the material is received and staged in its warehouse. Once the job is started, the work is continuous, and Jim says Signature takes great pride in delivering jobs on time and on budget.
"Every project has special design considerations, special logistical considerations. Sometimes, I sit up at night and I lose some sleep, figuring out how to get it done. I love meeting a schedule," Jim says.
"He doesn't miss on his schedules," Linda adds.
Signature Kitchens & Baths of Charleston
1926 Savannah Hwy., Charleston
(843) 571-5735
signaturekitchens.net