Silver Lining
15 Jan 2016
A remodel to the dining room, family room and kitchen give this home an update that enhances its use and makes it more livable
By ROB YOUNG » Photos by JIM SOMERSET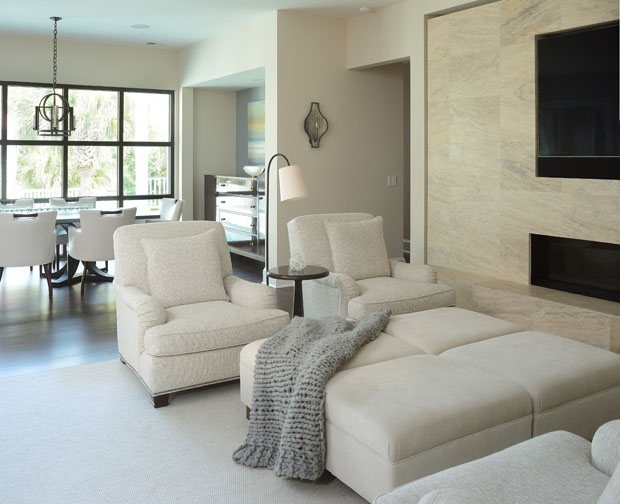 At Swallowtail Architecture, lifelong friends Rachel Burton and Virginia Rogers comprise a formidable team.
Burton's professional experience includes home design and renovations, commercial design services and community design services, but she has come to love residential work and specializes in Aging in Place design and Character Lots. Rogers, who also possesses a degree in architecture, specializes in interior design, deftly devising serene, sophisticated, sanctuary-like spaces that emphasize comfort and light punctuated with impeccable furnishings and art. Together, the two seamlessly integrate interior design and architectural design to produce sublimely crafted environments with a rarefied attention to detail in a broad range of styles as they create truly immersive, collaborative projects alongside their clients. The Summerville firm's versatility is well known, as its work stretches across the Lowcountry, including designs in Mount Pleasant, West Ashley, North Charleston and Charleston, and coastal properties dotting the surrounding islands.
Case in point: the home of Cindi and Kerry Solomon on Sullivan's Island. Swallowtail Architecture helped spearhead the renovation, which wrapped up around Labor Day 2014. The Solomons had moved into the home 11 years prior with their two sons, then ages 5 and 8. The house seemed perfect then. The boys shared a bedroom on the second floor and space was sufficient. "As time went on, we had collected ideas and decided we needed a change," Cindi says. "We wanted a room to sit and be together, and a larger area to entertain. We really wanted changes that would enhance the way we live in the house."
Character Building
With the Solomon family's home, Swallowtail sought to accomplish a pair of goals. One, Burton and Rogers wanted to integrate inside and outside spaces to maximize the site's features. "Before it was a home where the focal point was more interior-facing despite the fact that it wrapped around the pool," Burton says. "We wanted to reorganize a sequence of spaces, starting from the front door, to the foyer, living room, new dining room and pool deck, to really re-focus life around the pool."
Secondly, the home required an overall renovation to better reflect modern family living, including updates to the kitchen, bedroom and bathroom areas. "We wanted to create a kitchen where you could prepare meals and hang out with your family to ensure that we had a modern, integrated space," Burton says. "We updated the private spaces in the master bedroom suite and bathroom so it felt more like a spa. Again, it was the integration of both these ideas pertaining to the interior and exterior, and continuity related to the materials, texture and space, that truly allowed a vibrant renovation."
One of the Swallowtail's calling cards relates to character buildings and character lots. These projects are defined by the special adherence and attention that is required to the building's unique traits or the lot's unique surroundings. "We develop many atypical projects on lots that may involve unusually shaped sites, or perhaps ones that necessitate specific requirements related to the marsh or trees," Burton says. "These may be renovations for historical projects."
Those concerns do not necessarily separate Swallowtail from other architecture firms. But it is the way in which Swallowtail gathers requirements, or builds the project, that allows Burton and Rogers to distinguish themselves. "It's really easy to have a project with higher levels of design work fall apart, perhaps due to budget, schedule or any number of pieces," Burton says. "We've developed a system to ensure success that encourages a lot of fact-finding or the collection of information on the front end."
This process begins with a robust initiation and planning phase that accounts for multiple options and risks, an analysis that allows homeowners to make fully informed choices. The reasoning is simple. "It's easy to make changes or modify the design on the front end," Burton says, "as opposed to jumping in fast and making expensive changes when the project is underway. We're very thorough in the design phase with our character projects to permit our clients to review all the factors and make decisions with full knowledge."
Or as Rogers puts it, "It's a mitigation strategy so that after it's completed you don't end up thinking you didn't get the house you wanted, that you didn't get your dream. That is the costliest mistake of all."
Conscientious Design
Swallowtail impressed the Solomons from the outset. "An engineer recommended that we give (Swallowtail) a call as we were preparing to renovate. (Burton's) work came well-regarded," Cindi Solomon says. "We found Rachel to be very capable and very detail-oriented. She was actually the only architect that we spoke to. We were confident in her approach, and considered her quite conscientious."
The renovation included closing in the screen porch and converting it into a dining area. The dining room, they made into an office. The removal of shelving in the living room expanded the area, allowing for a true family room. A section of the kitchen was transformed into a music room with a piano and comfortable seating. Plus, the kitchen window was widened to permit additional light and a better view. It amounted to a much improved, livable home.
"With our renovations, we really take a feminine approach to design," Burton says. "Virginia and I love creating spaces that become the centerpieces of a good home. Our feminine intuition and a holistic design approach synthesize function, aspiration and aesthetics so our rooms are easy and comfortable to use, as well as a joy to live in. We have all heard about architects who design what they want and create kitchens that are difficult to use, or bathrooms with inadequate space and light for personal grooming. In contrast, we listen to our clients and give special attention to both the practical and the aesthetic design of their kitchens, master bathrooms, and other private spaces. You will fully enjoy cooking and hanging out in your kitchen, your bedroom will be soothing and sumptuous, and your master suite will make every day feel like a day at the spa."
As a bonus, the renovation also has allowed Dr. Kerry Solomon, one of the area's foremost eye doctors, to spend more time at home. In 1996, Solomon performed the first LASIK procedure in South Carolina. Today, his many responsibilities involve teaching. "The office is huge to us. It's been really important because my husband works late hours," Cindi says. "He does a lot of editing of surgical videos for teaching purposes. It's a super room next to the kitchen that allows him to do that work at home."
In sum, the Solomons' main goal was truly achieved. They reduced stress and clutter, and are able to enjoy a more stress-free home life.
"I think Rachel took pride in what she was doing and what she was designing and building for us. She was much more conscientious than what we could have asked for," Cindi says. "She was very in tune with how we would use the house, and she made sure the changes were going to enhance how we would live inside the home. It was important to maximize living space and develop ways to best enjoy the house."
Several Specialties
Swallowtail specializes in Character Lots and Aging in Place design. Character Lots are those with a unique feature or distinct character that makes the design of a home on that site more difficult as that unique character must be integrated into the design of the home. The site could have significant live oak trees, or magnificent views of the marsh or ocean or both, or have an existing historic cottage that may not be demolished. It could have a very unusual shape, or be in an historic area with zoning bylaws created to protect the district. Swallowtail's special skill and expertise with design on Character Lots maximizes the potential of the lot so that after construction is completed, the client has the satisfaction of feeling that their home fits perfectly, and that it looks like it was always meant to be there.
Aging in Place design takes into account issues like low maintenance, accessibility, flexibility, low operational cost, and ease of use. But while older Americans may need flexibility and accessibility in the design of their homes, they do not want their homes to look or feel different. Swallowtail designs buildings that integrate features for flexible living into beautiful, comfortable homes that can accommodate life's changes over time.
Architecture in a Small Design Firm
In order to design homes that clearly match their clients' wish lists and budgets, Burton and Rogers have created a design office that implements a unique process of project management which includes direct personal attention to all of their clients through the entire design process, complimentary consultation on lighting, finishes and color selections, and a thorough pre-design analysis. This process gives the clients the best information at each decision point, allowing them to consider their options and make their best decision, producing the best design possible. The final result is a growing list of deeply satisfied homeowners who thoroughly enjoy their lives in beautiful, well designed, and thoughtfully considered homes.
Resources
Swallowtail Architecture + Interior Design, 843-885-9400, swallowtailarchitecture.com