Creekside Treetop Village
08 Jun 2021
The perfect mountain getaway
By Christine Hennessey
Photos by Ryan Karcher – Karcher Aerial Imaging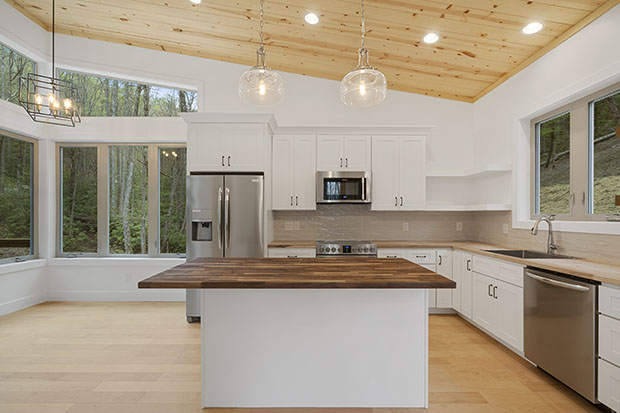 Dave Bauer had a vision.
As president of Westmark Development, a multi-state enterprise involved in real estate development and related businesses, he was used to thinking big and seeing the potential in unique, one-of-a-kind properties. Then he set his sights on The Divide.
"About 25 years ago, Westmark Development bought Bald Rock located in Sapphire, NC, which is the sister community adjacent to The Divide," Bauer says. "It was 800-plus acres of complete wilderness at the time, so we proceeded to develop it, and fortunately, it was very successful and sold out several years ago. Somewhere along the line, The Divide came up for sale, and because of its topography, we saw an opportunity that was a bit different from Bald Rock but was equally as exciting."
Located adjacent to the U.S. Forest Service's 6,300-acre Panthertown Valley in Sapphire, The Divide at Bald Rock offers the best of North Carolina. It boasts 244 pristine acres of mountaintop forest, glades, lush foliage, streams, cascading waterfalls and magnificent mountain views, and is located in the heart of the Blue Ridge Mountains at the center of the Lake Toxaway, Cashiers and Highlands resort areas in western North Carolina. Just two and half hours north of Atlanta and one hour from Asheville, Bauer knew it was the perfect location for Westmark's next mountain community.
A Mountain Modern Home
"The Divide is basically a big lopsided bowl," Bauer says. "It rims the eastern continental divide and Panthertown Valley in the Nantahala National Forest up to 4,500 feet in elevation, and it all drains down into Little Hogback Creek. Because of the topography of The Divide, the creek never runs dry, not even during a drought. It's been gurgling and burbling this year with great enthusiasm. As we say here in North Carolina, it's a bold creek."
More than one-half of The Divide has been sold to date and homes built range from 1,100 to 4,500 square feet. No two lots are the same—some offer long-range views, while others offer wilderness views. Most of the homes that have been built are traditional mountain-style homes with an emphasis on natural mountain materials. Regarding the 20-some acres of The Divide that adjoins the Little Hogback Creek, however, Bauer wasn't happy with what they were originally doing.
The Creekside area is thick with beautiful poplar trees, which can live to be over 400 years old. "We have some that are 120 years old, over 100 feet high, just gorgeous trees," Bauer says. It was these trees that first sparked his vision for the Creekside Treetop Village at The Divide.
"I'd been reading about treehouses, and that seemed interesting, but I'm a tree nut and I didn't want to pound nails into my poplars," he says. "I got to thinking, well, what if we nestled some smaller homes, I'm talking 1,100, 1,200, 1,400 square feet, in the area around the poplar trees. What if we built them in a way that made it feel like you were in a treehouse without actually having to damage the trees."
Bauer's vision for the homes that would be built in this unique Creekside area included 18-foot soaring ceilings with lots of glass, while still retaining the rustic feeling for which the area is known. He brought in designer David Sandlass, who shared his vision for what Bauer had begun calling a "mountain modern home." "David nailed it," Bauer says. With a treehouse-inspired design in hand, it was time to begin building.
Developing the Creekside Treetop Village
Russ Henkel is the North Carolina operations manager for Westmark Development. He is also a licensed builder, and part of his responsibilities include managing Westmark Construction Company of North Carolina. He came to the company as a property manager seven years ago, after having owned a construction company of his own. When Westmark decided to get into the construction business about five years ago in North Carolina, Henkel was the natural choice to run it. To date, over nine homes have been built by Westmark in the community, with several more now under construction and in the planning stages.
"I've been building in Highlands-Cashiers for almost 40 years and have worked with a lot of different builders, a lot of different styles," Henkel says. "Appalachian log and timber frame homes, traditional mountain cottages with 14-pitch roofs and cedar shakes, in-between houses that still have that mountain cottage look, and now Dave's new idea for this mountain modern treetop house."
As they design and build mountain homes, each one is unique, because each home must be designed to fit the lot on which it is built. "That's the thing about the mountains," Bauer says. "Here, we have room to really differentiate the homes. You also can't replicate a house on another lot because the topography is so different."
Henkel agrees. "Whenever someone wants to build a home with us, we start with their ideas and see what they want; then we look at the lot. The lot indicates a lot of the design process and how the home will actually be built."
Even though Bauer's vision was unique, building the first home in Creekside Treetop Village was a familiar process. "We just started scratching things out on drafting paper, coming up with different ideas," Henkel says. "Then we passed it on to David Sandlass and he took it from there. Some of the ideas came from him, some came from us. In the end, the design looked like what Dave had in mind when he first envisioned the project, and we went with it."
"Taking a vision in your mind and putting it into wood that you live in is an interesting process," Henkel adds, laughing. "Fun, but interesting. It's a lot of pieces."
When those pieces add up to a home like those in the Creekside Treetop Village, however, the time and energy spent getting the design just right is more than worth it.
"The whole idea was to bring Mother Nature inside the house," Bauer says. "When you walk through it, there's so much glass and the ceilings are so high. You see the trees, you see the mountains, you see the creek and you really feel like you are one with nature."
The Perfect Getaway
Bauer originally marketed the new Creekside Treehouse community to young professionals from nearby urban areas who wanted a place for a relaxing weekend getaway but were not going to be full-time residents. Now that they have built the first treetop home, which has already sold, Bauer has found that his vision has a broader appeal—anyone and everyone is showing up at The Divide, and with good reason.
The Creekside Treetop area features zero lot line properties, which offers homeowners a maintenance-free lifestyle. This means the time spent in their weekend homes is a true mountain escape with all the luxuries of modern life. "Instead of buying two acres of land, you're buying .6 acres of land," Bauer explains. "The deal with that is that each of these Creekside mountain modern cabins are on their own lot, and the surrounding area will then be common property of the Creekside Association that all homeowners in the community can use. We have a former North Carolina conversationist putting in trails; we're building a pavilion where people can sit by the waterfall. There are huge boulder fields, some the size of small homes, to explore and a common fireplace area. All of it wrapping around the bold Little Hogback Creek. Those are just some of the amenities that will be available to anyone who buys a treetop home."
Bauer is well aware of what makes the land so special, and he knows not to mess with a good thing when he sees it. "Most folks are coming here to get away from it all, to get some elbow room," he says. "We have been very, very careful to not disturb Mother Nature any more than we absolutely need to. When you come to our developments in the mountains, you're going to get a wilderness experience in a comfortable setting. We call it the 'Civilized Wilderness,' because you've got luxury, you've got safety, you're 15 minutes away from great restaurants, but when you're in your house up on the mountain you can really escape the world. I always say to people that when I go through the gates, I take a deep breath and just go 'whew.'"
"Whew" is a good word for the Creekside Treetop Village, both for the beauty of the homes and the natural wonder that surrounds them. "When you stand inside the house, you really do feel like you're in a treehouse," Bauer says. "The soaring ceilings, the balconies, the sound of Little Hogback Creek booming right behind you—it's perfect."
Proof that the right vision is worth the effort.
Home Builder: Westmark Construction Company of North Carolina, LLC
David Bauer, President
828-743-7077
www.WestmarkConstructionNC.com
Home Design: Genuine Designs
David Sandlass
828-883-2580