Designers in Residence
07 Jul 2016
Coastal chic or bohemian, fresh and clean or classical with a Charleston twist, the interior designer's footprint creates home — or hotel lobby, or restaurant, for that matter — like nothing else. Whatever one calls the result when it's wrapped, it's the transformation of environment that can recast people's experience of space into something wondrous, joyful, or simply comforting and restful.
Here are two Charleston designers whose work has recently spread beauty to place, and by definition, to life.
By SYBIL FIX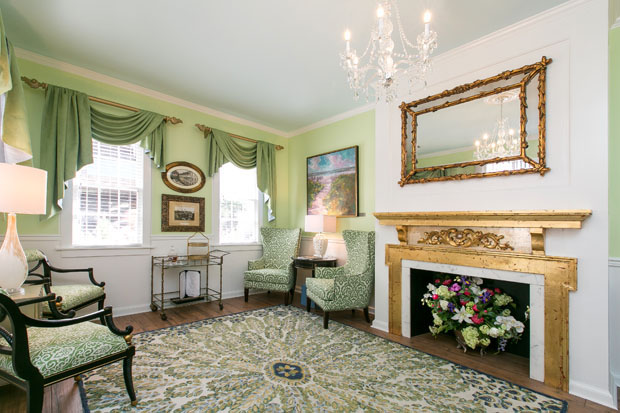 Whitney Hinson
Dogwood Designs by Whitney
843-532-5514
Photos by NICKIE CUTRONA
Whitney Hinson came to interior design through the path of real estate sales in the Charleston area. While selling houses she'd offer suggestions here and there—her take on spaces or colors and layouts of rooms or fixtures. Builders of new developments would ask her what buyers wanted or were looking for, and she realized she had a natural sensibility for it all.
"It came very easy to me. I was good at creating a visual and cohesive look ... and it was very rewarding," Hinson said.
From making suggestions about colors and fixtures, she began giving greater guidance on making more cohesive choices for a home look—something less random and more thought-out—until she was working on layouts for homes from the ground up. Her organizational skills and ability to break down and make decisions regarding every component of a home helped give structure to her strong aesthetic sense.
As most designers like to say, Hinson, too, lets client preference guide her work, but she does not shy from professing a natural inclination toward what she calls "coastal chic," a look she defines as Cali-style with a little Bohemian and a little Charleston, a little eclectic, with a bit of French country but not ornate. Reminiscent of the coast and earth, but elegant and sophisticated.
"I have an appreciation for many styles, but I like clean lines and things that are meaningful in a house," she said.
Her own home, a 3,800-square-foot, five-bedroom house in Hamlin Plantation in Mount Pleasant, remains the best model for Hinson's work, characterized generally by a neutral palette with some blues and greens, clean, airy spaces, and an organic feeling.
In furniture she favors Steven Shell Living's (stevenshellliving.com) pieces, natural, unpainted solid wood, and her own bedroom, what she calls her sanctuary, features several—from a giant chest to the oversized bed.
"Their style is the epitome of what I want to do in my home," she said. "It is timeless, good quality but not stuffy, chic but welcoming. It's well put together without feeling stuffy or pretentious."
Her affinity for Steven Shell's furniture carries into her greater design business, which she runs via word of mouth. She renovated a master bedroom for a client in River Watch and used several of his pieces, including a bed with an upholstered headboard. Though that client favored pieces that were a bit more detailed and ornate, overall, she said, "most of my clients look for cleaner lines and calmer spaces ... The feel is still very natural and earthy, organic ... I feel very in synch with my style, the feeling of coastal chic."
Having three young children lends her a sense of practicality and an eye for things that survive well in a well-trafficked home. Her bed is sturdy and big enough to accommodate the whole family, including jumping dogs and kids.
"I am very good at choosing rugs and things that will last in your home and still be beautiful," she said. "Just because you have children doesn't mean you need to wait to have a beautiful home."
Though she had committed to taking a bit of a break for her children, who are toddlers and pre-schoolers, she recently accepted a new home design job in Murrell's Inlet. She thinks her organizational skills will carry her through the task.
"I love the client relationship," she said, "... and I love what I do!"
Yvonne Gregory
Yvonne Gregory Interiors
843-708-3535
yvonnegregoryinteriors.com
Photos by PATRICK BRICKMAN
At the age of six, a vivacious Yvonne Gregory was already spellbound by the art of interior design and decoration. Living in the beach suburbs of LA at the time, she took to rearranging the living room furniture of her parents' early, post-war bungalow, and her room, too. It was not long before she asked her mother for French blue paint to repaint her room, and eventually materials to antique her furniture.
"I loved to constantly move the position of the books, vases, and other knick-knacks to see if I could find a more pleasing arrangement. I was older before I started rearranging the art on the walls," Gregory said. "Things did not always remain where I left them, but that just made it more challenging for me!"
Off to a good start, she studied art and worked as a technical illustrator in the aerospace industry until she became a designer. Over the past three decades working here in Charleston, but also in LA, New York, and Idaho, Gregory has done jobs big and small, commercial and residential, from designing multimillion dollar homes to helping people with color matching, floor plans, and furniture rearranging. She has also worked for national builders designing their model homes, and five of her models have won PRISM Awards (which recognize the finest projects and outstanding achievements of builders, developers, project owners, architects, land planners, marketing/advertising firms, interior designers, remodelers, and other professionals in the home building industry).
She calls her work a passion, and a helping one at that.
"To make people happy is fun, and I have always enjoyed it," said the allied member of ASID, the American Association of Interior Designers. "Sometimes people don't know what they want and I help them figure it out... I cannot imagine not designing something every day!"
Though she prides herself for not having a personal design style—something she likes to let be guided by the taste and style of her clients—she has a penchant for making sure things are prettier when she leaves them than when she found them. Among others, she loves gilded fireplace mantels; she reclaims the old and bastardized, as she calls it, takes them back to their roots, and gives them a new and fresh veneer.
A recent project of which she is proud is the newly renovated lobby of the Elliott House Inn, a 26-room condhotel on Queen Street, built somewhere in the late 1800s. Its lobby, built around the 1930s, Gregory said, had likely been redone in the 1980s, but was badly dated.
"It was dark, dingy, faded and cluttered. It felt like a cave," Gregory said.
Stripping the old black wall paper and rust-colored window treatments, and embracing new colors—among them apple green, white, and a touch of Haint blue, which is used in Gullah culture to keep bad spirits from entering homes—Gregory set out to give the lobby an airy, refreshed, and comfortable look that she describes as "updated traditional meets coastal chic," a mélange of Caribbean and Charleston and their shared histories. A few new pieces of furniture mingle with a repurposed sideboard, an accent table, and some recovered chairs.
"It gives a completely different first impression now," said Gregory. "I think that people arriving there can feel like they have come to the end of their journey and they are in a happy place."
Managed by a hotel management company, with owners traveling a lot and many different guests in and out, the Elliott House Inn lobby sees lots of wear and tear, and it was long overdue for a makeover, said Gregory.
"You don't want it to look like somebody's old living room. I was very pleased," she said.
But the makeover was more than an impersonal professional experience for Gregory: serendipitously, she stayed at the Elliott House Inn on her wedding night more than twenty years ago. She still has fond memories of the evening and a good marriage to show for it.
"I've always had a soft spot for the Elliott House Inn," she said, smiling.