The Outer Banks
07 Jul 2016
Don't forget about our own Carolinas treasure of a destination. You'll find a bit of everything on these islands – especially, a relaxing good time in a spectacularly beautiful location.
By KATIE MCELVEEN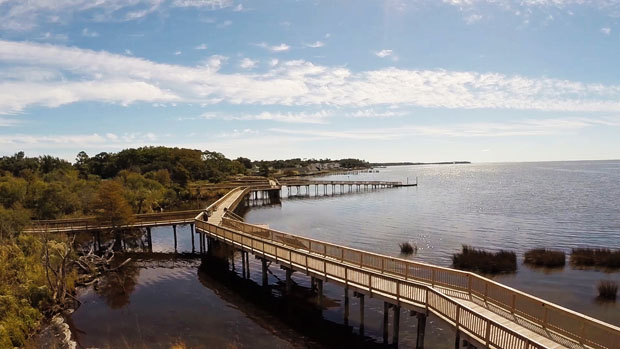 No matter where you start, it seems there's no efficient way to get to the Outer Banks. With rivers to cross, sounds to skirt, peninsulas to negotiate and bays to traverse, the route to North Carolina's fabled coast often looks more like an old connect-the-dots puzzle than an actual driving plan. But once you arrive, it's hard not to be taken in by the landscape: mile after mile of rugged, windswept coastline hemmed by skyscraper-sized sand dunes runs up against a churning ocean topped with whitecaps. It's remarkably powerful, mesmerizingly beautiful and capable of making you forget just how much longer it took to get there than you thought it would.
My first visit to the Outer Banks was in the 1970s, when my parents rented a tiny A-frame house on a creek. There were wild horses, we'd heard, roaming the beaches, and although we never spotted them – we were too far south – we spent a blissful week splashing at the water's edge on empty beaches, buying fish as they came off the boat, and catching crabs with a string, chicken necks and a net. Twenty-five years later our family returned, this time with my own daughter, who was a baby at the time. We were amazed at the changes – real grocery stores, actual shops, a traffic light and brand-new beach houses with big decks, ocean views and plenty of room to roam. We were shocked by the traffic around Nags Head and Kill Devil Hills, but once we hit the two-lane road in Southern Shores that meanders to Corolla, were delighted to find that the beaches were still empty. We searched in vain for the mysterious wild horses, but all we saw were signs telling us to watch out for them.
Fast forward to a cool spring day in 2016. I was alone, driving back to the Outer Banks to see what had changed in the last couple of decades – and maybe, finally, catch a glimpse of a wild horse.
My first stop was Sanderling Resort, a 120-room luxury resort in Duck. Back in the 70s, Duck was nothing more than a stopping point for surfers on their way to the even more remote northern beaches around Corolla. Today, it's a collage of upscale, laid-back shops, bars and restaurants that ramble along Currituck Sound, offering craft beers, boat-to-table fish and sunset views. Sanderling, too, has changed. Although it's always been lovely, a recent top-to-tails renovation that included rooms, restaurants and the spa has transformed it into a destination on its own.
There are a variety of hotel rooms (some have kitchenettes) as well as beach houses; my ocean-to-sound-view room had decks overlooking both the Atlantic Ocean and Currituck Sound, a massive marble bath with a spa shower, a separate living room with a fireplace and a s'mores kit to be used at one of the resort's firepits. Located at the top of a private twisty staircase in the Beach House building, it offered easy access to a welcoming bar that, in the morning, was stocked with free coffee and tea. There are several restaurants on the property as well, including the Lifesaving Station, where you can eat homemade granola and pancakes in a restored 1874 building that was actually used to assist shipwreck victims and distressed swimmers. At Kimball's, the resort's sound-front dining option, chef Dan Grunbeck has brought diverse experience from kitchens in Charleston (Peninsula Grill), Aspen (Little Nell) and other resort cities to the Outer Banks, where he's having delicious fun with local ingredients. A shrimp appetizer, for example, arrives alongside a slab of foie gras, the whole thing glazed with bourbon sauce; pimiento cheese enriches grits, and ocean water from 100 yards away is used to make mozzarella cheese. There's a new spa, too, offering innovative treatments like hydromassage, which pummels sore muscles with thick jets of water, and the Island Oasis, a two-therapist escape that pairs a facial and foot massage for an hour of bliss.
Beyond the beach, the Outer Banks is filled with a fascinating history that includes pirates (Blackbeard roamed the treacherous waters), shipwrecks (more than 3,000 vessels sank off the coast, which is often called The Graveyard of the Atlantic), interesting geographic elements (those huge sand dunes) and aviation (Wilbur and Orville Wright launched the first airplane from Kitty Hawk). It's also the site of The Lost Colony: a group of men, women and children who landed on Roanoke Island in 1587 and vanished without a trace less than two years later. Theories abound about their fate―I explored them at the visitor center at the Fort Raleigh National Historic Site, which occupies the area around the settlement and is filled with interactive exhibits, relics unearthed at archaeological digs and remarkably informative staff members, who were happy to share the importance of seemingly insignificant finds. If you have time, stick around to see a performance of The Lost Colony, a live-action play that tells the story of the colonists. It's been performed at the park's outdoor amphitheater since the 1970s.
Roanoke Island is also home to the Elizabethan Gardens, a 10-acre oasis of boxwoods, camellias and other lush plantings created to honor the colonists, and Manteo, a stroll-worthy village that sits on the banks of the Roanoke Sound. As you make your way into the many boutiques that line Elizabeth Street, remember to save time to visit some of the town's unique offerings, including Nancyware Pottery, Wanchese Pottery, several funky antique shops, the general store and Full Moon microbrewery, where you can grab a Lost Colony Ale. If you prefer liquor to beer, make your way to Kill Devil Rum, a distillery that opened in 2015 in an old furniture store. Try a sip of the Pecan Honey Rum, which is made with local pecans and honey, and don't forget to ask about the leftover pecans, which, if the owners have time, are toasted, candied and sold for snacking.
A mile or so after passing the Currituck Beach lighthouse, the single roadway that runs from Cape Hatteras to Corolla abruptly ends. From that point to the Virginia Line, about 12 miles away, the only way to get around is on the beach in a four-wheel drive vehicle. It's also the only place to see the region's famed wild horses. Hoping that professional help might improve my horse-spotting track record, I booked a wild horse tour with Corolla Outback Adventures, which has been leading tours into the wilds of the Outer Banks since the 1960s. Jay Bender, who owns the company with his mother, told me that although the 80 horses are free to roam the tip of the island, a fence keeps them away from the roadway. The horses are descendants of Spanish mustangs who swam to shore 500 years ago when their boat got caught in the shoals and sunk. Thanks to concerted efforts of locals and the Corolla Wild Horse Fund, the herd's DNA has remained pure; this year, a breeding program with another herd of wild horses will diversify the genes and keep the horses healthy.
As Edna, my guide, steered our Land Cruiser over sand speckled with tree stumps, she explained that we were driving over what was, centuries ago, a maritime forest. "Those stumps are 600 years old," she noted. "The salt in the water preserved them." We also left the beach and searched the area behind the dunes, a vast tract that stretches from the ocean to Currituck Sound. Although much of the land is public, some is part of a preserve owned by the Benders and not accessible by other tour companies. Still, we found nothing. "Gus usually hangs out here," said Edna, speaking of a stallion. "I can't imagine where he is today." As we drove, she shared horse stories from decades of living on this part of the island. "They're wild and beautiful and it's still thrilling to see them," she said.
Unfortunately, I still don't know that thrill. After three hours of driving, we saw gorgeous vistas and lots of deer, but not a single horse. We blamed it on the pouring rain. "Come back," said Edna. "This is only the second tour I've given in 20 years where we didn't see a horse. They must have been hanging out somewhere dry."
I'll take her up on it. It will be another excuse to return. Only, next time, I won't wait 25 years.
For more information visit:
sanderling-resort.com
corollaoutback.com
outerbanks.org