Designing a Lifestyle
04 Jan 2018
Marc Camens answers the right questions when creating a couple's unique Seabrook beach house
By ROB YOUNG » Photos by JIM SOMERSET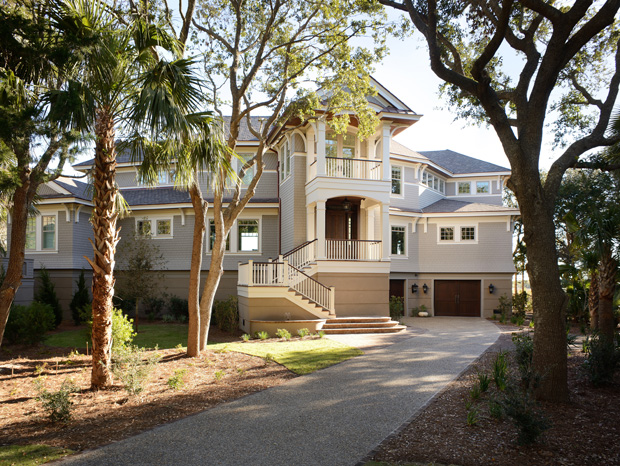 Marc Camens operates as one of the area's most cerebral architects, far more interested in how his clients live, as opposed to what his clients may want. For instance, many designers or architects may be inclined to ask the simple, rote questions: How many bedrooms do you want? How many bathrooms? Open concept: yea or nay?
Instead, Camens—the principal at Camens Architectural Group on Johns Island—takes a different tact. He asks his clients, "How do you want to live?" From there, it's an open discussion. "What I do—I ask everyone to do a little homework, and discuss among themselves. "How will they cook? How will they relax? Who will be the users: kids, family, guests?"
The discussion triggers a compelling dialogue, with Camens the quintessential moderator. "If you skip that step, you have no information on the clients' relationship to those spaces, or how they interact," he says. "But once they figure out how they live, and if you ask people what they want in a house, it allows you to create something beyond the norm."
Finding Seabrook
For couple Patrick Higgins and Julianne Bigelli, Camens made for the ideal collaborator as the pair sought to construct a new home in the Charleston area. Theirs was a fortuitous connection. Pat and Julianne had researched Charleston area architects online, and Camens' designs immediately resonated with them. Then the couple asked a realtor friend, Mike Carrigan, for recommendations, particularly concerning Seabrook and Kiawah islands. Carrigan didn't hesitate. "Marc Camens," he said.
The couple traveled to Seabrook Island often, and aimed for some time to build a house on the water. "We used to vacation there years ago with the children," recalls Pat, who is semi-retired from the biotechnology industry. "Our kids learned how to ride their bikes just down the street from where we were living. We just loved the quietness." There, they found and bought a gorgeous lot buttressed by marshlands, but puzzled over how to put a house on it. "There were a couple of issues, an impediment with the marsh that we would have to build around, and a protected oak tree," Pat says.
Fortunately for them, they had an advantage. "That's sort of my forte—difficult lots," Camens says.
Once they all met, the conversation flowed naturally, as they bonded over pasta and good wine, drawing comfort from Camens' and Julianne's common Italian ancestry. In fact, Pat and Julianne decided not to bother interviewing additional architects. Shortly afterward, they invited Camens to their spacious New Jersey home to learn more about them. "For three days, he got to know us and it helped to develop an easy relationship throughout the entire design process," Julianne says. "It was a challenge for us because we were doing this from a long distance, but our relationship made for a very casual, rewarding process."
The J-House
The home's design also came naturally—at least for Camens. "I began diagramming the plans and drawing amorphous, bubble-like schemes. The design became obvious when I took paper to pencil," he says. Together, they titled it the "J-House" for obvious reasons. The house is shaped like the letter because it was built on a J-shaped lot, but also serves as a fun wink at another J … Julianne. While challenging, it made for a unique design and construction, and allowed for a remarkable home. "We embarked on the house to maximize views and create an interesting space, and it evolved into a 'J'," Camens says. "The views are spectacular. They overlook the marsh, and the breach between Seabrook and Kiawah. You can see the ocean, and the inland marsh and waterways that we captured by the layout. Every room in the house has a view of the ocean."
The exploitation of space was important in several ways actually, as Pat and Julianne sought to downsize from their 15,000-square-foot home to a 6,000-square-foot home on Seabrook. "We really had to figure out how to maximize our living style," Pat says. For instance, the original design called for a large outdoor terrace area that was to be screened in. But to create a more livable space, they instead installed windows and giant, sliding doors, which still allows for quick exterior access. A stone fireplace and hot tub complement the setting. "People really love the terrace," Pat says.
The ceilings—another of Camens' specialties—helped add scale. Camens treats ceilings as if they were a fifth wall, granting texture and depth to each of the rooms. "It's absolutely breathtaking. It makes him stand out from the average architect," Julianne says. "It's just the passion he puts into it. I asked him if he dreamed in design, and how he came up with these homes that have so much detail. It's just incredible."
To Camens, it just comes down to making the most of every opportunity. "All the people are different, and all the sites are different," Camens says. "So it's simple. You don't miss an opportunity to make a house unique."
Bringing it Home
Home builders Steve Bennett and Jedd McLuen from Bennett McLuen Homes, the firm tasked with bringing the design to life, rounded out the partnership. "That became our focus with Steve and Jedd, and I couldn't give them anything less than stars," Julianne says. "They turned over a finished product with a minimal punch list, and then it cleared it immediately."
Among the many impressions: the trim details and arches, the kitchen for Julianne's cooking, the way in which space flows freely from one room to the next, the reclaimed wood on the porch, gorgeous stairwells, and stone work and tiling, which comprise the five- en suite-bedroom home. Pat and Julianne did their best to interpret the home along with New Jersey-based designer Sandra Ennis. "We wanted something that was light and airy, but something that was more sophisticated than the average beach décor," Julianne says. "It's a little bit of north and south."
The remote coordination of the design and build was not an issue for Pat and Julianne either. The couple and Ennis would fly down monthly for site visits, participate on conference calls, and review the status reports and photos provided by Camens' and Bennett McLuen's teams. "The communication was great," Pat says. The entire process lasted approximately 16-18 months, as the home was readied for residence in October.
Pat and Julianne retain another home in Eden, Utah, in close proximity to the ski slopes both enjoy, though they plan to spend March through June in Seabrook. Ahead on the South Carolina horizon: walking the beach, tennis, golfing at Briar's Creek on Johns Island, and combing the area for restaurants.
Their home here will serve as an anchor, and upon that anchor a brass plaque attached to the home to commemorate and celebrate the design and build. "We mentioned to Marc that every artist signs his work, and that we'd really like to have his signature, especially based on the relationship we had and our common Italian heritage," Julianne says. "Marc knew a gentleman in Tuscany, and we had a plaque made up that translates to 'beach house' in Italian, engraved along with the Camens Architectural Group signature, and the date we bought the home. It was truly a masterful job."
Resources
Architect: Camens Architectural Group, 843-768-3800, camensarchitecturalgroup.com
Builder: Bennett McLuen Homes, 843-209-7820