Reimagine your space with thoughtful home renovations
By Monica Kreber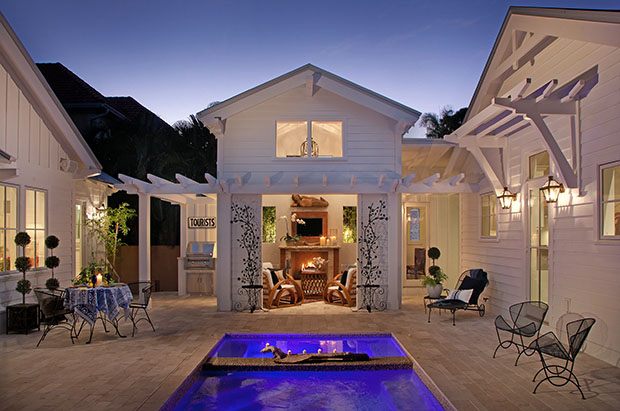 Dreaming of a new space, or a new feel to your home? From major home renovations—including adding square footage—to simply repurposing and reimagining what you have already, these local companies offer the highest quality of products and service to make your dreams a reality.
The following companies are experts in their fields, bringing experience, knowledge, passion and stellar customer service to each client.
MHK Architecture & Planning
60 Broad Street
Charleston
843-566-3577
One of the beautiful things about taking on renovation projects is being able to take a design and actually see it come to life.
MHK Architecture & Planning excels in many styles. MHK takes on major renovation projects – from designing projects in the mountains of Greenville and Aspen, Colorado, to coastal styles in tropical South Florida.
MHK has offices in seven cities in the country and is excited to open a new office at 60 Broad Street in Charleston. André Bellerjeau, Charleston director, said the team has already had a presence in Charleston and is excited to open a downtown office in 2021.
Bellerjeau said what makes the Charleston market special is it is a hybrid of home designs – whether it is lake, coastal or marsh.
"We believe in being entrepreneurial, and focusing on the client experience," he said.
Client relationships are crucial; Bellerjeau said a happy client is the ultimate goal by the end of a project.
"When a client sees that you're having fun, that you're connected well with the people you work with, that's an endorsement right there," he said.
Team members recall a particular renovation project in Florida –their second project ever after establishing the company in 2009. This renovation was designed by Steven Jallad, director of residential design for MHK out of Naples.
The cottage was built in the early 1900s and embodies the roots of "old Naples" – which MHK wanted to preserve. These bungalow-style fishing cottages are a sort of trademark of Naples.
"We wanted to maintain that aspect," Jallad said. "Over the years, other kinds of architectural influence kind of crept in and took over, so this was an opportunity to really get back to the roots of the town."
MHK's client purchased the house with the idea to flip it. Renovations started in 2010 and took about a year to complete.
The goal was to create a much more open living floor plan. The cottage's kitchen, dining and living rooms were initially split up, not really opening up to the center of the space.
MHK had to get two permits for the property – one for the renovation of the main house and one for the addition of the guest house in the back. There was a structure on the corner of the lot that was formerly a garage which was transformed into the guest house.
The main focus of the design was for someone to be able to walk in through the front door and get a view of the courtyard and pool area that separates the main house from the guest house, and to make a more open, airy space in the main house.
The MHK team took the right side of the house and transformed it a great room plan, with the kitchen, dining and living room flowing together to create that open space. They bolted the entire ceiling using the existing roof line.
The bedrooms are to the left when someone walks in through the front door; MHK created a new master bedroom that faces the pool. With the renovations, the new main house went from under 1,400 square feet to 1,670 square feet and the guest house added an additional 1,000 square feet.
Bellerjeau said he finds designing homes to be the most intimate form of design. MHK communicates regularly with its clients and aims to provide them with an unforgettable experience for their most important space.
"You're working on people's dreams," he said, adding, "You end up having great close relationship with clients and they refer us and that's why we're very successful, because the clients refer us, and that's an endorsement itself."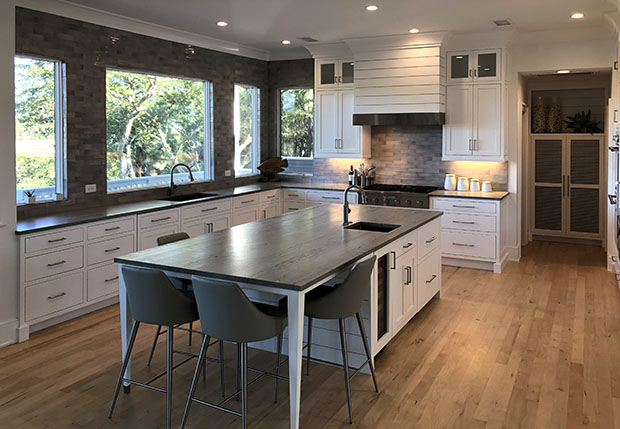 Mevers Custom Kitchens
630 Johnnie Dodds Blvd. B
Mt. Pleasant
Mevers Custom Kitchens is in its 19th year as a family-owned business focusing on providing upscale kitchen remodeling projects, but its roots go much further.
The company owners are the third generation of home renovation experts in the Charleston area. It is owned by father-son duo Billy and Chris. Billy started the company in 2002; Chris was a college student at Clemson University at the time.
"Our family has been involved in renovations through the Charleston area for the past 60 years," Chris said, adding this family effort originated with his grandfather, and led to him to an interest in woodworking and remodeling. "I grew up around it and (was) always helping with projects around the house."
The company works with homeowners throughout the Charleston metro area and is committed to client satisfaction. Chris said he enjoys a great feeling of accomplishment when they complete a job – and takes particular joy in clients being happy with their work.
The company also enjoys reimaging spaces that take advantage of the Lowcountry's special landscape.
Mevers Custom Kitchens took on a project the past year to help make a kitchen in a Kiawah house a little more updated for the client. Once these fun kitchen renovations were completed, a local homeowner was able to enjoy a more upscale kitchen with a view of the marsh.
The project was built by George Bunch with Local Building Partners and designed by Jill Frey of Jill Frey Kitchen Design.
The overall goal was to bring the house more up to date with a transitional styling for the client. This older Kiawah house is set on the back creek. The renovations consisted of working with a reverse floor plan, meaning the kitchen is on the second floor. The kitchen and bathrooms were all remodeled, with construction starting in January 2020 and lasting about six months.
The kitchen now features Mouser cabinets, which are inset door-style, and brought in elements of shiplap material from other parts of the house into the island and the oven hood in the kitchen. There are cabinet-paneled appliances to help them blend in with the cabinetry.
Chris said he enjoys the whole process of remodeling. He and other designers handle the projects from start to finish – from meeting with the clients, to designing the layout of the project, to selling and managing the project.
"We're very involved in the project, start to finish, rather than handing it off to people down the line," he said. Chris said he likes to work with both the client and contractor and encourages clients to be proactive when it comes to being involved in the project.
His advice to homeowners wanting to take on a kitchen remodel is to start with one central item in the kitchen, like a cabinet color, and go from there on making other selections – and the sky is the limit.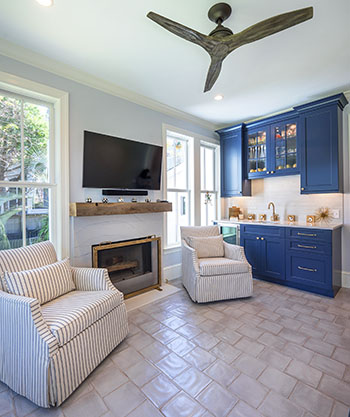 Classic Remodeling & Construction, Inc.
1832 River Road
Johns Island
843-763-3297
Classic Remodeling offers a full-service design/build approach with a team of highly-qualified designers and craftsmen. From their location on Johns Island, homeowners can see everything from cabinets and countertops, to faucets and tile.
Classic Remodeling & Construction takes on high-end residential projects ranging from full kitchen and bathroom redesigns to whole house renovations and additions. Classic Remodeling is known as Charleston's premier design-build firm, and owner Bob Fleming said his team prioritizes building a strong relationship and trust with clients.
"When that trust and relationship is established early on, the renovation process is smoother and more enjoyable," he said.
Fleming advises his clients considering a renovation to research companies being interviewed and make sure they can provide the type of service they are looking for – and his company promises a certain level of service.
"At Classic Remodeling, we provide a turnkey design-build experience," Fleming said. "Our goal is to try to make the process of remodeling as easy as possible for the homeowner."
Fleming said he has always had a love for solving puzzles. As a child, he used to mix several puzzles together and try to solve them all at once to make it a little more interesting.
In high school, his hobbies included woodworking and cabinetry. He spent some time working for a builder in Mt. Pleasant, where he was tasked with final punch lists. Once he graduated high school he headed to Clemson to study architecture and building science, and eventually moved back to Charleston to start a business with a partner before creating Classic Remodeling, which has been in business for more than 30 years.
Fleming recalls a particular renovation project at a Mt. Pleasant house in mid-2020, where his team was tasked with giving the master bathroom of one residence a much-needed upgrade and converting an existing screened porch into a sunroom for the owners.
The home had a screened porch off the back that the homeowners rarely used. They wanted to turn it into more of an all-seasons room that could be enjoyed year-round. The master bath was also outdated and needed a fresh look.
The sunroom now features a gas fireplace, and a bar area with blue cabinets and brass hardware that really make the bar a focal point in the room. The windows provide ample natural light and allow the homeowners to still enjoy the backyard views.
In the bathroom, the design team flipped the locations of the vanity and shower. The bathtub was eliminated altogether. The new layout allowed for a larger tile shower, featuring a corner bench seat, additional handheld showerhead and barn-style glass shower doors. The double vanity provides ample storage. The neutral color palette gives the room a calm, relaxing feel.
Renovations took about two months to complete.
"Seeing the finished product was so rewarding because we were able to exceed all of this clients expectations for the project," Fleming said. "We were able to transform both areas into places that the homeowners are able to use and enjoy."
Fleming said it is always satisfying to see the end product of a project.
"No matter the size of the project, it is always so rewarding to know that you played a part in making someone's dream a reality," he said.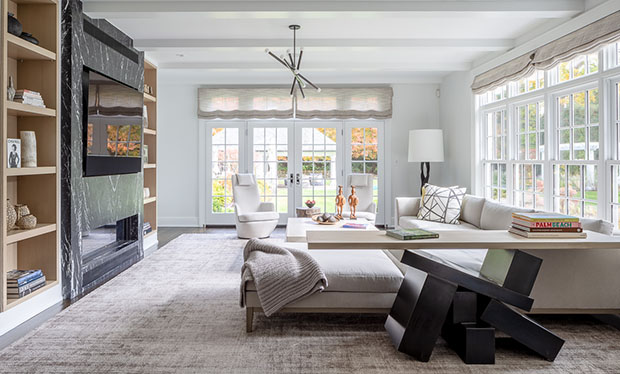 L&M Custom Carpets and Rugs
(843) 225-1727
A huge perk to providing custom-made work is forming connections with clients. Those connections allow for a more personal experience when interior designers work with L&M Custom Carpets and Rugs.
Everything at L&M Custom Carpets and Rugs is one-of-a-kind and custom-made. That includes custom fabrics, custom colors and custom sizes.
This is a trade-only business that works directly with interior designers; products are not offered through local or national carpet and rug retailers. The collection is owned by Gary Shafran out of New Jersey, and his collections have become even more accessible in Charleston with a new showroom that opened over the summer in West Ashley.
Shafran already had a clientele in South Carolina before the showroom opened. He and his wife fell in love with the area after visiting a few years ago and kept coming back.
When he started selling to interior designers in the Lowcountry, he and his wife started talking about buying a piece of land to build a house. Now that house is being built on John's Island and the family will move down in early 2021 – "and we're officially South Carolinians," he said.
A bigger company may have a lot of sales staff and varying levels of management, but Shafran deals directly with interior designers. He has hundreds of samples and pom (thread colors) boxes so they are able to color their purchase the way they want and it is made to order. His rugs have been imported from India and Nepal.
"There's a team around me, but overall, from the selling to the designing and all of that, that's what I pretty much do," he said.
Color is typically something that is most important to clients, and then pattern follows suit. A common rug in his collection is known as a flat weave—these rugs are very casual and inexpensive, and they vibe well with Lowcountry and coastal New England décor. He said this product category is a popular one in South Carolina.
Shafran's collection is now featured in Southeast Sales Manager Andrea Sargent's showroom, which is called Designer Services Charleston and opened in July.
Sargent has a background in sales and interior design and said so, far business is going strong.
"The fact that you can have something that is completely custom-made with custom colors, and the lead time is eight to 10 weeks, is outstanding," Sargent said. "We also have complimentary strike-offs…that's a 12 by 12-inch sample that gets made without charge, and that is just a really rare thing to come across."
Sargent wants the showroom to be known for its customer service and offering a wide range of selections for clients, as well as being able to help clients work around the added challenges like space, sizing and color renderings for rugs and carpets.
"Anything that needs to make the client feel comfortable with the end product that they'll receive is most important," she said.
Sargent said they are very fortunate to work with great designers in Charleston.
"It's an ever-growing community of designers, but it still feels small, everyone knows one another for the most part," she said. "It just feels like a really small network of great people."