The Taste of Love
06 Jan 2021
French chocolatier makes renowned treats in Charleston
By Shelby Simon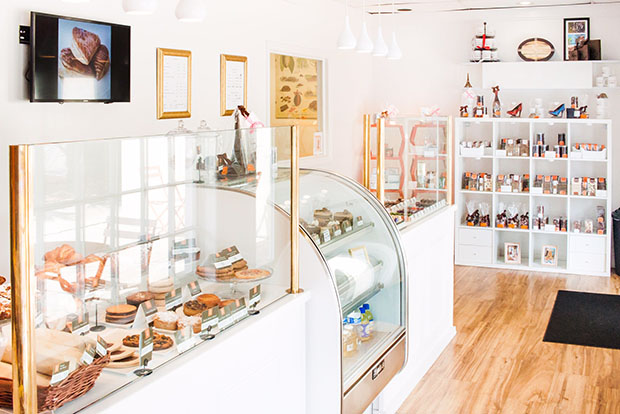 "Chocolate is my life. It is something that I can share with people. - Christophe Paume, Christophe Artisan Chocolatier-Pâtissier
In France, on Valentine's Day, chocolate is the language of romance. It is a gift that is typically only exchanged between lovers, unlike the American tradition of sharing sweet treats with friends and family.
Christophe Paume of Christophe Artisan Chocolatier-Pâtissier in Charleston holds chocolate to the esteem of this tradition from his homeland.
"In France, they buy [chocolate] for someone they love," he says, "so this is what it means." But Christophe does not ever buy his Valentine chocolate. Instead, he makes it.
A third-generation chocolatier, Christophe grew up living above his father's pâtisserie in Toulouse, France. It was there he learned the French techniques for pastry, the highest caliber chocolates, decadent gelato and every type of bread.
He later advanced his practice at the CFA de Muret, where he refined his skill in creating one-of-a-kind, hand-painted chocolates.
The next decade led Paume to work in his family's business, in Paris at the Entremet de France and in Montreal at Pâtisserie de Gascogne, as well as earn a Brevet de Maitrise, Master in Pastry.
When his father was ready to retire, Christophe wanted to bring his love of artisan chocolate to the United States. He found someone who needed a chocolatier in Indiana, so he went — a leap which led him to meet his wife, Carly. In 2008, the couple decided to travel to Charleston.
"We just picked a spot off the map," says Christophe, describing how they decided on their destination. "We loved it so much upon the visit that this is where we decided to open the shop. We are still loving it after almost 12 years."
Chocolatier comes to Charleston
In the early days of the first shop, which opened at 90 Society St., the Paumes focused on just a few items with little capital.
Today, with two shops in the Charleston area—the second location open at 1901 Ashley River Road—Christophe has expanded his selections to hand-paint confections, macaroons, truffles, sculptures and more. Carly still handles all the packaging, design and presentation. Their business is essentially what Christophe's father's shop was in its prime.
"I am stuck to my French roots, so flavors haven't really changed," says Christophe. He and Carly did, however, create a "Charleston Collection" of bars, with Charleston-inspired flavors and wrappers designed by local artist Sarah Winecoff.
Caramel sea salt is the most popular chocolate at the store, and it is offered as both a hand painted-piece and a chocolate bar.
Chrisophe also offers pastry-making and chocolate-making classes at the West Ashley store.
Hand Painted Chocolate
All of the creations at the two shops celebrate Christophe's origins and French culinary traditions.
"I do things like I did them in France," says Christophe. "They are my recipes from there. If you taste my pastries and desserts, they are not overly sweet, like some American treats."
The exception to this is Christophe's specialty: the process of hand-painting chocolates is not French tradition. He explains that in France, chocolate and truffles are mostly plain-looking.
His process to add vibrant colors and designs to his chocolate begins either by airbrush or paint brush strokes of tinted cocoa butter on plastic chocolate molds.
When that dries, Christophe pours tempered chocolate into the mold and places it in a refrigerator to harden. Then, he makes a ganache of equal parts chocolate and heavy cream, along with whatever flavor he is using, and pipes it into the mold. A final layer of chocolate seals the deal.
Beautiful presentation is not the only reason the Paumes' chocolates stand out. Christophe only uses the finest ingredients, starting with couverture, which is the chocolate in pistol form that Christophe melts down for his creations.
For the truffles and hand-painted chocolates, he steeps real ingredients in heavy cream to achieve fresh, contemporary ganache flavors, such as mint, tea leaves, star anise and Roquefort bleu cheese. They do not use preservatives and their chocolates stay good for about three weeks.
Valentine's Day Treats
With Valentine's season comes special offerings, including six different limited flavors of chocolate hearts, like black cayenne, dark chocolate and toffee caramel. This holiday is an incredibly popular time of year to shop and sample sweets. Carly recommends getting your order in early.
If chocolate equals love, perhaps it can help convey this message to cherished connections near or far — and at minimum, bring delight at the exquisite presentation and flavors.
For Christophe, the craft of chocolate is an identity.
"Chocolate is my life. It is something that I can share with people," he said.
For more information, visit www.christophechocolatier.com.