Elevated Design
05 Jan 2020
Relaxed coastal living on the Kiawah River
By Rob Young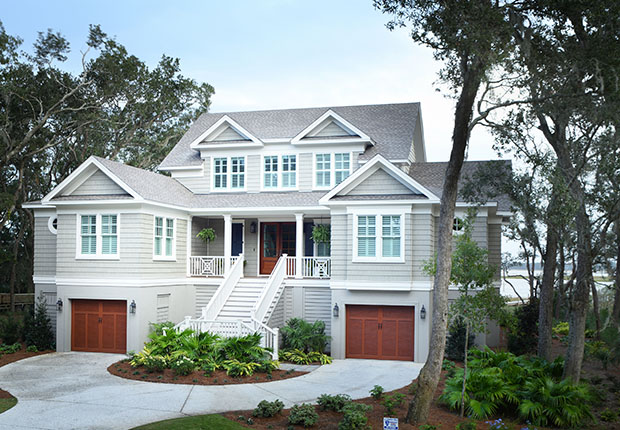 Seven times now. Seven times have Lesley and John Hill planned and built custom homes for their family. Which is probably six times too many for the average homeowner. Just not the Hills.
"We have a clear vision of what we want the home to look like, and after you research the various elements, the building process can be relatively painless," Lesley Hill says.
To that end, the Hills partnered with Holy City Construction, which specializes in custom home building across the Charleston area, offering full-service, residential contracting and development services.
Partners Nick Kliossis and Grant Story own the company and built the Hills' riverfront home in Kiawah River Estates on Johns Island after the couple bought a lot. Their attitude paired well with the Hills' experience.
"We want every customer to leave happy and excited and feel like it's the perfect home for them," Kliossis says. "We want to make sure they're not getting deterred from getting everything they want."
Waterfront Property
The Hills met in northern New Jersey, where they were high school sweethearts. After college, they moved to Annapolis, Md., then worked in the Baltimore-Washington D.C. area for 40-plus years. Their connection to the Lowcountry dates back just as long, as they honeymooned on Hilton Head Island, and continued to visit the area for years.
"We always loved the Lowcountry," Lesley Hill says. "We began searching throughout the East Coast when we decided we wanted another home and ended up falling in love with the Kiawah and Seabrook and Johns Islands. It offered great amenities like beach walking, biking and golfing. Charleston is just an awesome destination for touring and dining."
The Hills considered other areas such as Cape Cod, Mass., and properties in Maine. But the Lowcountry won out very quickly.
Situated in Kiawah River Estates, the Hills' home offers a broad, encompassing view of the Kiawah River.
"Once we saw what Kiawah and Seabrook and Johns Islands offered, it was a fairly easy decision. We wanted to find a waterfront property with a view and my husband is an avid boater, so we wanted an area with boating convenience."
Building Choices
But perhaps a much bigger consideration? The Hills' choice of builder.
"We spoke to our realtor, Lee Lindler, about suggestions in terms of builders and he recommended Holy City Construction," Lesley remembers. "We also had a few other builders we had researched, but after looking at the quality of homes and products produced by Holy City Construction, as well as their level of engagement, it was a pretty easy decision."
Holy City Construction principals Kliossis and Story both grew up in Charleston, attended Porter-Gaud School and graduated with construction science degrees from Clemson University.
"I handle our relationships with our clients, and suppliers for selections. My partner handles project management," Kliossis says. "We're on site every day and on the phone with each other. It's a great partnership. We know each other's duties very well."
Kliossis actually began his business by selling an investment property he had built during college.
"It was a spec home in Kiawah, which was a great way to break into the custom home market," he says. "We met a lot of people in the community and picked up a couple more jobs."
Kliossis and Story take on about 10 new projects each year, branching out to new areas such as South Windermere in West Ashley and Wadmalaw Island. "We're very much hands-on. It's just my partner and me running the show,' Kliossis says. "There are no other employees, so our clients interact with the owners. We have a group of suppliers and subcontractors that we solely work with who know our expectations."
A Free and Unfussy Home
The Hills' familiarity in building custom homes helped facilitate the process.
"I do most of the interfacing with the builder, and I really do my homework in advance," Lesley says. "It's much easier now than years ago because of the Internet capabilities we enjoy now."
The Hills imagined a comfortable home, free and unfussy.
"We wanted the home to be very casual and relaxed, and to take advantage of the water in coastal settings," Lesley says. "We didn't want a formal house. We wanted our guests to feel truly relaxed and at home."
The Hills moved into their three-bedroom, four-and-half bathroom home toward the end of May 2019.
It features an expansive deck with spectacular waterfront views and spacious rooms. The kitchen and dining areas are open concept.
Among the helpful vendors were Patricia Hanson from Carolina Lanterns, Ryan McGee from Stonehenge Marble & Granite, and Trey Moluf from Moluf's Supply.
"We were just delighted with our kitchen area, the ceilings, rafter treatments and windows," Lesley says. "We're thrilled with the porch and positioning, which takes advantages of the views. The upstairs has a media area and coffee bar and beverage entrance for our guests, which helps them truly feel at home."
The roomy outdoor area also features a hot tub and an 18x20 foot screened-in porch with a kitchen and Eze-Breeze windows.
"That's one of the most important parts about the building process. People tend to overlook the size and positioning of doors and windows," Lesley says. "The window and door configuration is one of the key factors that makes it much more enjoyable. I frequently see mistakes made in the window and door categories."
'The most important thing'
The build wasn't without its challenges. Conducting business remotely often does.
"We do build a lot of homes for our out-of-town clients, and many times we don't have the homeowners on site to answer questions," Kliossis says. "So we end up texting or emailing photos and taking phone calls to make it seem as if the client is there. It's necessary to have more communication, particularly with the Hills because they had built so many homes in the past."
Kliossis continues, "At the end of the day, the most important thing is that the client is happy, and we go out of way to make sure that's the case. With construction, it's not always black and white, but we want to make sure our customers get everything they thought they were getting from the project."
Turns out the feeling was mutual. "If others were considering Holy City Construction, I'd recommend that they view some of the homes Nick and his company have created, and have a really long, meaningful discussion with Nick about the vision of the home," Lesley says. "We were just incredibly thrilled working with Nick. You hear so many horror stories about the building process and Nick couldn't have been more pleasant or over the course of our nine months together."
Builder Resources
Holy City Construction
http://www.holycityconstruction.com/
Carolina Lanterns
(843) 881-4170
Moluf's Supply Company
(843) 723-4881
Stonehenge Marble & Granite
http://www.stonehengemarbleandgranite.com/
(843) 225-1300