Bravo, Brazil
05 Jan 2020
Fabulous food, iconic beaches and art galore
By Katie McElveen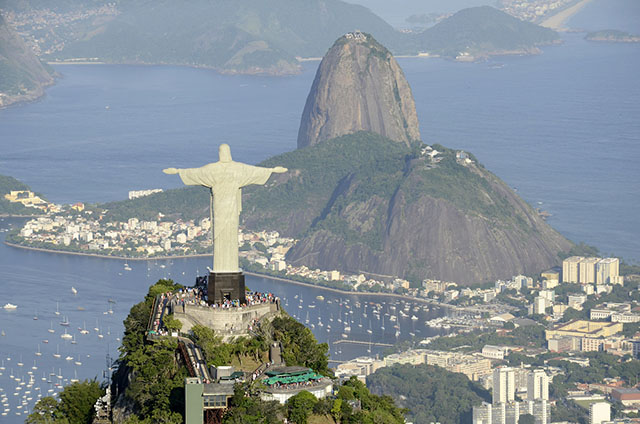 Looking to head south for a winter holiday? Consider heading really south, to Brazil, where sunny skies and warm temperatures come with a fabulous food scene, art galore and iconic beaches.
Start in Rio de Janeiro. Founded on January 1, 1502 by Portuguese explorers – the name translates to River of January – the city was, for a short time, Brazil's capital.
Today, though, the city is perhaps best known for its beaches, particularly Copacabana and Ipanema. Separated by the dramatic boulders of Ponta do Arpoador, these two sunny strands draw sun-seekers, beach volleyball aficionados (Copacabana was the site of the 2016 Olympic Beach Volleyball matches), swimmers and people watchers from sunrise until sunset.
Even better, Rio's beaches are lined with beach cafes, juice bars and ice cream shops where you can indulge in everything from oysters and spicy grilled octopus – it's a local specialty – to ice creams, sorbets and fresh juices in exotic flavors like passion fruit, guava, custard apple and soursop.
Rio's mountains offer terrific views of the city, its coastline, and the various bays and lagoons that dot the landscape. One of the most popular is Sugarloaf Mountain, which rises 1,700 feet over Copacabana beach.
Getting to the top is a two-stage process that begins with taking a cable car to the top of Urca Mountain, where you'll find shops, bars and restaurants. From there, another short and speedy cable car ride will take you to the summit and its remarkable 360-degree view.
You'll get a different perspective from Christ the Redeemer, which overlooks the city from atop a 2,300-foot-tall wooded peak just west of town. Soaring 98 feet above its pedestal, the soapstone statue of Jesus with his arms outstretched is much more imposing than you can imagine. It's also easy to reach, thanks to a series of funiculars and escalators that lead to the viewing area.
Thanks to the 2016 Olympics, Rio is also home to the world's largest street mural, a 560 by 50-foot long swath of bright color along Olympic Boulevard.
Entitled Las Etnias, (The Ethnicities) the mural depicts indigenous people--an Ethiopian Mursi woman, a Brazilian Tajapo boy, a Kayin woman from Thailand, a Northern European Supi man and a Huli man from Papua New Guinea – from each of the five continents represented on the Olympic flag. The mural was created by Eduardo Kobra, a world-renowned Brazilian graffiti artist, who worked 12 hours a day for two months to complete the mural in time for the opening ceremonies of the Olympics.
Where to Stay
Set on a private sandy cove about a mile from Rio's main beaches, the Sheraton Grand is the only hotel in Rio with direct access to the beach.
Each of the 538 rooms has a balcony; book an ocean-view room on the east-facing side of the building and you'll be able to gaze at Ipanema Beach all the way to Prais do Arpoador.
There are also two pools, several outdoor restaurants (including a meat-centric churrascaria), tennis courts, access to a golf course and free bikes that you can ride along a path to the downtown beaches.
The resort is also home to L'Etoile, a romantic respite on the 26th floor that merges Brazilian ingredients and flavors with French technique. Come in time for sunset, when you can watch the sky take on watercolor hues; after dark, take a moment to look out over the twinkling mountains where, in the distance, you'll be able to see Christ the Redeemer.
Sao Paulo
Art is serious business in Sao Paulo, which is home to hundreds of museums and galleries.
The best-known is the Museum of Art of Sao Paulo – MASP – where works by European masters such as Raphael, Ingres, Van Gogh, Cézanne, Renoir, Monet and Picasso hang on unique "crystal easels" alongside the work of Brazilian artists such as Maria Auxiliadora, Agostinho Batista de Freitas, Albino Braz, José Antônio da Silva, Rafael Borjes de Oliveira.
Consider visiting on a Sunday: not only is this stretch of Paulista Avenue closed to traffic, but a weekly antique market takes place in the shady plaza beneath the building. Another nearby museum, the Moreira Salles Institute, is known for photography exhibitions, a Richard Serra sculpture on display in the garden and it's restaurant, Balaio, where you can sample star Chef Rodrigo Oliveira's fresh Brazilian flavors.
Sao Paulo's Ibirapuera Park offers a terrific concentration of art, both within museums –both the Contemporary Art Museum, with its collection of both European and Brazilian artists as well as the Modern Art Museum, which celebrates the work of (mostly) Brazilian artists are located inside the park – and outside, where walls, fences and buildings have been transformed into vibrant murals courtesy talented street artists like Eduardo Kobra and twins Os Gemeos.
Sao Paulo's most famous area for street art is Vila Madalena, a hip but friendly enclave of snug stucco bungalows, curving streets and galleries.
Start on Rua Medeiros de Albuquerque, where stairways, sidewalks and whole buildings are covered with painted images and galleries like Choque Cultural, with its bright neon sculptures, line the streets. The street will lead to Beco do Batman, or Batman Alley, where artists like Kobra, Speto, Binho Ribeiro and others have created an outdoor museum that curves through the neighborhood for nearly a quarter-mile.
Vila Madalena is also known for its collection of small, locally-owned shops. Try Simultanea for flowy skirts, tops and scarves; Attom, where bowls, trays and furnishings are hand-carved from sustainable wood and beach-glass jewelry is fashioned by the owner's mother and La Da Venda, a breezy café that also stocks vintage-inspired kitchenware and fair trade Brazilian coffee beans to take home.
Luxury shoppers head for Rua Oscar Freire and the streets that surround it for designer goods from Brazil—Animale, Osklen and Gloria Coelho all have outposts here—as well as the Havianas flagship. At the north end of the block, Endossa and Fabrica Augusta stock funkier styles.
Getting around in a city as large as Sao Paulo - it's the fourth largest city in the world – can be intimidating, but the navigators at the Renaissance Sao Paulo make it easy with personalized tips for everything from food to museums.
Set near Sao Paulo's leafy, mansion-strewn Jardins neighborhoods, Paulista Avenue and the Rua Oscar Freire shopping district, the hotel buzzes with well-dressed locals, who pile in day and night for passion fruit-infused caipirinhas, sushi and, at night, live music.
Splurge on a room with club access and you'll have the opportunity to sample local treats like stretchy, addictive cheese puffs called pao de queijo; fudgy chocolate brigadeiros and beijinho, a confection made with coconut and rolled into balls. The city hotel also offers several resort-style amenities including an outdoor pool and sun deck, a full-service spa and a fitness center.