Enduring Beauty
07 May 2016
A new home furnishings store opens with unique, high-quality pieces crafted by skilled artisans
By HELEN MITTERNIGHT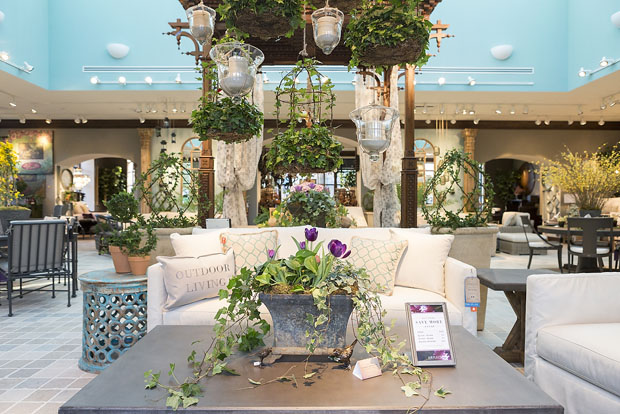 Walking into the new Arhaus Furniture store in Mt. Pleasant is like walking into the villa of a wealthy and eccentric friend. Lots of custom furniture in cool colors, some one-of-a-kind antiques from their travels, pieces that are clean and modern next to elaborately carved wood. Except that the people who put this place together probably have much better taste than most of your villa-owning friends.
"It looks like walking through someone's house. The living room is next to the dining room and the bedroom. It all goes together even though it's very eclectic. We make it look easy when you walk into our store to put things together, but putting an eclectic look together and making it not look like a bunch of stuff just thrown together is actually very hard," says Gary Babcock, Arhaus' chief creative officer. "Even though it's eclectic, it's a very cohesive look that our customers love."
The store offers furniture and accessories for every room of the house, including the outdoors. Everything you see is for sale, even the floral arrangements, but if nothing on the floor excites you, you can customize almost everything – make a sofa a bit longer, choose a different fabric – and the furniture will be built for you. Arhaus doesn't buy from major furniture manufacturers. The furniture you see is made for Arhaus, or it's made for you once you place an order.
"Our customer is well-traveled, well-educated and appreciates her or his own sense of style and self-worth," Babcock says. "They love being able to take what we offer and fall in love with it or mix and match to come up with their own look."
Some of what Arhaus offers is one-of-a-kind. The items, tagged as "relics," include doors from old European homes or hangings found during travels. Arhaus works with a company in Italy to produce custom painted tables that the artists will inscribe with a message to the family buying the table. Hammered copper tables from Mexico can be used inside or out.
"Each dent in these tables was made by a real person," says Cindy Marvell, assistant manager of the Mt. Pleasant store. "And the village is where the butterflies migrate every day, so each table has this tiny little metal butterfly etched on it somewhere to commemorate that."
The furniture comes from all over, but the Ohio-based Arhaus is very aware that this store is in Charleston. Furniture that comes in different finishes is displayed in beachy white here.
"We love Charleston because, even though it's a smaller market, there's a great clientele in Charleston," Babcock says. "I personally love the atmosphere of Charleston. A lot of the customers there will appreciate the historic quality of our merchandise."
Babcock says Arhaus is hands-on in its design, from the glides in dresser drawers to the handles on cabinets.
"Anything we offer to our customers, we've searched and sourced the best manufacturers to make the products to our specifications. We only believe in presenting the best quality possible. Customers know that when they buy something from us, the craftsmanship is from the inside out," he says.
For those overwhelmed by the choices at Arhaus, Babcock recommends its team of interior designers.
"We have a full staff of interior designers. They make house calls, they measure, they'll look at a room and make certain suggestions about how to put things together," Babcock says. "Everybody has things they have inherited and they'll never part with, especially in a city like Charleston. Our designers make it very easy to redo an entire room but accommodate those beloved pieces."
Despite the name, Arhaus doesn't sell the kind of modular Scandinavian furniture that you might associate with a Nordic name (think Ikea). The name Arhaus (pronounced Our-house) comes from a port city in Denmark named Aarhus (pronounced Ar-hoos). The CEO liked the name and the fact that it contained a slight play on the German word for "house."
If you're a certain age, the name may tempt you to hum that Arhaus is "a very, very, very fine house…" from the old Crosby, Stills & Nash song, "Our House."
Babcock laughs.
"A lot of people say that. We actually had (David Crosby and Graham Nash) sing that song when we opened in the meatpacking district of Manhattan."
Babcock is convinced that Charlestonians will be taking something from Arhaus into their houses. arhaus.com