A Yard with a View
07 May 2016
A new trend to extend scenic views at your home or business is using stainless steel cable wire
By TERI ERRICO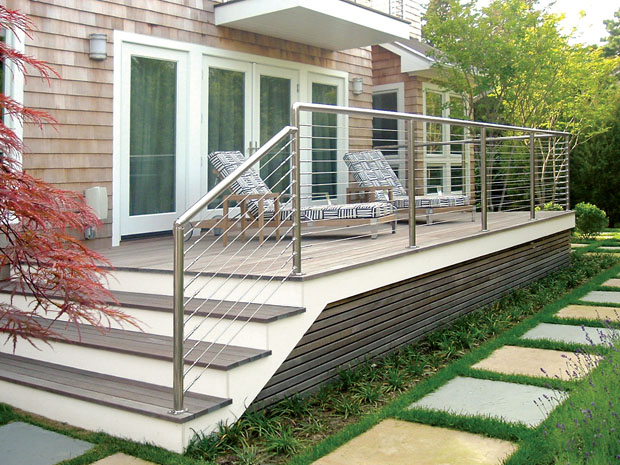 What's Charleston without its ocean or marsh views? Those views are one of the most unique and luxurious reasons to live or work here in Charleston after all. We are a city that loves to relax on our porches and decks, whether chatting and sipping sweet tea or dining out, and Atlantis Rail Systems wants to ensure you always can maintain that gorgeous sight while still maintaining safety.
Atlantis Rail Systems' cable rail system is the perfect compromise to providing a barrier to your decks, stairs, balconies, docks or any other property edges, while still being able to see out clearly. Unlike wood pickets that restrict your view, cable rail systems provide the ability to view beyond your barrier, with the added benefit of a railing that offers sturdy stability.
"It's a unique niche market that we're in. If you have a view and are looking to actually be able to see it, this is the perfect railing system for you because there isn't a lot in your way," says Carey Greenway, Marketing Manager for Atlantis Rail Systems. "You're paying for the view, so you might as well be able to see it!"
For those living on or hosting businesses on the ocean, Atlantis Rail offers one of the most durable products to use on an oceanfront application because it is a marine grade 316L stainless steel.
Originated in 2005 in Massachusetts, Atlantis Rail is a branch of Suncor Stainless, a marine industrial stainless steel hardware company that formed in 1985. Suncor increasingly received inquiries about setting up cable railings that could be adapted for a residential deck, stairs or a commercial project, Greenway explains. "So that's how Atlantis Rail started, with the owner essentially dividing the company."
Most of what Atlantis Rail offers is the horizontal cable railing products, but they also have vertical half-inch balusters and glass options—though they don't provide the glass. "We have a cable railing system for every budget, whether you want to do just a cable with your own wooden framework—that would be on the lower end of the cost—versus a complete custom stainless steel cable railing, which would be at the upper end," says Greenway.
To find a local dealer, you can head to Atlantis Rails' website and click on the "Find a Dealer" button. Results will post all dealers within a 50-mile radius, and there are nine in proximity to the Mt. Pleasant/Charleston area.
Cable rail systems have vastly increased in popularity compared to the traditional wood pickets of old, and Greenway says there's a simple reason why. "Within the past decade, if not a little bit before it, you've seen people changing from white or black kitchen appliances to stainless steel, and I think that now people are learning that stainless steel is much more of a low-maintenance product," she says. "It's really nice to look at, and there is a trend toward outdoor living and making that outdoor space nice, especially if you have that wonderful view or want to look out at the pool. [Our system] is not going to obstruct it."
Such a barrier system is not for everyone, Greenway admits, but it's sometimes the only option for people who want to maintain their view. "A lot of folks will say, 'Oh, we have a glass system but we're constantly cleaning it,' but the cable system is very-low maintenance and holds up well on the ocean or marsh front. It's also a unique accent to give your outdoor space some pizzazz!" Aside from setting up systems on marinas and yacht clubs, Atlantis Rail has also built them for multi-million dollar homes that have pools or gorgeous views they want to maintain, but protect.
Installation depends on the size of the project and property. It also depends on the materials and system, as Atlantis has a number of different cable railing product options. If someone wanted to put up their own wooden frame work or retrofit their existing deck with cable instead of vertical balusters, that's an easy DIY project and Atlantis Rail has a whole session of their website catering to constructing a system like that, suggesting which hardware to use, proper hardware techniques, YouTube videos and more. "So it is something a handy homeowner could do, but should you want a more complicated, stainless steel system, that's something you might want to hire a contractor for," Greenway notes.
Just like the company's clients in Massachusetts, Atlantis Rail anticipates many local restaurants with water views here in Charleston will soon opt for one of their cable railing systems to maintain their views, while also ensuring the safety of their customers. Because after all, what's life in Charleston without picturesque scenes of our waterways. atlantisrail.com