Event Calendar
08 Sep 2017
Looking to fill your social calendar? We've got the rundown on what to do this fall season.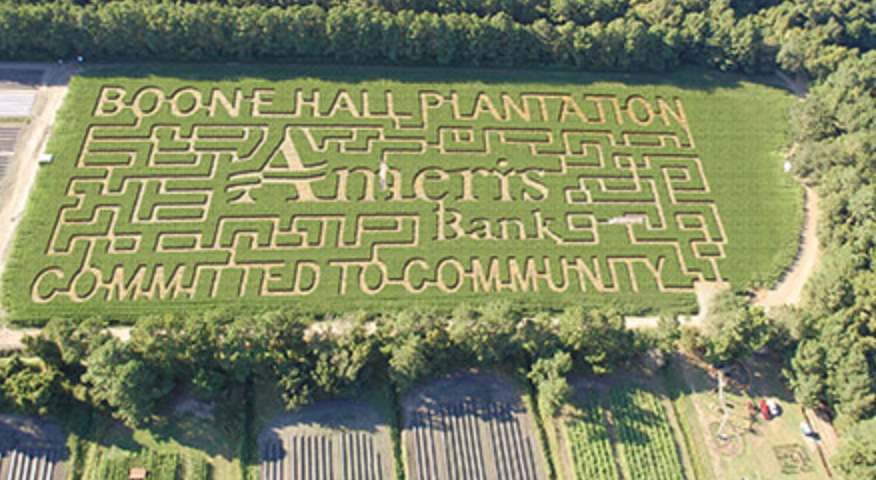 Charleston Restaurant Week
Sept 6-17
The next installments of Charleston Restaurant Week are set! The event, executed by the Greater Charleston Restaurant Association, is one of the most highly anticipated culinary events in the Charleston area. It is an opportunity to enjoy the world-renowned cuisine of the Lowcountry as participating restaurants offer prix fixe lunch and dinner menus. For a full list of participating restaurants, please visit the website. charlestonrestaurantassociation.com
9th Annual Charleston Lowcountry Jazz Festival
Sept 1-3
The 2017 Festival features a number of incredible award-winning, genre-crossing jazz-soul-R&B-pop artists during the three-day schedule. Grammy Award Winners Jarrod Lawson, Robert Glasper and Lalah Hathaway will headline the Festival on Saturday September 2. Other artists for this year's festival include Damien Escobar, Brian Culbertson, West Coast Jam feat. Norman Brown, Rick Braun & Richard Elliot + Jeffrey Osborne. North Charleston Performing Arts Center, 843-529-5000, lowcountryjazzfest.com
Dog Day Afternoon
Sept 10
Whirlin' Waters Adventure Waterpark at North Charleston Wannamaker County Park will be open to canines and their owners from 12 - 5 p.m. Dogs can splash around the 27,000-sq. ft. Big Kahuna wave pool and the Rollin' River lazy river. The refreshing Otter Bay kiddie pool area, recommended for smaller pooches, will also be open for frolicking. To maximize canine fun, owners will not be allowed in the water at Dog Day Afternoon. Food and beverages will be available for purchase at park concession stands to cool down the humans. Also on site at Dog Day Afternoon will be dog-related vendors as well as several non-profit rescue groups, so pet owners are encouraged to stop by to support these great organizations. Dogs must be up-to-date on all necessary vaccinations to enter the event. 843-795-4386, ccprc.com
43rd Annual S.C. International Trade Conference
Sept 11-13
Held at the Charleston Gaillard Center in downtown Charleston. With hundreds of attendees present last year, the Conference expects an even greater registration demand for the 2017 Conference and encourages you to reserve early once the registration system is open. The South Carolina International Trade Conference will present an informative program of nationally recognized speakers again this year, as well as the networking opportunities you have come to expect. scitc.org
Old Towne's Wine Down Wednesday
Sept 13, 27 & Oct 11
Wine Down Wednesday returns to Old Towne Creek County Park this fall! The Charleston County Park and Recreation Commission invites the Lowcountry to view this beautiful future park and enjoy wine, live music and a food truck from 5-7 p.m. The series will return for four dates this fall:
Sept. 13: Chris Dodson and Dashi food truck
Sept. 27: Mark Jackson and the Pic-A-Nic Basket food truck
Oct. 11: Daniel Patrick and Café Tippeneaux
Oct. 25: Mark Schuler and Damiano's Wood Fired Pizza
Advance tickets are available for $15. Day-of admission is $20 per person. Admission fees cover wine and a commemorative wine glass. 843-795-4386
Yappy Hour
Sept 14 and Oct 12
Dog owners are invited to pick up man's best friend after work and join the fun at James Island County Park. Charleston County Parks invites pets and their people to enjoy the popular Yappy Hour series. Yappy Hour features live music and beverages for sale in the off-leash dog park. Best of all, Yappy Hour is free with park admission! Gate admission to James Island County Park is $2 per person or free with the Charleston County Parks Gold Pass. You and your dog can mingle with friends old and new, while enjoying a pet-friendly atmosphere in the park. Beverages, including beer and Coke products, are available for an additional fee. Outside alcohol and coolers are prohibited. 843-795-4386, ccprc.com
Beyond the Big House: Tour & Storytelling
Sept 16
Kitchen buildings, carriage houses, back lots and slave dwellings have survived to tell the story of the enslaved in Charleston, their lives and labor. Tour-goers will visit six private sites, including the outbuildings of the renowned Miles Brewton House, c.1765, a National Historic Landmark. The property's extensive collection of dependency buildings makes it one of the most complete Georgian townhouse complexes in America. Self-paced tour of outbuildings and back lots in Charleston's Old & Historic District (begins in the garden of the Nathaniel Russell House Museum, 51 Meeting Street) are from 2-5 p.m. Then fro. 4:30-6 p.m. there'll be storytelling in the back lot of the Aiken-Rhett House Museum, 48 Elizabeth Street. Individual tickets age 12+ are $35; children age 6-12 are $10; children under age 6 are free. 843-723-1623, historiccharleston.org
Scottish Games & Highland Gathering
Sept 16
Held on the back lawn of Boone Hall Plantation, this award-winning "Scotland for the Day" event is the second oldest Scottish Games in the Southeast and is known nationwide as one of the nicest and friendliest Games around. Enjoy a variety of competitions which originated in Scotland, including feats of strength such as tossing the caber (telephone pole) and high-stepping highland dancers. Scottish foods and music will be provided, and groups performing Scottish and Irish folk songs during the day. Children can participate in organized children's games and have their faces painted. Boone Hall Plantation. 9am-5 p.m. 843-884-4371, charlestonscots.org
Fam Jam Festival
Sept 16
FAM JAM is the Children's Museum of the Lowcountry's signature annual event celebrating family and community togetherness and the power of PLAY. With the help of more than 30 community partners, CML transforms Marion Square in the heart of downtown Charleston into an engaging and innovative playscape. Featuring live music, entertainment and hands-on activities,
this free family festival encourages kids to move their bodies and stretch their imaginations. All families who PLAY in Marion Square will receive free admission into the Children's Museum on the day of the event (Saturday, Sept. 16). This year, FAM JAM is an official Worldwide Day of Play event. For more information, visit day-of-play.com. 10-2 p.m. Marion Square. 843-853-8962, explorecml.org
5th Annual Kiawah Island Triathlon
Sept 17
Tri-Kiawah will be a USAT sanctioned intermediate distance competition featuring a .7-mile swim, 25.1-mile bike and 6.1-mile run. This race is currently the only intermediate distance triathlon in the Charleston area to feature an ocean swim. The Triathlon will not only test beginner triathletes, but seasoned competitors alike in a unique environment that showcases Kiawah's diverse natural habitats and unparalleled beauty. Night Heron Park. 843-768-2121, kiawahtriathlon.com
Southern Women's Show
Sept 22 - 24
The Southern Women's Show is coming to Charleston once again! On Sept. 22-24, national and local exhibitors will fill the Charleston Area Convention Center to share fashion, food, fitness, fun and more with thousands of guests. Come enjoy cooking demos, fashion shows, special guest appearances and much more. Bring your friends, mothers, sisters and grandmothers for entertainment for a special girls' day out! Fri. 10-7 p.m., Sat. 10-7 p.m., Sun. 11-5 p.m. southernshows.com
Natural History Grand Opening and Family Fun Event
Sept 23
Go wild at the Charleston Museum with the grand opening of our new Natural History gallery. Get your picture taken in a set of Megalodon jaws, stand next to a Giant Ground Sloth, and compare your wingspan with that of the largest flying bird that ever lived - Pelagornis. Special presentations, crafts, live animals, and more will create a day full of family fun. FREE for Museum members and FREE with admission ($12/adults, $5/children, under 3 free). 843-722-2996, charlestonmuseum.org
Lowcountry Boil and Boat Tour to Morris Island
Sept 24
Step on board for an evening of food, fun, and dolphin sightings. Be on the lookout for dolphins while you make your way to Morris Island for a Lowcountry Boil. Enjoy the feast while watching the sunset over the beautiful salt marsh. The Morris Island excursion starts at 4:30 p.m. at the Sunset Cay Marina and lasts roughly 3 hours. Cost is $65 per person. 843-813-5009
37th Annual Taste of Charleston
Sept 24 - 26
This three-day culinary celebration of Lowcountry cuisine has been named one of the "Top 20 events in the Southeast" by Southeastern Tourism Society. Check the website for specific listings and participants. Enjoy a sampling of local cuisine from more than 50 of Charleston's finest restaurants, local chefs' demonstrations of recipes and a waiter's wine race. There's entertainment for children with a kitchen side show and games and rides just for them. Be sure to visit the Southern Living exhibition area as well as sample from Blue Moon and Biltmore Wines while listening to live music. The main event on Sunday, will be held at Boone Hall Plantation. 50 of the Lowcountry's favorite casual and fine dining restaurants will be serving sample size portions + beer and wine. 843-577-4030, charlestonrestaurantassociation.com
MOJA Arts Festival
Sept 28 - Oct 8
Selected as one of the Southeast Tourism Society's Top 20 events, the Festival promises an exciting line-up of events with a rich variety of traditional favorites. The Festival highlights the many African-American and Caribbean contributions to western and world cultures. MOJA's wide range of events include visual arts, classical music, dance, gospel, jazz, poetry, R&B music, storytelling, theatre, children's activities, traditional crafts, ethnic food, and much more. Nearly half of the events are admission free. Multiple Venues. 843-724-7305, mojafestival.com
2nd Annual The House that Beer Built
Sept 30
Last year, more than 100 beer drinkers came together to enjoy live music, good food, and some specially-prepared "Habitat Beers" from 9 local breweries. This year, they hope to have even more breweries on site, showcasing their brewing skills through their Habitat Beer creations. The event runs 4-9 p.m. Admission is free, and 100% of proceeds from beer tastings will be directed toward purchasing construction materials for Sea Island Habitat's next home! You can also enjoy some rock n' roll performed by local Blues Band of the Year, JUMP CASTLE RIOT. Bohemian Bull Beer Garden. 843-768-0998
15th Annual Scrumptious Summerville Kitchen Tour
Oct 1
The Kitchen Tour is a unique delight for the senses as patrons tour grand historic homes in Summerville with unique architecture and gardens full of charm. In addition, the Kitchen Tour would not be complete without the opportunity to sample an array of dishes, pastries, and beverages prepared by premier Lowcountry chefs and offered in kitchen and garden settings. Local musicians perform in each home or garden, and area florists will grace the interior décor with floral arrangements. The tour benefits Dorchester Children's Center. 1-5 p.m. 843-875-1551. Scrumptioussummerville.com
Boone Hall Pumpkin Patch & Maze
Oct 1 - 31
The Boone Hall Pumpkin Patch is the Lowcountry's most popular fall festival family fun event. In addition to a large corn maze, attractions include two of the largest jump pillows in the state, a Family Friendly Monster Hayride, Giant Slide Tower, Hay Mountain, two rock climbing walls, playground area, giant rope spider web, goat walk and rabbit enclosure, and of course, there will be plenty of pumpkins. Mon-Sat 9.a.m.-6.p.m., Sun 11 a.m. -6 p.m. 843-884-4371, boonehallpumpkinpatch.com

Isle of Palms Connector Run and Walk
Oct 7
The Isle of Palms Connector Run returns again this year. The 5k and 10k Race will start at 8am. Racers will begin at the designated point on Palm Blvd. Come for the run but stay for the Island! After the race, celebrate with live music, a complimentary beer garden (for 21+ with ID) and kid's entertainment, too! Meet the sponsors, volunteers, and neighbors while you stick around and enjoy the Isle of Palms! $35 for race registrations received by 10/6/17, and $40 for all race day registrants. ioprun.com
41st Annual Fall Tour of Homes & Gardens
Oct 5 - 29
The historic beauty and charm of Charleston comes alive this October as friends of the Preservation Society of Charleston welcome you inside the private interiors of some of the nation's most exceptional historic houses. Experience firsthand the rich history of Charleston's culture, architecture and hospitality on The Fall Tours. Discover the stories of these magnificent residences and the people who have lived in them for centuries and learn why visitors from all over the world are still drawn to this special place today. Different properties are featured each day, so whether you wish to learn about great periods in early American history or simply want to enjoy the ambience of Charleston living, these tours allow you to experience the best of historic Charleston. Proceeds from The Fall Tours support the Society's mission to preserve and respect the unique material and culture of Charleston. 843-722-4630, thefalltours.org
Hunter Moon Dinner
Oct 8
Savor a variety of wild game meats with seasonal beers at torch and candlelit stations in the Plantation Stableyards. Warm fires, historic craft artisans in period dress and a traditional oyster roast round out the memorable evening. 7-10 p.m. middletonplace.org
30th Annual Children's Day Festival
Oct 15
Old and new traditions delight at the 30th Annual Town of Mount Pleasant Children's Day Festival presented by Publix! East Cooper schools will host carnival games centered on this year's theme: Lights, Camera, Action! Families will enjoy carnival rides, enormous inflatable slides, live entertainment, wall climbing, face painting and many other activities! Admission and all activities are free. Free parking is available at Cario Middle School and Charles Pinckney/Laurel Hill – shuttles run all day or simply use the cut-through and enjoy a nice short walk! Food concessions are offered by East Cooper schools for fundraising. Park West Recreation Complex. 12 – 5 p.m. 843-884-8517, comeonovermp.com
Latin American Festival
Oct 15
Experience sensational sounds and vibrant performances at the Latin American Festival at Wannamaker County Park! This annual event celebrates Latin American music, dance, art, food and children's activities and is highlighted by amazing performances inspired by culture from around the globe. All ages are invited to come kick off the event and groove to live Latin music from Sharey & su grupo Klave from 12–1 p.m. There's even a Salsa dance contest with DJ Luigi of Latin Groove Charleston at 3 p.m. Captivating Capoeira Charleston, a Brazilian martial arts group, will perform at 1:30 p.m. After visitors work up an appetite on the dance floor, they're invited to indulge in authentic cuisine from Mexico, Central and South America, and the Caribbean, along with traditional festival foods and beverages, authentic food and crafts, and plenty of activities for families. 843-795-4386, charlestoncountyparks.com
East Cooper Speakeasy: Prohibition for a Cause
Oct 21
The second annual East Cooper Speakeasy -Prohibition for a Cause hosted by the East Cooper Breakfast Rotary Club will be held Saturday, October 21. Proceeds from the event will benefit East Cooper Community Outreach, My Sister's House, and Rotary Charities that include Polio Plus, Happy Feet, and Toys For Tots. It will be an evening of 1920s Prohibition-era fun including heavy hors d'oeuvres, open bar, dancing to jazz and swing music with the Charleston Swing Dance Association, games, a grand prize raffle, and a silent auction with themed packages. The event will be held from 7-11 p.m. at the Sweetgrass Event Center. Tickets are $100 per person. 843-270-6057, eastcooperspeakeasy.com
Harry Potter Film Concert Series
Oct 28
The Charleston Symphony Orchestra will perform Harry Potter and the Sorcerer's Stone in Concert at 7:30 p.m. as part of the Harry Potter Film Concert Series. The concert will feature the live symphony orchestra performing, to picture, every note from Harry Potter and the Sorcerer's Stone™. Audiences will relive the magic of the film in high definition on a 40-foot screen while hearing the Charleston Symphony Orchestra perform every note from John Williams' unforgettable score to picture live on stage. Tickets are $50.00 - $90.00 Ticketmaster.com
12th Annual Oyster Roast and Silent Auction
Nov 3
Good times, good food, good cause! With live music and all-you-can-eat BBQ and oysters, the Hunley Oyster Roast has become one of the best annual events in Charleston.
The event also has a popular silent auction, filled with weekend getaways, lowcountry arts, restaurant gift certificates and more! $45 per person. $40 for members. Ticket includes all food and non-alcoholic beverages. Beer and wine sold separately.
7-10 p.m. Visitor Center Bus Shed Downtown Charleston. hunley.org