Looking to fill your social calendar? We've got the rundown on how to stay entertained this winter season.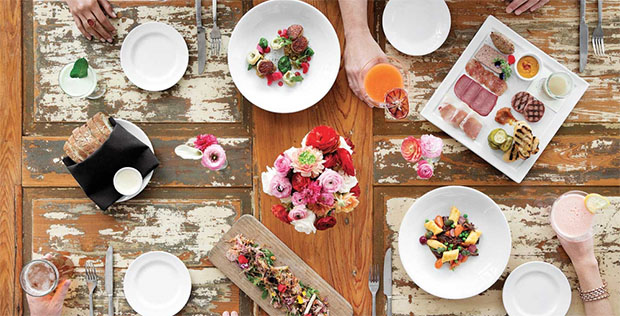 Charleston Restaurant Week
Jan 7-17
The next installment of Charleston Restaurant Week is set! The event, executed by the Greater Charleston Restaurant Association, is one of the most highly-anticipated culinary events in the Charleston area. It's an opportunity to enjoy the world-renowned cuisine of the Lowcountry as participating restaurants offer prix fixe lunch and dinner menus. For a full list of participating restaurants, visit the website charlestonrestaurantassociation.com
Charleston County Parks Virtual Inclusive Dance Party
Jan 9
The Charleston County Park and Recreation Commission (CCPRC) is bringing back the party to your living room during its second Virtual Inclusive Dance Party from 6-7 p.m.The Virtual Inclusive Dance Party will bring fun, friends and great music to participants via Zoom. Attendees should make sure they have access to Zoom as well as a webcam prior to the event. Guests should also be sure they bring their best dance moves! This socially-distanced event is intended for people with disabilities along with their families, friends and caregivers. The Virtual Inclusive Dance Party is free, but all interested participants must register in advance at CharlestonCountyParks.com. A Zoom link along with simple instructions to join the party will be emailed out the Friday prior to the event. Visit CharlestonCountyParks.com or call 843-795-4386.
Oyster Roast Concert Series
Jan 7
Come enjoy live music and oysters at Bohemian Bull on Folly Road in James Island featuring live music from Will Blackburn & Company. VIP tickets including all-you-can-eat oysters, buckets of Island Costal Lager and the best seats in the house. Bohemian Bull Oyster roasts sponsored by Island Coastal Lager, Wicked Weed Brewing, Commonhouse Aleworks, and Dr. Stoners Whiskey. 6 pm. Reservations required. Each table costs $200 and includes seating for up to 6 people, all-you-can-eat oysters and 2 buckets of Island Coastal Lager (12 beers). 1531 Folly Road. www.citypaperticket.com.
Women in Country
Jan 9
The North Charleston Perfoming Arts Center will hold a Women in Country concert featuring Lauren Hall, Haley Mae Campbell and Page Mackenzie. The event will have socially distanced seating and masks are required. 7 p.m. Tickets are $20. www.northcharlestoncoliseumpac.com.
11th Annual Charleston Marathon goes virtual
Jan 11
A virtual race gives you the rush of the finish line and swag sweeter than tea, without the worry of travel! Run on your own time and where you want. Plus, have your swag shipped direct to your porch within the U.S. You have the freedom to run the Marathon, Half Marathon, 5k or Youth Marathon (1 mile) from January 11 – 21 (to celebrate the 11th annual race) or whenever is convenient for you. From January 11 – 21 you'll be able to share your distance and time results on our website, plus a photo of your run! For registration and more information, visit charlestonmarathon.com
Disney on Ice
Jan 21-24
Believing is just the beginning at Disney On Ice presents Dream Big.. Moana and Maui bravely restore the stolen heart of Te Fiti, Anna and Elsa save their kingdom and the Disney Princesses inspire with stories of strength, determination and kindness. Share every magical moment filled with breathtaking ice skating and beloved Disney songs and stories that give everyone a reason to believe! See Mickey, Minnie, Donald, Goofy and stars from Frozen, Moana, Coco, Aladdin, Beauty and the Beast, The Little Mermaid, Tangled, The Princess and the Frog, Cinderella, and Sleeping Beauty. North Charleston Performing Arts Center. www.northcharlestoncoliseumpac.com.
Charleston Symphony Presents: Music of the Movies
Jan 23
Get ready for the Event Horizon of the year! Charleston Pops' newest annual tradition, "Music of the Movies", is heading to outer space. Suit up and strap in for the ride of a lifetime, featuring the music of Star Wars, E.T., Apollo 13, Star Trek, and more. Two performances are scheduled for noon and 7:30 PM in the Martha and John M. Rivers Performance Hall at the Gaillard Center. Tickets can be found at charlestonsymphony.org.
Lowcountry Oyster Festival
Jan 26
The Lowcountry Oyster Festival is the world's largest oyster festival and has been named one of the "top 20 events in the southeast" by the Southeastern Tourism Society. Highlights include the legendary "Oyster Shucking" and "Oyster Eating" contests, live music on the main stage, wine, a selection of domestic and imported beers, a children's area and a "Food Court" showcasing a variety of local favorite restaurants guaranteed to satisfy everyone's taste. Lowcountry Oyster Festival is a charity fundraiser. 10 AM – 5 PM at Boone Hall Plantation. Admission: $17.50 in advance, $25 day of the event. VIP admission is $160 and includes all you can eat oysters, food and beverages. Masks required for entry to this socially-distanced event for 2021. Phone 843-577-4030 or visit charlestonrestaurantassociation.com
41st Annual Charleston Boat Show
Jan 29 -31
The Charleston Boat Show is the biggest boat show and sale in the Lowcountry. It specializes in new powerboats—from small flat-bottom jon boats, skiffs and cruisers to yachts and ski boats. There is something for everyone's taste and budget. In addition to previewing the hottest new boats available on the market, the show features incredible deals. A must-attend event for Charleston's outdoor enthusiasts, it's everything you need for life on the water. Charleston Area Convention Center. Tickets: $12. For more information call 843-529-5011 or visit thecharlestonboatshow.com
Save the Lighthouse Half Marathon & 5K
Feb 6
The Charleston County Park and Recreation Commission (CCPRC) is proud to partner with Save the Light, to host their annual half marathon and 5K. The race is set for Feb. 6, 2021 on Folly Beach. Space will be limited this year, and pre-registration is required. The half marathon and 5K support the preservation of the Morris Island Lighthouse by Save the Light, a grassroots non-profit organization formed in 2000 to save the lighthouse from being lost to the sea. Both races are USATF-certified and begin and end near the Folly Beach Pier. The half marathon is a run-only event and will begin at 8 a.m. The 5K is open to runners and walkers and begins at 8:30 a.m. Register at ccprc.com or by calling 843-795-4386.
A Closer Walk With Patsy Cline
Feb. 3 - 21

Featuring more than 20 of the legendary Patsy Cline's unforgettable hits, "A Closer Walk With Patsy Cline", the toe tappin', foot stompin' musical tribute traces Patsy's remarkable career from her early days singing in the honky-tonks of Virginia, to her rise to fame on radio and the Grand Ole Opry stage, to her stunning triumph at Carnegie Hall. Best known as a country music star, Patsy also dominated the blues, pop, and gospel charts of the 50's and 60's with hit after hit. With her live, 5-piece band and our own version of the world-famous "Jordanaires" quartet backing her up, Patsy and her glorious voice takes the stage once more to sing her greatest hits "Crazy", "Walking After Midnight" and "I Fall To Pieces". Show times vary. Dock Street Theatre. 135 Church Street. (843) 577-71. www.charlestonstage.com
Cupid's Chase
Feb 13
A Valentine's Day-themed race at James Island County Park for a good cause! Community Options, Inc, is a national non-profit organization which benefits adults with special needs to secure housing and employment in their area. Join us to support those individuals in our community by participating. Registration is open and ticket prices are $30. There is an option this year to join us virtually - registration price is the same. All proceeds stay in the local area to support the adults in our programs. James Island County Park, 871 Riverland Drive. www.comop.org/cupidschase
Forte Jazz Lounge Valentine's Day Show
Feb 14
Forte Jazz Lounge on King Street downtown presents an unforgettable evening of love songs from the Great American Songbook for you and your Valentine. This elegant evening will feature premier Lowcountry musicians under the direction of club owner and bandleader, Joe Clarke. Forte Jazz Lounge is patterned after famed New York-style jazz clubs, providing a big city sound paired with southern hospitality. Cozy couches and candlelit tables await you, carefully spaced for your social distance comfort. Limited capacity, sanitization and masking protocols are in place to keep our guests safe. Forte strives to make excellent arts and culture available to all, and will also livestream this concert. In-Person & Virtual Tickets: ForteJazzLounge.com
Southeastern Wildlife Exposition
Feb 14-16
SEWE is a three-day showcase of everything people love about wildlife and nature. It brings together people of all ages and genders, sportsmen and conservationists, artists and artisans, fans and families. Through an incredible lineup of events – from fine art exhibits, conservation education displays, sporting demonstrations and fun-filled parties, SEWE invites all to explore our "wild" side and pay tribute to our naturally beautiful world. For a full event schedule, please visit the website. 843-723-1748, sewe.com
Pickin' in the Park
Feb 20
Charleston County Parks is hosting a safe social distant event, a drive-in bluegrass concert called Pickin' in the Park. Guests are invited to the Johns Island County Park for a full afternoon of live bluegrass from from three local bands: Gravel Road, Southern Flavor Bluegrass Band and Pluff Mud String Band. Gates will open at 12 p.m. and music will be held from 1-4 p.m. Tickets are $40 per vehicle (of up to 4 people) and must be purchased in advance. Vehicles will be parked in a designated parking space upon arrival. Guests are encouraged to bring chairs, blankets and tables to be used at their parking space. Tents are not permitted. Food and craft vendors will be on site and alcohol will also be available for purchase. Leashed dogs are welcome. Masks are required during the event unless eating or drinking. 843-795-4386 or visit CharlestonCountyParks.com.
Drivin' N Cryin'
Feb 20
Celebrating their 33rd Anniversary together, Atlanta-based folk rock act, Drivin N Cryin, have spent most of their career on tour. In October 1985 Drivin N Cryin played their first show at Atlanta's famed 688 Club. The band quickly gained attention for their blistering live shows, and amassed a rabid fanbase in the fertile soil of the late-1980s Southeast music scene. Now, 33 years later, and after releasing four full length albums on Island Records and one on Geffen Records, founding members Kevn Kinney and Tim Nielsen find themselves enjoying a milestone anniversary for the band and recent induction into the Georgia Music Hall of Fame. Charleston Music Hall. Show 8 p.m. www.charlestonmusichall.com
Lowcountry Irish Fest
Feb 23
The LowCountry Irish Fest is an all-day musical and cultural gathering celebrating all things uniquely Irish in the Lowcountry. From some of Charleston's founding fathers to the Irish laborers, Irish pirates, even the Irishmen who powered the HL Hunley with their bare hands, the Irish and Charleston have always been closely united. Come join us for live music and dance, pipes and drums, Irish history and Irish culture. 12 PM- 7 PM. Admission $25 Adults, $15 Students (w/ valid ID), $12 Kids 12 & Under.www.charlestonmusichall.com
Lowcountry Heart Walk
Feb 27
Get ready to get moving, honor survivors, and raise lifesaving funds. Remember, you keep hearts beating – the hearts of moms, dads, brothers, aunts and babies. We need you. "Lace up" and sign up now. Register to join as an individual, join a team or start your own. Meet your fundraising goals and exercise for a great cause. www2.heart.org.
Chefs' Feast Goes Virtual
Feb 27
The "Chefs' Feast 2021- Home Edition" will be a 30-40 minute virtual event that you can log on to for an overview of the Lowcountry Food Bank's efforts during COVID-19 and the importance of continuing the fight against childhood hunger. For over 20 years, LCFB has depended on Chefs' Feast to fund childhood hunger programs like BackPack Buddies, School Pantries, and School Markets. If a child is hungry when they go home, chances are, the rest of the family is as well. Proceeds from Chefs' Feast fight childhood hunger, benefiting programs such as Kids Café, Backpack Buddies, School Market, School Pantry and Summer Meals – which alleviate after school, weekend and summer hunger for children. Last year's Annual Chefs' Feast raised nearly $452,000. The pre-show starts at 6:30pm and the show is from 7pm-7:45 p.m. www.lowcountryfoodbank.org.
Lowcountry Irish Fest
Feb 28
The Lowcountry Irish Fest is an all-day musical and cultural gathering celebrating all things uniquely Irish in the Lowcountry. From some of Charleston's founding fathers to Irish laborers, Irish pirates, the Irishmen who powered by hand the HL Hunley, the Irish and Charleston have always been intertwined. Come join us for a day of live music and dance, pipes and drums, local history and a taste of Irish culture. Admission $25 adults, $15 students (w/ valid ID), $12 Kids 12 & under. Visit www.charlestonmusichall.com for more information.