Essential BBQ spots in Charleston
By Elise DeVoe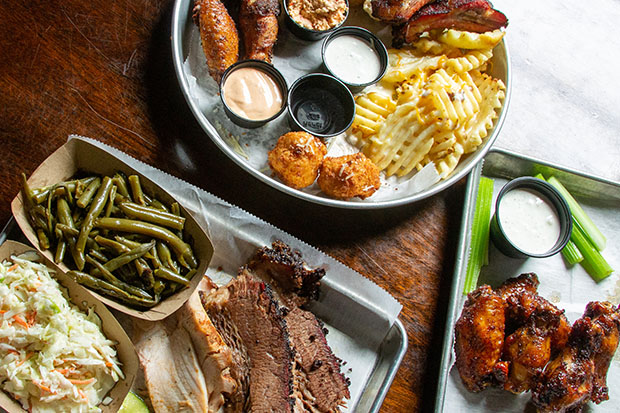 It's no secret that Charleston is a barbecue destination. What makes Charleston barbecue special is that each restaurant has their own signature item to make them stand out from the rest. Whether it's a signature sauce, smoking technique, or using the same recipe that's been passed down for generations, you're guaranteed to have a satisfying meal.
Bessinger's BBQ
1602 Savannah Hwy.
West Ashley
Bessinger's BBQ off of Savannah Highway in West Ashley has been family-owned and operated for an impressive 81 years. They are the "first family of barbecue" and the original mustard-based BBQ restaurant in Charleston. Thomas Bessinger has been making the signature mustard-based sauce for nearly 60 years and it's become so popular that you can find it on local grocery store shelves. Their signature menu items are their pulled pork slathered in their signature sauce, onion rings and a burger. They have different lunch specials every day and patrons can enjoy the sandwich of the day, side, and a drink for only $10. Their menu also has all the classic barbecue staples such as ribs, brisket, wings, pulled BBQ chicken, smoked turkey breast and plenty of sides to choose from. Keep an eye on their social media page @bessingersbbq for the introduction of their new smash burger special and corn dogs made from their house-made sausage.
Smoky Oak Taproom
1234 Camp Rd.
Charleston
843-762-6268
Smoky Oak Taproom is a neighborhood hangout on James Island that takes pride in their barbecue and 40+ craft beers on tap. Their pulled pork, chicken, beef brisket, pork ribs and pork sausage are slow-cooked over red oak and hickory for maximum juiciness and flavor. They have a wide variety of traditional BBQ sides and unique appetizers. Start your meal with their potato skins, pork rinds, or even Cajun fried chicken livers. If you want to try a little bit of everything, check out their "SOT Experience." For $48 you can enjoy a platter of their pulled pork, ½ slab ribs, ½ chicken, smoked sausage, Black Angus prime brisket, five smoked wings, three sides and cornbread. They are currently open for indoor and outdoor seating where you can stay warm around their fire pits. They offer online ordering for takeout as well.
Rodney Scott's Barbecue
1011 King St.
Charleston
Rodney Scott specializes in whole hog barbecue that he has been cooking since he was in middle school. He grew up working in his parent's barbecue restaurant in Hemingway, SC and brought his knowledge and hardworking spirit to the North Central neighborhood of Charleston to open a restaurant of his own. Those who live or work in the North Central neighborhood are constantly tantalized by the smell of smoked meat emulating from the restaurant. To get the full Rodney Scott's experience, order the Whole Hog Pork sandwich. It's 6 oz of Rodney's signature pit cooked whole hog served open-faced on white bread and topped with vinegar-based Rod's sauce and crispy pork skin. Since their feature on Netflix's Chef's Table earlier this year, they have been busy, so if you want to place an order it would be best to try and go during off times of the day or call ahead for takeout.
Middleton & Maker Village BBQ
5105 Hwy. 17
Awendaw
In March 2020 Charles Maker & Eliot Middleton transformed a former biker bar into an outdoor BBQ pavilion off Highway 17 in Awendaw. Both were both born and raised in the Lowcountry and are committed to "feeding their village" with recipes that have been passed down for generations. Prior to the opening of the brick-and-mortar space in 2020, Middleton operated a mobile barbecue business with his uncle's recipes and found a passion for it. He then partnered with food and bev industry and Marine Core veteran Charles Maker to create Middleton & Maker Village BBQ. Their signature items include their grilled ribs with vinegar pepper sauce, fried ribs, and pulled pork. Indulge in their loaded pulled pork or pulled chicken potato that's stuffed with butter, cheese, sour cream, and topped off with juicy meat. Their outdoor pavilion sits on a large plot of land where families and pups are welcome to enjoy their food with plenty of space to spread out. They also offer curbside pick-up and online ordering.
Lewis BBQ
464 N Nassau St.
Charleston
Get a taste of Central Texas 'que right here in the Lowcountry, courtesy of pitmaster John Lewis. Lewis grew up in El Paso, TX, but moved to Austin when he was 18 to start his culinary career. He helped open restaurants that are now the Austin institutions of La Barbecue and Franklin's BBQ. In 2015, he decided that the Lowcountry could use a taste of Texas and we are forever grateful for that. The signature item at Lewis BBQ is their slow roasted brisket. Load up your brisket plate with sides of tangy pickles, creamy and slightly spicy green chile corn pudding, and a sampling of their three signature sauces (Tangy, Red, and Hatch Green Chile). In addition to their signature barbecue, they recently added a tricked-out food trailer Juan Luis in the backyard of the restaurant that will find a new home in the former Workshop space at 1503 King Street this fall. Juan Luis is dedicated to Lewis' love of "border food" such as breakfast tacos, enchiladas, gorditas and more.
Braised in the South
3338 Maybank Hwy.
Johns Island
You may know the name from their popular food truck, but classically-trained chefs Brandon Lapp and Steve Klatt settled down at their new brick and mortar spot on John's Island in the summer of 2020. They still operate their truck from time to time and offer catering services for weddings, corporate events and more. A few of their signature items from the food truck remain on their menu such as their totchos and pork and mac bowl, but with more space to cook in, they can provide loaded plates of their barbecue that's smoked in house. They offer weekly specials like smoked ribs every Wednesday and NC catfish plates every Friday. Swing by for happy hour every day from 4-6 p.m. where patrons can enjoy a pork sandwich or wings for just $5. For dessert, they have a soft serve ice cream window that is sure to bring a smile to your face.
Poogan's Smokehouse
72 Queen St.
Charleston
Sister restaurant to the infamous Poogan's Porch in downtown Charleston, Poogan's Smokehouse shines a light on slow-smoked Southern BBQ where everything is made from scratch. The recipes at Poogan's Smokehouse have been passed down from generation to generation and result in a home cooked feel in a restaurant setting. They serve barbecue plates with classic sides. Their most popular plate and side combination is their pulled pork and cast-iron cornbread. They separate themselves from the typical BBQ restaurant with unique sandwiches like their "Four Porksmen." This sandwich comes loaded with pulled pork, smoked sausage, smoked bacon, BBQ sauce and a St.Louis rib, and it's served on a toasted sweet Hawaiian bun. It takes all the elements of barbecue and smashes them all into one sandwich and that is a beautiful thing.
Fiery Ron's Home Team BBQ
126 Williman St., Charleston
2209 Middle St., Sullivan's Island
1205 Ashley River Rd., West Ashley
In 2006, Aaron Siegal converted a gas station in downtown Charleston into the neighborhood institution that is now Home Team BBQ. Since then, they have opened locations in West Ashley, Sullivan's Island, Columbia, and Aspen, CO. They specialize in comforting Southern flavors with modern flair. Start your meal off right with their dry rub wings served with Alabama white sauce. They are so crispy and the crust of spices bursts with flavor when you bite into it. Their nachos are among the best in Charleston, piled high with your choice of pulled pork or chicken. Keep an eye on the Home Team Social media (@hometeambbq) for daily specials, like the pit smoked pastrami Reuben, chopped brisket Philly and the smoked meatloaf sandwich. Each location serves up a unique list of creative daily specials using fresh local produce, or a new take on a favorite sandwich or smash burger. Since takeout is on the rise this year, Home Team Catering offers a tailgate menu with items like a nacho kit or the BBQ slider kit. Stay tuned to check out their next seasonal offerings.
Southern Roots Smokehouse
2544 Savannah Hwy., West Ashley
1083 E Montague Ave., North Charleston
www.southernrootssmokehouse.com
Pitmaster Paul Gullquist smokes the meat at Southern Roots Smokehouse daily to ensure maximum freshness. He has been with Southern Roots Smokehouse since 2018 and prior to that, he had eight years of experience in the BBQ industry training under master pitmasters. Gullquist proclaims that their house dry rub is so tasty that any of their smoked meats can be enjoyed without sauce, but they do have four different options for those who prefer to add it. Southern Roots Smokehouse is known for their freshly smoked wings and juicy brisket. At their West Ashley and Park Circle locations, you can enjoy five of their smoked wings for $5 during their happy hour Monday-Friday from 4-7pm. If you want to taste a variety of their house smoked meats and appetizers, order the Smokehouse Sampler. It comes with baby back bites, mac-and-cheese balls, pork rinds, cheese fries and wings. They currently offer indoor dining as well as online ordering for takeout.
Swig & Swine BBQ
1217 Savannah Hwy.
West Ashley
Owner and pitmaster of Swig & Swine Anthony Dibernardo started his culinary journey at the age of fourteen as a banquet cook and hasn't lost his passion for cooking since. He has worked at numerous restaurants in the Lowcountry including Kiawah Island Resort and Rita's. He found himself incorporating a barbecue item at each place he worked, so he teamed up with Queen Street Hospitality in 2013 to create a barbecue concept of his own: Swig & Swine. They now have locations in West Ashley, Summerville, and Mount Pleasant. At each location you can find barbecue smoked over high-quality hickory and oak for the perfect smokiness. Kick off your meal with their signature pork rinds with pimento cheese and follow it up with a barbecue platter featuring their signature house-made sausage or smoked pork belly. Stop in on a Wednesday to enjoy ½ priced wings coated in unique sauces. For larger events, they offer tailgate packages and catering.