Expanding Healthcare in the Lowcountry
02 Jul 2023
Christina Oh, Trident Health CEO, puts people and patients first
By Holly Fisher
Photo provided by Trident Health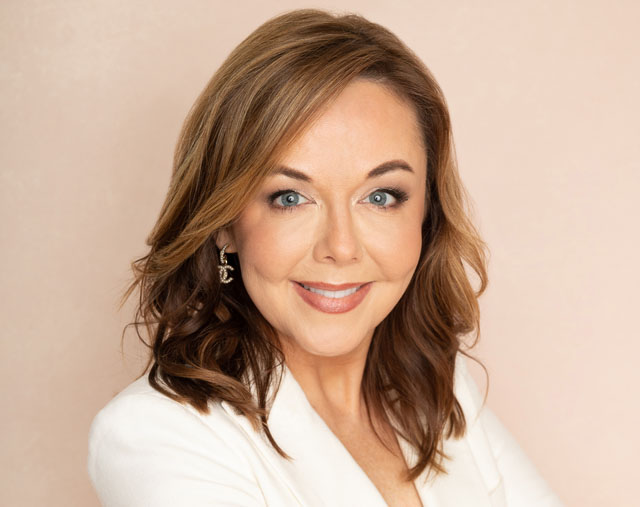 Christina Oh credits her parents with introducing her to opportunities and experiences she might not have otherwise had in southern West Virginia. They were pioneers, she said. Her dad was the first in his family to go to college. He went on to work in the steel and automotive industry, moving his family to points along the midwestern Rust Belt.
Living in the heartbeat of the automotive industry in Detroit, Oh interacted with a lot of Japanese families. She decided to learn Japanese and follow in her father's footsteps. Oh attended high school in the Ann Arbor, Michigan, area and went on to Baylor University, majoring in marketing and minoring in Asian studies. Her path was set; she would become fluent in Japanese and go to work for Honda or Toyota.
But a summer internship turned those plans upside down.
"I just couldn't get excited about that line of work," she said.
Oh looked to another family member for inspiration. Her grandmother was a public health nurse who was instrumental in forming a clinic in southern West Virginia.
"I was always drawn to her story," Oh said. With her grandmother's career in mind, Oh took a position in medical sales.
She met and married her husband, relocating with him to Hilton Head. There, Oh worked for Tenet Healthcare at Hilton Head and Coastal Carolina hospitals. She earned a graduate degree in health care administration from the Medical University of South Carolina. Her first executive position was at Piedmont Medical Center in Rock Hill, South Carolina.
"I knew the first week I worked in a hospital it's where I belonged," Oh said.
She recalls re-rereading a note from her dad she carried with her. Knowing she was struggling to find her next steps, he wrote, "You will find your niche."
Indeed, she has.
Growing beyond Berkeley County
Eventually, Oh left the East Coast, taking an executive position at Placentia-Linda Hospital in Placentia, California. Before coming to Trident in Charleston, she was at Abrazo West, Trident parent company Tenet Healthcare's high-acuity flagship hospital in Phoenix.
Oh was in Phoenix when arguably this generation's greatest medical crisis hit the health care industry. As COVID swept the country, Oh watched how other hospitals and health care systems were handling the pandemic. She was impressed with HCA Healthcare's reaction. So, when HCA came calling in 2022 with an opportunity to lead Trident Health, Oh quickly answered.
"It's good to be back in the Lowcountry," she said. "It's an exciting time to be in Charleston. The more Charleston grows, the more opportunities there are for health care."
Since taking the helm at Trident as president and CEO on May 3, 2021, Oh has overseen a number of major developments, including new medical facilities around the region as well as expansions and improvements to existing centers and the launch of new programs to serve patients across the state.
In June, Trident opened a new mental health hospital, Live Oak Mental Health & Wellness, in Ladson. The $47.5 million mental health hospital is the first in South Carolina in more than 30 years. The freestanding 60-bed hospital will provide inpatient and outpatient services to adolescents and adults.
In August, Trident will open a $13 million James Island Emergency facility – an expansion beyond the hospital's traditional Berkeley County borders.
"We're getting patients out of our normal backyard," Oh said. In 2016, Trident Medical Center became a Level II Trauma Center, attracting patients from all over the region and eclipsing MUSC in the number of critical patients it treated.
Trident Health has $140 million in capital investments in the coming months.
Developing leaders
While additional facilities and hospital improvements are vital in keeping up with Charleston's fast-growing population, Oh undoubtedly takes a people-first leadership style.
"I had a leader who was willing to invest in me," Oh said. "People stay where they're given a voice and a future."
Oh is building a culture of accountability and high standards as well as an environment where people are seen for who they are. She takes the time to learn team members' names. She attends every new employee orientation, asking each person to share a bit of their story and why they choose Trident. She's happy to hear that employees are drawn to the hospital culture among their answers.
COVID certainly took a toll on health care workers—everyone from front-line workers to administrators. It was a daunting time for the industry and health care systems are still trying to recover from the emotional stress and staff shortages.
"If you talk to anyone who worked in healthcare prior to COVID, we looked in the mirror and asked ourselves at such a critical time, 'Am I still in this for the right reason? Do I still want to do this?'"
For Oh, the answer was a resounding, "Yes." Because for her, it always comes back to the patients. Oh hasn't forgotten how frightening it was when she was seriously ill in her late 20s. After several months, she was diagnosed with Type 1 diabetes.
"I remember what it was like to be hospitalized and scared. That's why I do what I do. There's a patient at the end of everything we do," she said.
To serve patients well means serving doctors, nurses and staff equally well.
Oh said if you talk to any hospital CEO right now, you'll find that building a highly-engaged and resilient workforce is at the top of their agenda.
"We learned with COVID that patients who were already challenged with a lack of resources were really pushed over the edge. It takes an enormous amount of emotional strength to work with those patients," Oh said.
And health care needs aren't decreasing—certainly not in the Charleston area where newcomers pour into the region daily.
Creating that engaged and resilient workforce doesn't happen overnight. It takes a lot of face-to-face communication and discussion. Oh said her team is committed to hearing from the staff about what's on their mind. Counseling and other resources are available through HCA. Regular check-ins are scheduled for new hires—many of whom are brand new to health care.
Change doesn't happen overnight, but Oh said the hospital system is beginning to see turnover numbers decrease. And many of those who train at Trident go on to work there full-time.
But life isn't just about work. That's a lesson Oh learned during COVID and was reminded of last year when her best friend died of cancer at just 50 years old. So she's taking time to travel with her husband and beginning a regular writing practice.
"Losing my friend who treasured making memories with those she loved was a hard reminder for me that I need to be a whole person outside of work," Oh said. "I want to live in the present."
BIO
Christina Oh, Trident Health CEO
Hometown: Beckley, West Virginia
Education: Bachelor's degree in business administration from Baylor University with a major in marketing and a minor in Asian studies with a concentration in Japanese language. Master's degree in health care administration from Medical University of South Carolina.
Hobbies: Traveling with her husband and writing.