Family-Centered Pediatric Care
10 Nov 2016
New trends in pediatrics has families involved as key healthcare team members, for decision-making and treatment plans
By SYBIL FIX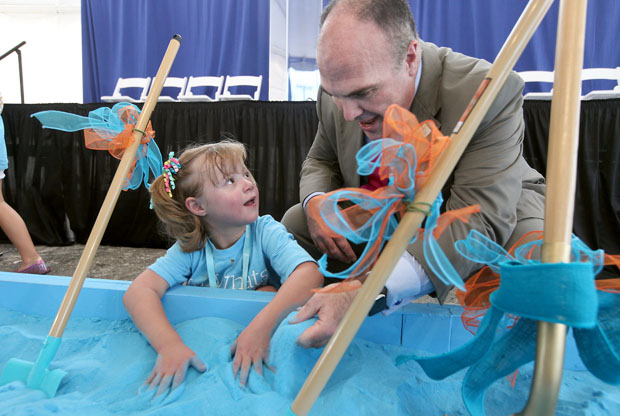 Caroline DeLongchamps' 11-month-old son was in MUSC's Children's Hospital's Pediatric Intensive Care Unit for nineteen days after being run over by a car. He had suffered traumatic brain injuries and he was not expected to survive. To say that it was an excruciating time is to state the most minimal of truths about that chapter in DeLongchamps's and her family's life.
That the baby pulled through and has grown to be a healthy boy DeLongchamps attributes entirely to the team of medical professionals who cared for him, and the partnership they established with her and her family during the course of his care, she says.
"The way the hospital partnered with me, being brought to the bedside, being held by a nurse when I was crying, being shown and taught everything she was doing, and getting me out of the PTSD haze I was in .... that partnership and that closeness were essential," she said. "I was in the survival phase, learning this new language, medical-speak ....When you have a sick child you are rendered useless."
The experience led DeLongchamps to return to the Children's Hospital as a volunteer and finally to become engaged in something foundational that she had tested on her own skin: an effort to value and promote the involvement of family and patients in the entire unfolding and delivery of pediatric care. DeLongchamps is part of a movement that doctors and others in healthcare here and nationally agree has coalesced into making pediatric care more receptive to the needs of the family, and more tuned in to the value that family provides in the healing of patients.
Indeed, making families into cardinal actors in the care of a sick child is not only logical and smarter, doctors say, but it leads to better decisions, is less costly in the long run, and creates a more positive experience for everyone involved.
"In the past few years there has been an incredible increase in the awareness of what child and family and patient perspective looks like... and it's not only about policy: it's about changing hearts and minds," said DeLongchamps, who is now manager of Patient and Family Centered Care under MUSC's Quality and Safety Department.
At the center of it all, said Dr. Mark Scheurer, chief medical officer of MUSC's Children's Hospital, "is the firm belief that families should be essential parts of our healthcare team, part of our decision-making and our treatment plans."
He called it a movement to include and listen. "It helps us make the best decisions for a child's care," he said.
Intuitive, Perhaps
It is more intuitive in pediatrics than other branches of medicine that family ought to be involved in the care of patients. After all, children, particularly very young children, often cannot speak for themselves. Their families are their spokespersons.
"It's the most intellectually challenging medical specialty that exists—a population that generally can't tell you what their chief complaint is," said Dr. Andrew Atz, interim chairman of MUSC's Department of Pediatrics who also oversees all faculty and education in pediatrics.
Of course, in pediatrics doctors have always talked to parents; but never before has there been such an awareness of the fact that information, support, and care of parents and greater family are crucial to figuring out what is wrong with a child and how to make her or him better.
"Their whole socio-economic experience and family experience affects our decision-making as pediatricians... We need to ask questions and to incorporate all of that information into the care we give as pediatricians," said Dr. Elizabeth Kirlis, a general partner at Coastal Pediatrics Associates, affiliated with Roper St. Francis Healthcare.
Yet, it's not always been so. It used to be that parents stayed out from a doctor's visiting room, or that parents were not asked but the minimum of questions. Recently pediatric medical staff have come to the realization that not only are parents useful in the care of a child, but they also help prevent the child from coming back.
"Parents are the best historians of how children are doing, and whatever treatment plan needs to be carried out at home needs to be learned at the hospital, so the family is intrinsic to the health of the child," Atz said. "The more the family unit understands about the child's care, the more we improve the outcomes. I am confident that we can reduce the length of stay in the hospital by incorporating the parents' presence in the child's care."
Changing Ways
In small and big ways, MUSC and other practices have been integrating this new family-centered philosophy into their daily care.
At Coastal Pediatrics Associates, which has four locations throughout the Lowcountry, much more attention is focused on the wellbeing of mothers of newborns, for example, to detect signs of post-partum depression or other conditions that could impact the family's health in general, and the baby's health specifically. In general, Kirlis said, more questions are asked of parents; parents are included in more care-giving decisions, and, finally, they are invited to be present for certain procedures—from dental work to circumcisions.
"It might be better for the child to have someone who is soothing there with them, so they can be instruments for the child's health," Kirlis said. "And certainly I think we have become more flexible with policies to take into account certainly family, religious and cultural practices and wishes... It's a continuum of understanding."
At MUSC many changes are taking place, in great part thanks to the help of the Patient and Family Advisory Councils, which DeLongchamps coordinates. Comprised of parents of patients, family members and former patients, the councils, which are growing in presence as well as number (two are dedicated entirely to pediatric care, with a third on its way), represent a collaboration in sensitizing care providers to the needs of family but also to what families can offer doctors and staff. They meet once a month with doctors to voice their perspective, and that perspective is being embedded in the everyday work of the hospital, DeLongchamps said.
For example, at nursing staff shift changes—critical times in the sharing of vital information about a patient's status—parents or other family member were rarely acknowledged or included in a conversation; when doctors did the rounds through the pediatric units with their residents rarely were they introduced.
"The parents would be there and not know who these people were," said DeLongchamps.
Now that is changing. Parents sitting by a sick child can ask questions or offer observations; conversations with families have been made part of doctors' rounds; they can look at the numbers and the charts and listen, Scheurer said.
There used to be visiting hours; now there are not. Visitation used to be for a strict family member list; now the family decides who to include. Parents can be present when a sick baby wakes up and is put to bed.
"We want the parents' presence as much as possible," Scheurer said. "The family is the patient. They have invested everything into that child, and now that they are in the health system they want to be part of it."
"It's about looking at the process from another pair of glasses," said DeLongchamps. "It does not mean being nice. It is about the way we deliver information or ask questions. It's about engaging the family to be part of the medical team."
New Children's Hospital
Nowhere will this heightened awareness be more visible than in the MUSC Shawn Jenkins Children's Hospital, whose conceptualization was shaped by the insights of PFACs. Scheduled to open in 2019, the new hospital is designed with families in mind—their presence, their contributions, and their wellbeing, together with that of the patient. The need to take families into account has become ever greater since many more patients are coming from greater distances, and pediatric patients who require long hospitalizations are generally much sicker, said Atz.
Twenty-six planning teams participated in the design of the new hospital, and families are still participating in choosing finishes and furniture.
"Alongside doctors and nurses and staff, we had parents say, can you move this there, or can we put this here instead of there," said DeLongchamps.
The result is a model of care in which young patients and mothers and fathers and providers of care intersect seamlessly for everyone's greater wellbeing, including the medicine at the core of it all. Patient rooms in the ICU units, including neonatal ICU, will be larger to accommodate family stays throughout the child's care. There will be laundries and kitchens and play spaces for visiting children; conference rooms on each floor will accommodate large medical teams and families for decision-making sessions, and more specialists will be on location and available to families. Neonatal care will meld with the obstetrics and maternity wards for improved outcomes in high-risk pregnancies, or pregnancies with babies with congenital heart defects, for example. And the neonatal ICU will offer large private rooms.
"The greatest bonding for humans happens at child birth, and yet generally sick babies are separated from their mother and put elsewhere," said Atz. "That is terrible. Here, in spite of how sick a baby is, mother and baby will be able to share the same room."
"We are saying that the family unit begins at conception. It reduces risks and the costs," Atz said.
Private rooms in the pediatric cardiac and neonatal ICUs were weighed against the traditional open bays, which doctors have favored for allowing them to see many patients at one time without much wasted time walking here and there, said Atz, a pediatric cardiac physician.
Yet, after a parent who lost a baby voiced her feelings in an impassioned email, the choice became clear. In an open bay, the mom said, "I never felt like I could sing to her, or that I could cry or have a private moment with her."
In part, the new openness to families is a direct result of the Internet, a more informed public, and a greater access to medical information—faster diagnoses and second opinions, said Scheurer, in pediatric cardiac medicine for 18 years. This has created an expectation of transparency and inclusiveness.
"I think medicine is catching up with the expectation that has been there a long time," he said. "It's an ancient relationship, between families and providers, and this is driving us toward a more perfect engagement in that relationship. And it results in better healthcare. You make better decisions when everyone has been listened to, and when everyone has the best information. We can do it cheaper and with a better outcome."