Turning the Tables on Holiday Decorating
10 Nov 2016
Designer tips and how-to advice on creating festive holiday tablescapes

By TERI ERRICO GRIFFIS and HELEN MITTERNIGHT
Photos by NONI BRUECKNER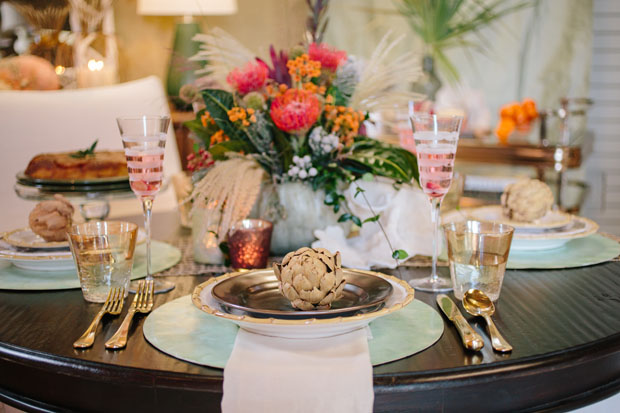 Holly Brown and Blair Powell
Steven Shell Living
For a holiday table that fits in with Charleston's coastal vibe, marketing consultant Holly Brown and design consultant Blair Powell recommend a look they dub "Coastal Christmas" or "Rustic Chic."
A rubbed wood mahogany table adds the rustic, along with the driftwood reindeer and nativity scene, and the table takes on holiday elegance with mercury glass ornaments around the centerpiece, and tumblers at each place. The table gets a festive touch with shiny metal chargers, napkin rings and even what Brown calls "a touch of glam" with a sparkly pillow on the chair.
"You can never go wrong with a little sparkle on the holidays," Powell says.
For the home designer, Powell says the Coastal Christmas is easy to re-create.
Go for the wood
Powell says a rustic wood table will show off metallic charger plates much more than a plain white tablecloth will. Brown recommends using sliced cross-sections of a tree, such as those available for purchase at Steven Shell, as rustic trivets.
Add elegance with shine
Powell recommends bringing in a metallic element to add elegance and shine to the table. Steven Shell used the mercury glass around the centerpiece and at each place, as well as the shiny charger plates and napkin rings.
Use florals or fabric to soften, but keep the centerpiece low
All that exposed wood and metal might make the table seem a bit cold, but Brown suggests using greenery such as local succulents, or flowers on the table to soften the look, and covering the chairs with cream-colored slipcovers for an even softer look.
Powell cautions against too high a centerpiece. "I would say you want it no more than six inches," she says. "You want to be able to see everyone across the table. I like lower arrangements so there's conversation throughout, as opposed to just with the person sitting next to you."
Don't be tempted to overdo
The temptation may be to put every holiday bauble you own on the table, but Powell cautions against that. "People think of going over the top for the holidays, but you can bring in just a little bit of sparkle to give it an element of the holidays. A lot of people are used to the red and green plaid, but this is a little more of a coastal Christmas and it can work well with people's existing décor in their homes."
She concludes, "Simple is best." 843-216-3900, stevenshell.com
Dani Silver
Celadon
Holidays mean more than tchotchke decorations and tinsel. For Dani Silver, Merchandiser and Designer for Celadon, holidays are for inviting friends and family over and having fun. For gathering around a table together. And her table design will inspire you to want to host every meal this holiday season.
Living in Charleston, Silver aimed to keep true to the region as she created her tablescape—but rather than go overtly coastal with seashells and sand, she played off of Chi design's Indigo napkins. "I've always started by table linens, by my napkins," she begins. "I just love indigo and it's local. The indigo crop was from here so it's kind of a cool thing." Obviously indigo tie-dye napkins don't scream holiday, she says with a laugh, "but we also try not to keep it just a religious holiday, and focus more on the gathering and the fun."
Silver added an organic, farm-to-table feel with flowers plucked from an outside garden as well as a local shop. She suggests always incorporating something from the outdoors that you love. "It can be as simple as sticks or roses from your garden," she says. "Incorporating those things make it feel more special and homey."
From there, mix in your fine China. Silver used gold-rimmed glasses found at Celadon to mimic the idea of gorgeous pieces you may have inherited from your grandmother or found at a vintage store. "Bringing that in with something casual, like how I use the tie-dye napkins, mix it up so it's not all formal and not all casual."
Another great tip in creating a beautiful holiday tablescape is to tie in items you may already have at home. You don't need to buy pieces you'll only use once a year. "Some things on the table are staples we have in our store all the time, like the placemats, and some are holiday items, such as the gold-rimmed glasses," Silver explains. Don't be afraid to mix your display with different textures and colors—except when it comes to your candles. Use varying styles and heights, but keep them all the same color. And definitely no scented candles at the dinner table, Silver warns!
Gathering is the focus of the holidays, and your table needs to have a focus too. Build from there. The best thing about Celadon's table is that you can use this for Thanksgiving and New Year's or even a birthday party. Be bold and you can enjoy it for more than just one day. 843-884-7005, celadonathome.com

Gil Tisdale, Lori Marvel, Ashley Diggelmann
GDC Home
Just because holidays are traditional, doesn't mean your decorations need to be! Toss out the cookie-cutter ideas that you need red and green, and say hello to mixing and matching as you marvel at GDC's vividly striking design.
Inspired by a project that Design Consultant Gil Tisdale was working on, GDC's holiday table combines jewel-colored tones and textured accents that fit in perfectly with Charleston's aesthetic. Even better, everything seen—from Horst's flowers to the Hooker console and bar cart—has been sourced locally. "This is something anybody can do here at home," Tisdale says with cheer.
While Tisdale and his Design Consultant colleagues, Lori Marvel and Ashley Diggelmann, made the centerpiece last, they designed it first and built their table from there. "All the color and texture in the centerpiece influenced us with the tableware and plates," Tisdale says, "so everything is wrapped up in the centerpiece."
Textiles came next and then the colors! The Design Consultants easily agreed on steering clear of red and green. "I think people do it because that's what you grew up with or it's more traditional, but there are other colors that you can use that still feel festive," Tisdale insists.
While the flowers offer the most color, Marvel thought the sage and coral gourds lend themselves to the Thanksgiving vibe without the typical in-your-face "Halloween orange." Even better, the table can lead out of Thanksgiving into Christmas by simply replacing an item here or there, or adding something glitzy for Christmas.
If you can just keep one thing in mind when preparing your holiday tablescape, Tisdale says, it's that less is more! The focal centerpiece has a lot going on, so the team kept everything else natural and minimal. "Some think they need every element, like a really strong table runner and strong placemats and napkins, but you can only let one main thing be the focus," he says. "Otherwise your eye won't know where it wants to go."
As you place your items down, keep the arrangement cozy and warm. Scatter your accents rather than placing them strategically and symmetrically. Too much structure can make your table feel rigid and the holidays should be anything but. "You don't have to place things like your grandparents would!" Tisdale laughs.
Jewel-tones and a relaxed setting almost make this table feel as if you're on a holiday—in your home. So sit back and let your table set the wondrous tone for all your magical holiday gatherings. 843-571-5142, gdchome.com