From Service to Sales
02 Nov 2023
How a former U.S. Marine brings his passion for service to the automotive scene of Charleston
By Katelynn Rutt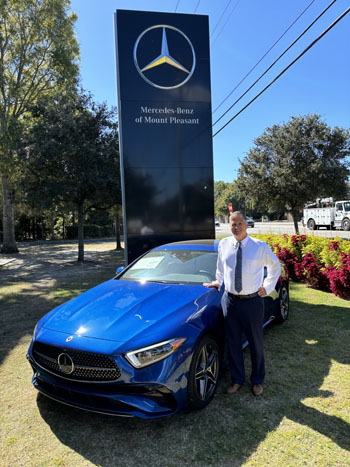 Military retirement holds a unique significance for jay rose, sales and leasing consultant at the Mercedes-Benz of Mount Pleasant. It marked an opportunity to continue serving his local community while embarking on a new career in the automotive field.
"When I became a member of the Baker Motor family, I made all my clients an integral part of our illustrious family," Rose says. "We strive to provide a top-tier luxury experience for our clientele, from the moment they arrive on our lot until they leave with the keys to the car they have always imagined themselves in."
Exceeding expectations is ingrained in the ethos of the Baker Motor family. The goal? To offer around-the-clock assistance, and always aim to get customers back on the road.
"My former client was a physician who worked at a local hospital," Rose says. "He called me for assistance when he got a flat tire on his way to work. I drove to him, provided a courtesy vehicle, and waited with his car until it could be picked up by a tow truck for repairs. That client was able to continue his commute to work and resume doing what matters most, saving lives."
According to Rose, creating a five-star experience and delivering a consistent inventory of safe, innovative models truly does take a village.
"From the outstanding performance of our service department, parts advisors, detailers, and highly trained delivery specialists, it is not a mystery why our customers keep coming back to us for the superior experience they associate with Mercedes-Benz," Rose says. "We strive to continue to provide impeccable service into the future for all of our customers from every walk of life."
Over 20 Years of Experience: Benefit from the wisdom that comes with years of dedicated service. Jay Rose knows the ins and out of every Mercedes-Benz model, ensuring you make an informed decision. ϒ
Contact Us
MERCEDES-BENZ
MOUNT PLEASANT
JAY ROSE
Telephone: 843-906-8484
E-mail: jrose@bakermotorcompany.com