Furnishing the Backyard
04 Mar 2020
Live your best outdoor life with the right furniture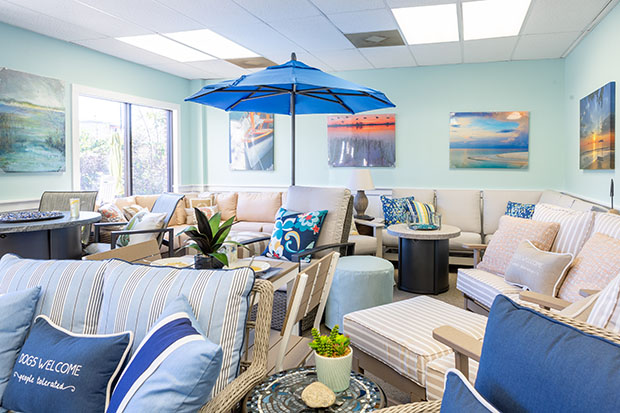 By Tommy Santora
Photos by Aleece Sophia
Sharon Campbell always tells her customers that their backyards deserve the best.
"Family and friends will always gather where they are most comfortable," said the owner of Backyard Retreats in Mt. Pleasant.
For close to 25 years at the same location on Johnnie Dodds Blvd., families and friends throughout Lowcountry South Carolina and surrounding areas have turned to the experts at Backyard Retreats for their backyard furniture needs.
"I love getting to know my customers, building relationships with them over the years, educating them on evolving trends of the backyard furniture business and then seeing the results of the creative use of the backyard space that we have been able to provide to them," said Campbell, who started the family business in 1996.
Campbell's daughter Darla Miller joined the family business in 1999 and serves as executive manager and design consultant.
Sharon's husband Darrell Campbell, retired, also helps pitch into the family business with special deliveries to enhance customer service.
"Family is everything to me, and it's been important to me as a resident and business owner for our family to build a business that has been a long-term staple of the Lowcountry community and growing economic development of our area," Campbell said. "After more than 30 years in the design and retail furniture business, I still love waking up and providing the service that we do for our residents and their homes. We have been built on and sustained respect, honesty, integrity, and trust. I believe in having great working relationships and, most of all, satisfied customers."
Backyard Retreats specializes in outdoor furniture for backyards, sun rooms, patios, poolside, front porches, docks and many other outdoor spaces.
They sell firepits, and other accessories such as umbrellas, accent pillows, candles, rugs, lamps, fabrics for custom cushions, and many more items.
The row of Adirondack chairs outside the showroom sets the tone and greets visitors. The polymer furniture, made into chaise lounges, rockers, bar chairs and buffet tables, are maintenance-free and durable.
All-weather wicker furniture, available in traditional and contemporary styles, is advertised as "not your grandmother's wicker; it will last longer."
Backyard Retreats also offers Ipe Wood, and a new product RealisTeak - a recycled polymer that looks like teak without the keep up that the teak wood requires. Campbell said the challenge of humidity in the Lowcountry area makes for a focus on providing durable furniture with little maintenance.
"We're in the South and in the Lowcountry, so higher-performing and long-lasting fabric furniture is ideal for our residents and customers," Campbell said. "Brighter colors, as evidenced by our showroom, have also been in high demand and been popular in the market."
New Trends in Outdoor Seating
Aluminum cast furniture is a popular option at Backyard Retreats and offered in dining sets and deep-seating groups.
One new recent product trend is the modern outdoor furniture piece with unique deep seating that has the comforts of a cushion without actually needing cushions. Aluminum cast furniture products include bistro sets, sofas, loveseats, chaise lounges, and dining groups.
"We are only as good as our manufacturers. We pride ourselves on offering only high-quality, durable furniture customized for your lifestyle and space," said Miller. "We read backyard furniture trend magazines, browse the internet for the latest products, travel to local markets, out-of-state trade shows and we just really listen to our customers' needs and offer as many diverse and high-quality products that are available."
Miller said Backyard Retreats has done well over the years in sustaining its business during the evolution of online furniture retailers and also surviving through the emergence of people buying furniture online.
"We have heard horror stories of people not getting what they see pictured or what they think they are buying, and stories of too much assembly required, missing parts or the product just not meeting their desired standards," Miller said. "The personal service that we provide, where you can come to the showroom and have that tangible effect – touch, feel, sit in, before you buy - just really sets us apart from shopping online. Shop local, and if you have any problems, we're here in your neighborhood to help you."
Unparalleled Service
Exterior design capability and knowledge is another valuable aspect that has kept Backyard Retreats in business.
Campbell said customers can get the personal service of Backyard Retreats staff visiting the customers' house, taking measurements, analyzing space, and then providing a design plan for the outdoor furniture they are interested in purchasing.
"Education is an important part of our business and personal service," Campbell said. "Customers have a lot to choose from, we understand that, and we take the time to get to know them and their needs, before we start working them to build upon their backyard space."
When Campbell is not at the store, she is spoiling her four grandchildren. She believes in her family and letting them know that they are her number-one customers. Campbell says it is OK to leave the store every now and then because her "right-hand daughter" has the operations under control. "Darla has come to develop the same passion I have for furniture. She knows the design and retail and commercial business side, and she is good at what she does," Campbell said.
She adds, "Being a small business owner is great, and I love what I do, but being a grandmother is the best. I love people, and I always try to remember that the things that matter the most cannot be measured. If you do your very best and treat everyone the way you want to be treated, you will be blessed."
Backyard Retreats
554 Johnnie Dodds Blvd., Mount Pleasant.
843-856-0049