This Historic House
04 Mar 2020
Small-space renovation on Stoll's Alley
By Rob Young
Photos by Jim Stefiuk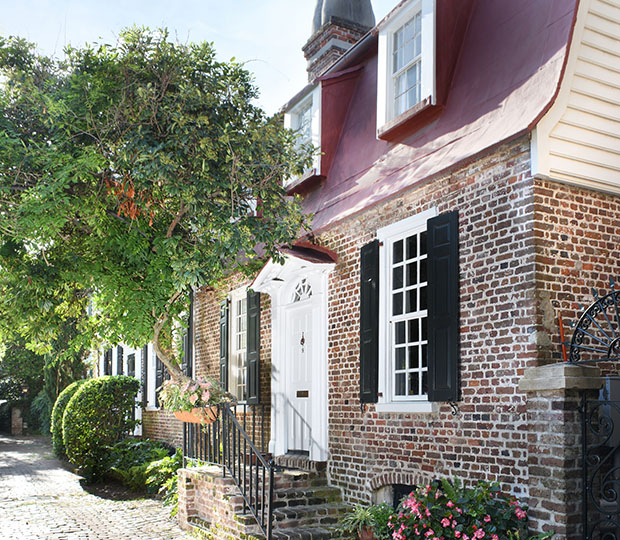 Back in the mid-1700s, Justinus Stoll built himself an alleyway, so to speak. As one of the wealthiest men in Charleston, he collected properties, at one point owning much of the South Battery. The alleyway contained his home, rental properties and eventually his name – Stoll's Alley.
Now it accommodates Ann and John Kulze, who bought one of the dwellings and committed to a complete soup-to-nuts renovation.
Built in 1760, the house is one of the oldest masonry structures in the city. Prior to the Kulzes' purchase, it was used as a rental property for several years. They sought to rehab the historic home and maintain as much as the original design as possible. Its historic terne metal roof was restored and the window sashes, siding and trim fully redone.
The Kulzes raised four children from their 3,500 square foot home on Pitt Street in Radcliffeborough.
As empty nesters, they wanted to stay downtown, but realized they didn't need as much space. But how much space would be enough? As it turns out, about 1,400 square feet.
"All in all, we were pleasantly surprised. It exceeded expectations. It just makes life easier," Ann Kulze says. "We felt if we could be more efficient, we would be happier. It's a much more simplified, less cluttered way of living. The upkeep is much easier."
A rich history
The couple didn't arrive at the decision easily though.
"I was the hardest to bring on board," Ann remembers. "My husband for 3½ years said we've got to get out of our house, which was historic but kind of a money pit. But I loved the house. Just as much as I love my Stoll's house, I loved our house on Pitt Street. We had to fully renovate it and raised our kids there too."
Ann Kulze is a nationally known wellness expert, best-selling author and motivational speaker, who serves as the founder and CEO of Just Wellness, LLC. She's been featured on The Dr. Oz Show and Oprah and Friends Radio, and in Time magazine and US News and World Report, among others. After earning her medical degree – graduating as valedictorian – from the Medical University of South Carolina, she worked as a family physician for 14 years.
Yet as time shifts, so does one's vantage. The couple quickly found themselves drawn to the home and its rich history, similar to their previous dwelling.
"We just love historic architecture, we love the patina and how people have experienced the home over the years," Ann says.
In many ways, the move reflects her philosophy. "There's a bigger dynamic at play," she says. "In a society of ever-increasing clutter, stress, time crunches and ultra-consumerism, we craved a simplified way of living. It's less stressful, and for us, it gives us more time and more peace."
Maximizing Small Spaces
The Kulzes brought on board architect Tyler Smyth to design the renovation. Smyth graduated from Vanderbilt University with a biology degree in 1996, working for years as a marine biologist.
"I grew up in Charleston and have lived here almost my entire life," Smythe says. "My stepfather was a builder and I was an artist growing up. Then as a marine biologist, I was assigned the task of creating a building design onsite in Bluffton. From there, I realized that I'd like to pursue a career in the field and went to Clemson (University), where I earned a master's degree in architecture."
After working for a Johns Island firm, Smythe opened his practice in 2011 on the Charleston peninsula. He focuses on new residential construction, renovations and additions, and commercial and educational spaces.
"Architecturally, Tyler approached the project like a boat, and tried to maximize every space for efficiency of use," Ann says.
Preserving History
The renovation paid special detail paid to its historic elements. "When I was cleaning the home, methodically going end to end, we chose not to refinish the banister," Ann relates. "The railing was wood, and the spindles were painted. There was so much age and character. It's difficult to describe the feeling that it evoked. It made me feel really grounded, happy, content, as if we were part of history."
Because of its historic nature, the project required approvals from the Charleston Board of Zoning Appeals and the Board of Architectural Review. The process can many times be arduous and time-consuming.
"We started the design and city approval phase in 2015 or so, and finished about a year later," Smyth says.
Ben Buckley-Green from Buckley-Green Construction oversaw the meticulous build.
"The construction process took about a year and nine months. It was painstaking because of its really narrow alleyway, which is about 10 feet wide out of Church Street and narrows substantially," Smyth says.
The small galley kitchen gained about 50 to 60 square feet through the renovation, and the screened-in rear porch—like the rest of the home—provides an abundance of natural light.
"We tried to save as much as we could," Smyth says. "We restored the original plaster, original woodwork and doors. Everything we could restore, we did."
The home showcases a rarity too, at least by downtown Charleston standards: a full-size basement.
"We went to great lengths to stabilize the structure," Ann says. "There was an old iron metal furnace down there we removed piece by piece. We sealed and resurfaced the area and integrated a French drain and a mega sump pump to keep it dry."
Another of the home's most outstanding features? A wrought ironwork gate designed and forged by famed Charleston artisan Philip Simmons. The gate represents one of Simmons' first decorative installations, and showcases S and C scrolls, two major themes of the Charleston tradition, along with a crown of spear points.
Prize in sight
The Kulzes also incorporated a few familial gifts from their son Jack, an accomplished woodworker and craftsman.
"Jack did both our bathroom sink vanities from reclaimed wood, which was customized for the spaces. He also built two more pieces of furniture in the house," Ann says.
Then there's the "single, greatest, unanticipated surprise," Ann says, as the former attic space was made into a third-floor loft.
"Tyler gets so much credit for this. We have four kids, and we're hoping one day to have lots of grandkids. We wanted space to accommodate kids and Tyler created this great space and crafted a ship's ladder leading from the second floor to the entire third floor. It's painted white with three built-in beds a few inches above the floor," Ann said. "We're so happy with how it turned out," Ann says. "We're still fine-tuning a few things, but we're very settled. We love it."
For Smyth, that's incentive itself.
"Seeing an idea come to reality is truly the most rewarding thing," Smythe says. "Seeing the framing go up is really exciting because we typically spend five to nine months designing the home. When it comes up out of the ground, it's a really rewarding thing. Then seeing things completely finished is another great moment because you can see the clients fully understand the home they're getting."
Builder Resources
Tyler A Smyth Architect, LLC
(843) 724-7787
www.tylerasmyth.com
Ben Buckley-Green Construction Inc
843-532-8594