Gather 'Round
07 Nov 2019
Holiday table settings make a statement
by Barry Waldman
Photos by Mira Adwell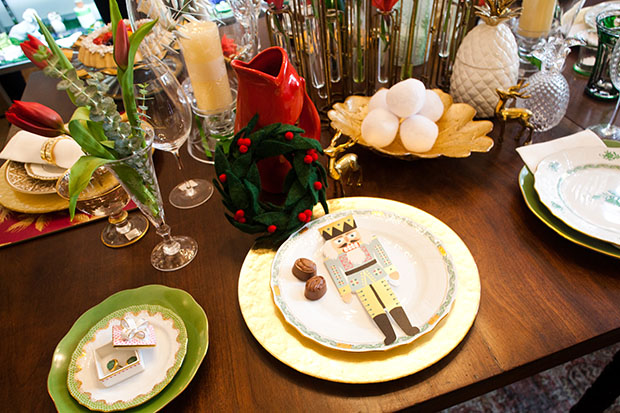 Vieuxtemps
180 King St, Charleston
We all enjoy the elegance and flair of a traditional table setting arranged just so with attention to detail and tender loving care. Just the same, it's important for the tablescape to reflect the personality of the host and the uniqueness of the occasion.
That is the philosophy of Natalie Bily, owner of Vieuxtemps in Charleston's French Quarter, the bridal registry store that carries the Lowcountry's largest collection of china, crystal and silver.
Bily believes beautiful china and crystal shouldn't sit in boxes in the attic just because they don't match everyday tableware. "We love to mix and match on the table different brands and patterns. It makes it more interesting when they coordinate with each other," she says. "It doesn't have to match exactly. It can give a table so much elegance and character and you can really have fun with it."
Vieuxtemps tables are full of style and tradition without being stuffy. Riots of fall color live harmoniously alongside dapples of elegance, as seen in a gold and silver champagne bottle ornament on a gold-etched plate.
The table has a sense of humor too. The bowl of faux fruit salad atop an Annieglass cake stand is the perfect marriage of old and new, sophisticated and common. The stand itself demonstrates how form and function can dance together; it shimmers with style from the gold baked into the glass, but it's dishwasher safe for modern use.
The staff took great care to create a table that would carry through the entire fall and winter seasons, with homages to fall, Halloween, Thanksgiving and Christmas. "You can make a table that says all of that," Bily notes. "You may tweak something here or there – change a napkin color or add an ornament to everybody's place for Christmas. But the table itself can remain fairly neutral to any fun, festive, seasonally appropriate setting."
Bily's favorite element on the Vieuxtemps tables is a pair of bejeweled bracelets doubling as elegant napkin rings. "We really enjoy coming up with those unexpected gifts to celebrate people in your life," she said.
Pro tips:
Make sure the table reflects your occasion and your personality.
Have fun. Don't get too wrapped up in the formalities you've learned.
Always make sure to have a view across the table. You are after all inviting people to be with each other and socialize. (We broke this rule ourselves!)
Katie Mae's Klassy Flea and Antique Mart
140 W Richardson Ave Suite A, Summerville
www.facebook.com/katiemaesklassyflea/
Katie Mae Moore, proprietor of Katie Mae's Klassy Flea and Antique Mart on West Richardson Avenue in Summerville, says your own style and preferences should be evident in your table setting.
One look at her Christmas table tells you quite a bit about her. She has simple tastes and loves the zeitgeist of the holiday season, right down to the cold and snow that are conspicuously absent in the Lowcountry.
Holiday tables across the Lowcountry strike a coastal theme, highlighted by various hues of blue, sea shells and wave-bleached wood. Moore says it provides an opportunity to put your own spin on the season.
She opted to harken back a century or two, starting with the table, a rustic farmhouse table that serves as the star of the show. The natural wood color is the base for a lime green runner upon which all the table settings sit.
Where the table's deep brown suggests fall and winter, many of the other elements burst with Christmas color, from the lime green glasses, to the bright red napkins to the mini-wreath napkin rings.
Besides the four settings, and a pair of wooden Christmas trees, the table is a study in minimalism, allowing the bonhomie and conversation of the guests to star at Christmas dinner.
"My table is about feeling comfortable and enjoying, lingering at the table after dinner is eaten," Moore says. "it's not so formal that you want to leave for a more casual place: it's already casual."
Moore's favorite elements are the carved wooden Christmas tree with snow clinging to its metaphorical pine needles. "When I think of snow, I think of going to the mountains for the holidays," she says.
Moore and her store are not much for rules of style. She believes the table should be fun and facilitate camaraderie among those gathered around it.
Pro tips: Be creative and make the table your own. Don't be intimidated by the latest style trends. Beautiful is your own creation.
Consider who is coming to dinner. If your husband's boss is coming, you want it to be more elegant. If it's just friends, do what pleases you.
Make it comfortable and casual so you can change things up.
Find an idea and build around it. Something that strikes your fancy or that means something to you.
Matthew Monroe Bees Interior Decoration and Fine Wares
205-657-5136
Gazing upon the table set by Charleston interior designer Matthew Bees creates a magnificent impression of being one with the room. The hardwood floor, including the gold-lined baseboards, flow seamlessly into the table and through the place settings.
The floor's light earth tones are reflected in floral plate accents, the gold trim in foil napkin holders and the blue walls and chairs in napkins. The maroon of the glassware and pink of the flowers complement the ensemble.
The result is a resplendent table at peace with its surroundings and all those who gather around it. Vexing political arguments over Thanksgiving turkey? Not at this table. Only warm conviviality is possible in this space.
Indeed, Bees looked to the envelope of the room for his inspiration.
"My table setting was inspired by the room's scenic wallpaper. The paper, Brighton Pavilion designed by Miles Redd for Schumacher, features flora and fauna. I pulled the colors from the room onto the table top," he said.
The table is simultaneously seasonal and timeless. The entire room suggests the Charleston coast, with a table stand that mimics a wave crashing ashore, seen through a clear tabletop. Adding a splash of color, seasonal fruit sits in antique pewter bowls.
"Everyone wants to feel special during the holidays," said Bees, who learned interior design at his grandmother's knee. "I always try to incorporate family items into my tablescape that bring back memories of holidays past. Also, I try to use seasonal fruit during the holidays. It is citrus season!"
Bees believes a table should reflect the life of the host. The table you see is replete with items that mean something to him.
"The chargers were made by my friend Christopher Spitzmiller. The Herend China was my grandmother's pattern," he said. He also inherited some of the silver.
Everything on the table, except the antiques, are available through Matthew Monroe Bees Interior Decoration and Fine Wares. "We also offer event design and set up," he notes. "So remove the stress of setting a perfect table, we can make it perfect for you!
Pro Tips:
Iron everything
Give the silver a fresh polish
You can never have too much candlelight.
Keep the centerpiece and flowers simple. it makes for a stronger statement.
Always use place cards, it makes everyone's life easier.
Set the table a day or two before.