Jasmine Porch at The Sanctuary
07 Nov 2019
Waterfront dining at its finest
by Wendy Swat Snyder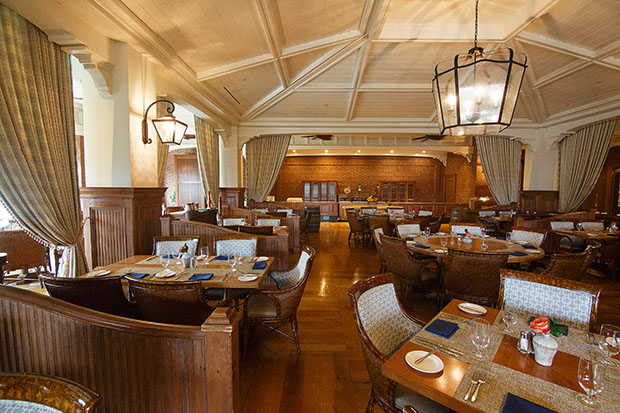 If you're a local, you know that Charleston is the darling of the well-heeled travel crowd, earning top billing among the best small cities in the U.S. year after year. And neighboring Kiawah Island routinely garners awards for its sun-washed beaches, championship golf and tennis, world class resort and upscale restaurants—both remarkable accomplishments for our little corner of Southern paradise.
The best news is, we locals can enjoy the perks of living in paradise every day of the year. We recently visited Jasmine Porch at The Sanctuary on Kiawah for a twilight dinner overlooking the ocean, and found plenty of warm hospitality, plus a friendly gate-keeper at the private community entrance happy to wave us through to our destination.
Jasmine Porch is one of several fine dining restaurant concepts the property offers, among them The Ocean Room, a steakhouse, also at The Sanctuary, The Atlantic Room with locally caught, sustainable seafood, Italian fare at Tomasso at Turtle Point and Cherrywood BBQ & Ale House at Osprey Point Clubhouse.
"Jasmine Porch was always about Lowcountry cuisine," explains Michael Blake, The Sanctuary director of food and beverage. "When everyone was talking about farm to table—we were truly doing it."
Less than an hour from downtown Charleston, a short drive transports the local visitor to the tranquil, sea island setting for which Kiawah Island is famous, worlds away from traffic and crowds, with dining options to suit every taste.
"A vacationing guest can spend several days at the resort and have a different experience every day," adds Blake.
With a luxurious yet relaxed ambiance and authentic local flavors, Blake feels that Jasmine Porch is a true reflection of both The Sanctuary and its Holy City neighbor.
A sprawling dining area overlooking patio seating with ocean views features old Charleston brick and hewn oak floors.
Leading the Jasmine Porch culinary program is chef de cuisine Jeremy Holst, whose background in upscale restaurants and resort properties is a good fit for The Sanctuary team.
The Mount Pleasant native found his passion for food at an eatery on Sullivan's Island where he started out washing dishes as a teen. After graduating from the Culinary Institute of America, he did a stint at the Four Seasons Resort Lanai, getting exposure to the different flavor profiles—Korean, Philippine, Japanese—and high-quality fish product Hawaii offered.
Back in the States, Holst worked at the renowned Pano's & Paul's in Atlanta. He would return to his home state to join the staff at five diamond The Dining Room at Woodlands in Summerville, which earned a fifth star during his tenure, before heading to the Ritz Carlton in Las Vegas.
He finally returned to Charleston for a stint at Six Tables, which earned the AAA Four Diamond award under his leadership. Prior to joining The Sanctuary culinary team, he headed the kitchen of Anson, a pioneer of Lowcountry cuisine and Charleston institution.
"It was an easy transition from Anson to Jasmine Porch," says Holst. "We had partnered quite a bit with Johns Island purveyors, plus I'm from the Lowcountry, I like to eat and cook what's fresh and local—when I'm here at the restaurant I can look outside and see shrimp boats out on the water—sometimes it's hard being on the inside." Holst adds, smiling. "Fishing is my form of golf. I really like to go out there and put a line in the water."
As for culinary approach, Holst says he takes product that is very recognizable and adds a
personal twist.
"My approach is to undersell and over deliver on a dish," he said.
The night my guest and I visited, the kitchen did just that. We ordered several of the coastal Carolina dishes we know and loved to see how they compared to the competition. We found all the familiar ingredients were there—top quality fish and beef from regional purveyors such as Lowcountry Shellfish, Crosby's Seafood and Halperns'; Geechie Boy grits and mushrooms from Mepkin Abbey.
From the she crab bisque to the whole flounder fresh from our waters, we were wowed by the richly flavored preparations the kitchen sent out.
Holst shared a few of the personal touches that made his dishes stand out from the crowd. He described the she crab bisque as a more traditional preparation with rice cooked into the stock to thicken it, and roasted crab shells blended with wine and tomato paste forming the the rich rouge base—a heartier and absolutely divine version of the classic.
Both the bisque and the shrimp and grits we sampled next are considered Jasmine Porch's signature dishes. Holst says he starts with a sofrito of onions, pepper and garlic, adds small bits of tasso ham—my favorite pork addition—white wine, tomato paste and heavy cream, then finishes with a splash of hot sauce and squeeze of lemon juice. The shrimp were tender and the dish, outstanding.
The special that evening was pink snapper that Holst pan roasts skin on—he says the crispy skin is the best part, and I agree—and serves with brown butter and earthy mussels poached in a nage or rich sauce. The dish was finished with a garnish of pickled beets "to wake everything up" and Carolina Gold rice.
Flounder was the evening's whole daily catch was a flounder diamond scored, served with southern purloo, green beans and a lemon beurre blanc.
Rotating into the seasonal menu will be a few dishes Holst characterizes as one-pot-stick-to-your-ribs, such as pork shank with apple jack and Geechie Boy grits paired with a kale salsa verde that's herbaceous and bright to cut through the richness of the meat.
We'll be back to Jasmine Porch for that—along with all the other Lowcountry folks and visitors to our beautiful sea island paradise—to enjoy an outstanding meal and excellent service with a calming ocean view.
Jasmine Porch at The Sanctuary
One Sanctuary Beach Drive
Kiawah Island
(843) 768-6251, (800) 654-2924
https://kiawahresort.com/dining/jasmine-porch