Give your Holidays Some Class!
08 Nov 2019
Are there any special holiday skills that you have always wanted to learn?
by Joy Farrae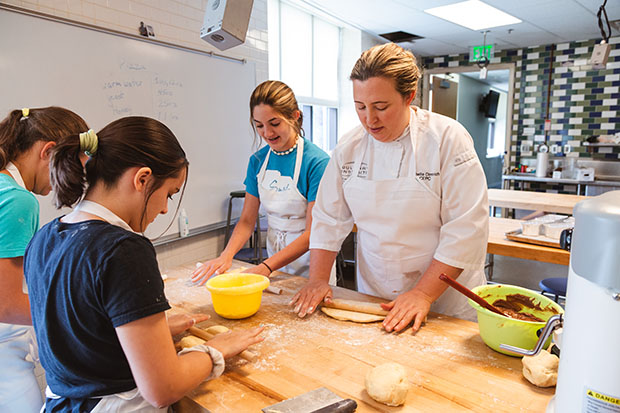 Maybe it's preparing the perfect turkey or creating the perfect homemade gift. Maybe you want to learn the best way to decorate a gingerbread house or design a unique ornament to hang from the tree.
No matter what you're passionate about learning, you'll find a bountiful supply of personal enrichment classes at Trident Technical College (TTC) Division of Continuing Education, taught by experts who can help you explore your hidden talents and make your holidays shine.
Lori Neid, Program Manager for Personal Enrichment at TTC Division of Continuing Education, says the holiday-inspired classes have become a tradition among many families in the Lowcountry.
"For the holidays, the perennial favorite is the generational gingerbread house decorating class. The adult registers along with the child and they get to decorate a house together. We see a lot of grandparents and grandchildren in this class, as well as other special adult/child combinations," said Neid. Not only is this a unique holiday activity to enjoy together, but participants get to take home a beautiful gingerbread house and no one has to clean up a mess in the kitchen afterwards. We have our own 'elves' for that!"
Create Your Own Gifts
The variety of holiday-inspired classes for both adults and kids include Holiday Ornament 3-D Printing class, and the Sweetgrass Creations class, where you can create your own sweetgrass basket, ornament, or key chain to take home.
For a more traditional holiday activity, the popular Gingerbread Houses class and the Holiday Cookie Decorating class include treats baked in the Culinary Institute of Charleston Bake Shop kitchens, where a child and adult can get creative and decorate together.
A sneak peek of adult classes includes creating one-of-a-kind homemade gifts. There's a Glass Fusion Art for Beginners, Natural Soap Making and Soothing Spa Kit class options.
And what holiday is complete without homemade gifts from the kitchen? Learn chef-inspired techniques in the Holiday Gifts from the Kitchen class, featuring chocolate caramel fudge, truffles and more.
The upcoming holiday-inspired courses range from $55 - $139 per student, and for those over 65, a senior discount is available. Most classes are offered on Saturdays or at 6 PM on weeknights, so it's convenient for working professionals and school-aged children.
Personal Enrichment All Year Long
In addition to the holiday classes, TTC Continuing Education also offers a variety of short-term classes for adults interested in learning a new hobby or skill, as well as youth camps and programs offered throughout the year. Participants will find that taking non-credit classes are relaxed, with no tests, homework or stress. It's all about the experience.
Adult personal enrichment classes run the gamut from interior design, sign language and sewing fundamentals, to how to brew your own craft beer and even how to trim your dog's nails.
Classes are taught by experts in the community, some who graduated from TTC themselves and come back to share their talents and new skills. Classes are offered if there is a community interest, a new trend, or if an instructor suggests a new idea to try out. "This keeps the classes relevant and fresh," says Neid. "We are always looking for experts in any field who would be interested in teaching a non-credit course."
Whatever your passion, TTC's Personal Enrichment classes can expand your mind and express your creativity. Possibilities are endless when you're learning for the fun of it.
The full list of TTC's personal enrichment classes can be found at tridenttech.edu/ce and clicking on explore new interests.
To register for a class, call 843-574-6152 or visit the website. You can also sign up on the website to receive a printed course catalog.
Campus locations:
Thornley Campus
7000 Rivers Avenue, Building 910
843-574-6152

Berkeley Campus
1001 S. Live Oak Drive
843-899-8000

Palmer Campus
66 Columbus Street
843-722-5500

Mount Pleasant Campus
1125 John Dilligard Lane
843-958-5810