Great Neighborhoods + Real Estate
07 May 2016
One good thing about this real estate market: there are deals to be had. Lots of them.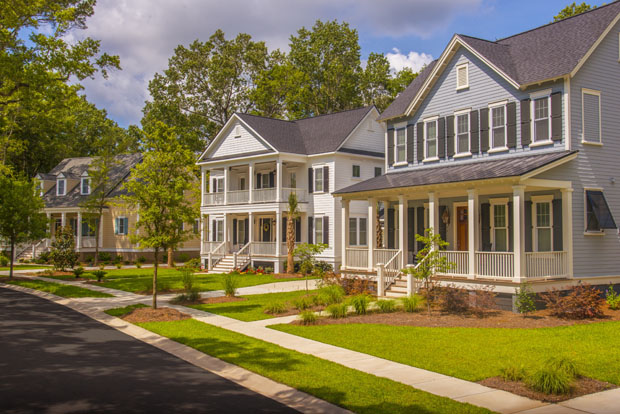 A Day in the Park: The Lowcountry Shines at Carolina Park
Life in Riverside at Carolina Park is already pretty sweet for Curry and Bradley Robertson and their four kids, aged 11 years to 18 months, but it's about to get even better. "The pool opens tomorrow – the kids are so excited they can't stand it," says Curry on a warm day in mid-March. "We love the easy access here to everything, to (Highway) 17, to the pool and playground, where our kids practically live." And when the new Carolina Park Elementary school opens next fall, "we'll be able to walk and bike to school. It doesn't get any better than that," the busy mom adds.
That sense of convenience and family-centered living is what initially drew the Robertsons to Riverside when they moved to the area from Greenville, SC, two years ago. They've since moved to a larger home, also in Riverside, after realizing how much they loved the neighborhood. "It's so inviting and beautiful here," Curry says, but what's really been the clincher is not the alluring Lowcountry landscape or even the high quality home construction, but the people. "Our neighbors are so incredibly friendly—I know people always say that, but here it's really true. It feels like we're all family," she says, noting that her crew has moved around a lot. "Like seven times, so I've got some basis for comparison."
If indeed "quality attracts quality," as the saying goes, then the thoughtful design that has gone into the 1700-acre master-planned community of Carolina Park, along with the exceptionally high standards of architectural design and custom home construction, has attracted the most important part of any community: the people who live there. People like the Robertsons and their active brood—young soccer fiends and book worms who keep things hopping on the fields at Carolina Park and look forward to going to "kids' story time" at the library that's coming soon. And people like empty-nesters Steve and Denise Houpt.
The Houpts relocated from Philadelphia three years ago and were specifically looking for new construction in a development that offered equal parts action and relaxation. "We were one of the first buyers and love our corner lot on the pond—so quiet and peaceful—but also love that our house has quickly become the weekend social spot. We light a bonfire in our patio firepit and neighbors bring wine – we've made great friends," says Steve. Denise, an avid shopper, appreciates easy access to Mt. Pleasant and downtown stores, and both enjoy Charleston's foodie scene. "We've got everything at our fingertips here, and there's always plenty to do," Steve adds.
The real magic of Carolina Park is no secret—this community simply reflects the very best of the Lowcountry. Every ingredient that makes up an ideal place to live is right here: top-rated schools, excellent healthcare, churches, parks, trails, recreational amenities, and of course, gorgeous homes and great folks of all ages and backgrounds—all ideally situated at the edge of the pristine Francis Marion Forest and along the meandering Wando River, yet in easy proximity to Mt. Pleasant and downtown Charleston, not to mention the beaches of Isle of Palms and Sullivan's Island. As one grateful resident put it, "It's not home, it's heaven." carolinapark.com
Activities and Natural Beauty Abound at The Ponds
Welcome to a one-of-a-kind place. Nowhere else in the Charleston area can you live in a community that offers so many things to do, within such a naturally beautiful setting. The Ponds, in Summerville, blends dramatic natural vistas with history, culture and community spirit. With more than 1,100 acres of moss-draped oaks, ponds, lake and conservation areas, you'll find that hiking, bird-watching and fishing well-stocked ponds are everyday adventures. Plus, with a location just minutes from quaint downtown Summerville in one of the area's highest achieving school districts, it's the perfect setting for family life. You'll also find a vibrant community of friendly neighbors. Here, residents soon become friends at the waterfront amphitheater, recreational fields, village center and onsite YMCA, with activities and fitness opportunities for all ages.
An authentic 19th-century farmhouse with adjacent swimming pool and outdoor pavilion serves as an iconic community landmark, adding a sense of historic pride and lowcountry charm to life at the Ponds. "We're different than any place that you'll visit because of everything we have here," says Mike McLendon, Vice President of Kolter Homes. "There's not a community in the Charleston area that has all the amenities we have. There's so much to do here."
One of the most unique things about the community is its access to nature – an area so beautiful it's breathtaking, and also plentiful with outdoor space for recreational use. The community includes more than 1,000 acres of preserved land. To assure the residents have the opportunity to stay engaged, there's an activities director who regularly plans community events like Bunco Night, Bourbon and Cigar Night, Garden Clubs, and more.
Those who are interested in history will enjoy the restored farmhouse, which dates back to 1843. The farmhouse serves as a community center, but it also contains a museum with artifacts that help tell the story of The Ponds. "Most builders have one to three models that they showcase, but we model all the different floor plans we build, so you can test drive your home before you buy it," McLendon says, noting that they also will have an inventory of quick move-in homes for families who, for whatever reason, don't have time to wait to have a home built.
Home prices in The Ponds start in the $270s. "It's like Mayberry," McLendon says. "It's a place where kids are riding their bikes, playing in the street. You see kids running throughout. It's a very safe place where you don't have to worry about anything."
If it sounds like a great place to raise kids, it might be an even better place to retire. Cresswind at The Ponds is a separate community just for adults ages 55 and up. In Cresswind, there are eight different floor plans to choose from, all of which are single-story homes. Cresswind at The Ponds has its own clubhouse, which features an art room, entertainment area, demonstration kitchen, health club and yoga room. The community also has an outdoor pool, tennis courts, outdoor grilling area, and more. Plus, there's a full-time activities director that plans activities and events just for the residents in the community.
"It's basically a cruise ship on the ground," McLendon says.
The Ponds community has something to appeal to all ages and all walks of life— whether your idea of a perfect home is a peaceful, scenic getaway or a hotbed of activity —all just a short drive to Charleston's best attractions. For more information visit ThePondsLiving.com
The Island Life at Wild Dunes
By HELEN MITTERNIGHT
At the northern tip of Isle of Palms and just 20 minutes from downtown Charleston on a good traffic day, Wild Dunes is nearly synonymous with the Wild Dunes Resort, but it didn't start out that way. Back in the 1970s, the area was intended to be a planned community, with private homes built around the Isle of Palms Beach and Racquet Club. After a few ownership changes, the Wild Dunes Links Course, designed by golf architect Tom Fazio, was created in 1980 and won positive notice in Golf Magazine. Soon after, the golf course was so popular that the whole resort was re-christened Wild Dunes Resort. The resort also features the Fazio-designed Harbor Course.
In 1988, Wild Dunes received a gold medal from Golf Magazine, which deemed the links among the top 12 golf resorts in the country.
Membership in the golf and tennis club is a big inducement to move to Wild Dunes, but membership is not mandatory.
These days, it's not just golf and tennis enthusiasts who live at Wild Dunes.
"We have some people who are not members of the club, who just like to live on the island and walk on the beach every morning. It's really a mix," says Wild Dunes Real Estate broker-in-charge/director Dick Casey. "We have a pretty good group of full-time residents who are members of the club and very active in the golf and tennis community. And then when you get into the summer, you have the influx of vacationers. We have a lot of buyers who are buying as a second home, people who use it a few weeks a year and then rent. It's a mix between primary residents with a country club feel, and then we are a resort, so people come on vacation."
Casey says that he personally loves playing on the beach at Wild Dunes with his six- and seven-year-olds, and running on "the best running trails."
Senator Fritz Hollings is a resident, but there are plenty of homes that are available for the non-celebrity.
Houses sold last year for an average of $700,000 but Casey says the average can be deceiving. Prices vary greatly depending on whether the house has that ocean view.
"It can go from $200,000 for a smaller condo, up to $2 million or $3 million for a larger home," Casey says. "The average price is up to $600 a square foot if you're looking at the ocean but you can go a quarter mile in and the price is closer to $300 a square foot."
Housing prices are on their way back up after the disastrous nationwide market plunge in 2008.
"We tend to flow with the national trends, although with our market often being second homes, it can follow a different trajectory. After 2008 when the market bottomed out, sales went down over 50% and prices went down almost 50%. The bottom was 2010 and then prices started going back up. It's still a good time to buy, but it's not desperation time like it was a few years ago," Casey says. For more information visit wilddunesrealestate.com.