European Panache
07 May 2016
A Kiawah Island home is anything but ordinary with a neutral palette and blissful details
By ROB YOUNG » Photos by MICHAEL CYRA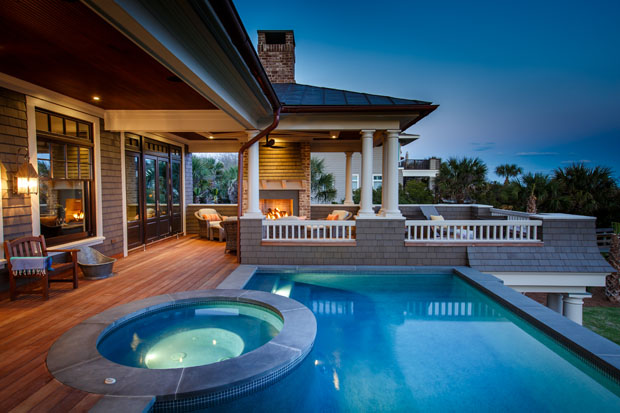 When David and Kelly Sach set out to build their first home, they sought a generous partner willing to educate the couple and guide them through the process. No matter that the Sachs' first home would consist of 6,500 square feet with an ocean-front view. And – guess what? – it didn't matter either to Zach Carney, the architect who teamed with the couple to build their Kiawah Island home. "We thought that Zach brought a combination of flexibility and expertise," David says, "and that he would be just the person to steer us in the right direction."
The Sachs had lived in Europe for much of the past three decades, providing context for their first home buy. They partnered with Carney of Zach T. Carney Architects on the recommendation of friends, who also joined with Carney to build a home on Kiawah Island.
"We saw our friends' home and we loved the quality and the style," David says. "Most importantly, Zach was willing to work with us. It was the first home we had built, and he was very accommodating in terms of getting us up to speed and walking us through options in all stages of designing the house."
Carney's Process
Carney began his Johns Island-based company in 1990. Originally from Nashville, Carney began vacationing in the area with his parents in the 1960s. He and his wife bought a sailboat and cruised the Caribbean before settling down here. "I always knew I wanted to move to Charleston," he says.
Carney's process-oriented approach centers on functionality and consideration, as his firm seeks to cultivate a unique footprint suitable to each individual home owner. The staff engages in a select number of projects each year to best provide clients with personal attention. "We probably don't work on any more than two major residences per year," Carney says. "If we tried to do more, we probably wouldn't be able to give our clients the consideration they deserve."
Carney employs another trait as well – empathy. He and his team understand that the home design and build require substantial time and money, which is why they strive to grasp just how the residents may want to eat, sleep or live. Just what would provide them the most comfort or assurance? "I believe that every house is truly individual to the homeowner. All my houses represent that," Carney says. "There isn't a signature style, per se. Every house is individual to the owner."
Custom Preferences
The couple travel extensively and prefers sophisticated, modern accommodations, perhaps due to the couple's extensive travel. Accordingly, the Sachs' home tends to favor the contemporary. "The first floor level we would consider more transitional, but then it becomes contemporary, particularly with respect to the trim work and other fine details," Carney says.
The couple has three adult children, and wanted to design and build a home large enough to accommodate them, and potentially their families. "They wanted to have the ability to house the kids when they came home," Carney says, "and they wanted to be able to host parties and invite people to gatherings in a more intimate setting."
The three-story home looks out over the Atlantic Ocean as well as the 14th hole of the Jack Nicklaus-designed Turtle Point Golf Course. Red cedar shingles help cover the walls and roof. "We required Zach to make sure we had a great view," Sach says, "and he did a tremendous job of positioning the house so we get beautiful views from even the first floor."
Presently, the couple use the home as a rental property for the summer – a particular treat for discerning visitors as it features seven bedrooms, a private pool and spa, ocean-view living space, and direct beach access. The 3,000-plus square feet of outdoor living space also includes a large deck, sitting area, dining area, two outdoor showers and immaculately landscaped gardens and lawns. "We wanted to have a lot of outdoor living space, since we were right on the beach," David says. "We have an outdoor eating area and fireplace, and several decks on the house for people to sunbathe."
Interior Design
Once inside, a rising three-story foyer gives way to wide-plank French Oak hardwood flooring and custom cabinets and doors. The bedrooms boast en suite bathrooms with custom designed wet rooms composed of granite and limestone, open showers, floating counters and German fixtures. A see-through fireplace is shared between the master bedroom and master bath. The stone detail is abundant, as is space. "You could probably park a car in the shower," Carney jokes.
Six of the seven bedrooms also grant ocean views, and five permit direct access to decks; all feature locally made linen drapery and bedding. "The living space features nice, tall ceilings. It feels comfortable; it's not overly big," David says. "It feels like the right kind of size. With the other bedrooms spread throughout the house, we can shut those off, and make it really comfortable for just the two of us."
The handmade brick foundation and bluestone steps also help highlight the front entry, with the pool and spa benefiting from strong ipe decking with Bluestone coping. The windows and doors are colored a handsome mahogany, the interior demonstrating a European penchant. The kitchens, for instance, boast Gaggenau appliances, Caesar stone tops and Glasskote back splashes bounded by painted cabinets with stained walnut interiors, while the bathrooms contain floating vanities highlighted by a Lutron lighting system enriched with exquisite hand-blown glass from Prague and distinct European fixtures courtesy of Porta Romano. Light emanates from all angles throughout the home – from the floor, eye-level and ceiling.
"There is a tremendous level of lighting design in the house," Carney recalls. "David and Kelly hired London lighting designers to carry out the work. Almost everything is LED, and several European fixtures were rewired to suit standards. The specific lighting plans were very detailed."
Adding more international style, the Canadian custom-made mahogany windows provide integrated screens, allowing guests to enjoy the ocean breezes. A high-end media system offers built-in indoor and outdoor speakers. Neutral colors, and crown and base moulding, predominate the home. "We entertain quite often. We often came back from abroad and stayed with friends. Now it's payback time," David jokes.
The Art of Collaboration
The Sachs hired Carney not only to design the house, but to remain on the job through construction. "One of the things we got was an incredibly quality build, as Zach insured that all plans were followed," David says.
But the Sachs and Carney also had another great partner in home builder Jay Sifly of Sifly Fine Custom Homes. Sifly brought considerable experience to the project, as his company has built and remodeled distinctive custom homes in and around Charleston, and Kiawah and Seabrook islands for the past 20 years. The styles vary from high-end contemporary, traditional, ultra-modern and classic Lowcountry, the construction in step with the vision of the architect and clients. Similar to Carney, Sifly also limits the number of annual project his firm completes, which provides homeowners with additional service and security.
Upon plan completion and initiation of construction, Sifly supervises the work directly, in tandem with a project coordinator. Still, Sifly is one of the main players in building the house, as he manages subcontractors, and the planning and coordinating of the work.
The methodology employed by Sifly scales to each project, irrespective of size, complexity or design. Web-based technologies help create a transparent system, allowing clients to log in and view construction documents, schedule updates, material selections, budgets and project photos. "The builder, Jay Sifly, was tremendous as well," David says. "He built a truly remarkable house."
Resources
Architect: Zach T. Carney Architects, 843-768-4264, ztcarchitects.com
Builder: Sifly Fine Custom Homes, 843-225-1212, siflyhomes.com