Growing the State's Knowledge Economy
22 Sep 2014
Bill Mahoney opened the floodgates on the potential for research and development leader SCRA
By HOLLY FISHER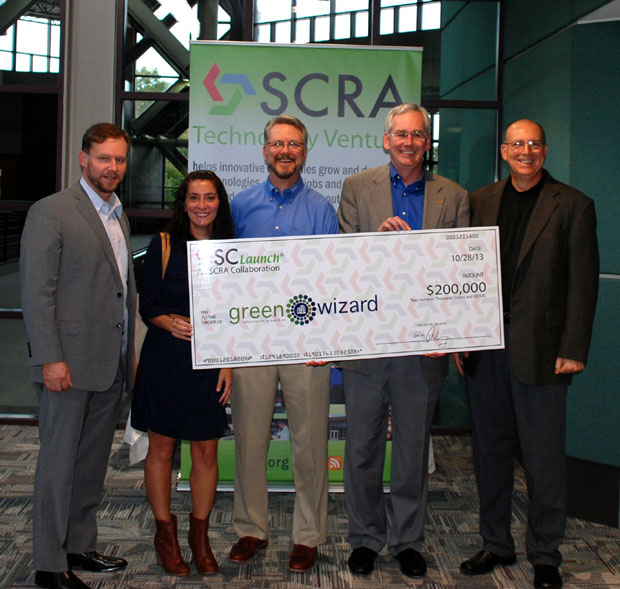 Plenty of people have contributed to growing South Carolina's reputation as a knowledge economy, but one man in particular saw the potential back in 1997. At the time, Bill Mahoney was a trustee on the board of SCRA, an applied research corporation started by the South Carolina Legislature.
"It occurred to me there was all this unfulfilled potential and it would be fun to run a nonprofit R&D company," Mahoney said.
Fast forward some 15 years and Mahoney has been responsible for growing SCRA into a global resource for technology and bioscience startups and discoveries.
Entrepreneurial Beginnings
Yet Mahoney's come a long way from the New Hampshire chicken farm where he grew up. He studied at Harvard, where he also was on the Harvard Crew Team and on the U.S. National Rowing Team.
After college Mahoney worked in sales and marketing for Honeywell and Digital Equipment Corporation before getting his first taste of startup life. He was part of the invention of the modern-day directory assistance system, as well as a company that revolutionized the electronic publishing business with the creation of the user interface concept of WYSIWYG (What You See Is What You Get).
Then with two young sons home and the need for a more stable schedule, Mahoney traded startup life for corporate life and a focus on family.
But once an entrepreneur always an entrepreneur, and Mahoney had what he calls his "second run of startup fever."
In the 1990s, he headed up SCT Utility System, which was based in Columbia and a customer of SCRA. The company developed a first-of-its kind customer information system for utilities and experienced considerable growth. Between 1995 and 2000, SCT went from a startup in a business park to bringing in $175 million of annual revenue. SCT was eventually sold to Indus International (now Ventyx Corp.). Its base of customer information systems for energy, utility and communications companies is still one of the largest of its kind in the world.
It was while Mahoney was president and CEO of SCT that he was also serving on the SCRA board and thinking about SCRA's untapped potential. And for awhile, Mahoney's ideas remained ideas.
Then in 2005, SCRA's chief executive officer Larry Druffel was retiring. Mahoney was working in Boston, patching up a couple of software companies for venture capitalists. He was helping the search committee in its hunt for a new CEO of SCRA. His advice to the committee was that SCRA didn't need a scientist but rather someone who could run a business.
Then in April 2005, Mahoney got a call from the SCRA search committee asking if he would want to take the lead at SCRA. Mahoney looked out his window where it was snowing horizontally, he recalled, and immediately accepted the position.
A New Era
About five months later, Mahoney landed in Charleston, fulfilling that thought from years ago that it would be fun to manage a R&D nonprofit.
As he took the reins of SCRA, Mahoney had a specific plan in mind: "to aggressively perform our way into a leadership role in building the knowledge economy in South Carolina." SCRA had taken a behind-the-scenes approach, and Mahoney wanted to change the way people thought about the company and its mission.
"We set forth a strategy to be outstanding and recognized," he said.
By all accounts, Mahoney has accomplished the mission he set out to achieve in the summer of 2005. That year SCRA annual revenues from its applied research and commercialization services operations were $74 million. And this past June, annual revenues topped $285 million. Plus SCRA's contract value under management has grown since 2005 from $235 million to $2.1 billion.
SCRA's Many Missions
The state Legislature created SCRA in 1983 with a one-time capitalization of $500,000 and 1,400 unused acres. The idea was that SCRA would help develop technology-based industries in the state.
A self-sustaining entity, SCRA continues to do the work it was tasked with more than 30 years ago. Mahoney describes SCRA's multifaceted work quite simply: "We take discoveries and prototypes out of labs and get them operational."
A simple concept that is fueled by three sectors:
Technology Ventures assists startup companies to commercialize innovations and create jobs.
Applied R&D manages national and international R&D programs.
R&D Facilities builds and manages research facilities that include wet labs, secure rooms for sensitive work and space for advanced manufacturing.
SCRA works with companies around the globe, finding itself sharing the R&D stage with facilities like Battelle Memorial Institute headquartered in Columbus, Ohio, and national laboratories like Oak Ridge in Tennessee or Argonne in Illinois.
For SCRA, though, it's not always about competing for the latest talent and tools. There's a collaborative spirit that drives the organization's success – internationally and even right here at home. And that also fuels the economic development of South Carolina and its communities. SCRA has helped almost 300 startups with the vast majority of those launched right here in the Palmetto State.
Through SCRA Technology Ventures and its flagship SC Launch program, the organization grows technology startups through investment and support, including facilitating the transfer of intellectual property and accelerating the transition of inventions to the marketplace.
SCRA's impact to the state economy today is about $1.3 billion a year, and the organization is credited with creating more than 15,000 jobs that have annual wages of $55,000 to $77,000.
SCRA Applied R&D competitively wins and delivers R&D programs to federal and corporate clients, working across a vast range of industries, such as shipbuilding, aerospace, advanced materials, manufacturing, defense and security. SCRA Applied R&D manages national and international programs worth more $2 billion in applied R&D contract value.
Mahoney and his team aren't afraid to partner with other businesses and organizations that are invested in growing the state's economy. In Charleston, for example, SCRA works closely with MUSC, the Charleston Regional Development Alliance, the Charleston Digital Corridor and the Harbor Accelerator.
"It's great to see the ecosystem growing statewide and locally," Mahoney said.
And, of course, enticing people to come to Charleston to develop a product or conduct research isn't exactly tough. "As much as we like to give ourselves credit, the city itself is an asset," Mahoney said.
Moving Forward
Mahoney pauses to reflect on the fact that the supposition he had back in the 1990s – that SCRA had unfulfilled potential – was indeed, true. But that doesn't mean he's resting on his laurels.
"Our best days are still ahead of us," he said. "We have in our company the combination of domain expertise, process competency and flexible business models."
In October, SCRA is relocating from its facility on International Boulevard in North Charleston to a new SCRA Applied Technologies Center at Nexton in Summerville. Its first tenant is Aeterna Zentaris, a specialty biopharmaceutical company engaged in developing novel treatments in oncology and endocrinology. The company is strategically forming its corporate headquarters, linking both Canadian and German operations in the Charleston area.
In April, SCRA officially welcomed Israeli company NeuroQuest to Charleston, where the company has established its U.S. subsidiary and clinical development center at the Roper St. Francis' Clinical Biotechnology Research Institute. NeuroQuest is the 14th company to enter the state through SCRA investment and the first landing party as a direct result of the S.C.-Israel Economic Development Mission.
NeuroQuest is developing blood-based immune biomarkers that produce early and accurate diagnostic and therapeutic tools for Alzheimer's and ALS. The company is today conducting clinical studies of its diagnostic test.
Those kinds of success stories and a shelf full of awards are becoming regular occurrence for SCRA. They bode well for the future while serving as an important reminder of Mahoney's goal to become better and better.
He cites Harry Truman's words of wisdom to "never forget where you came from and never forget where you're going."