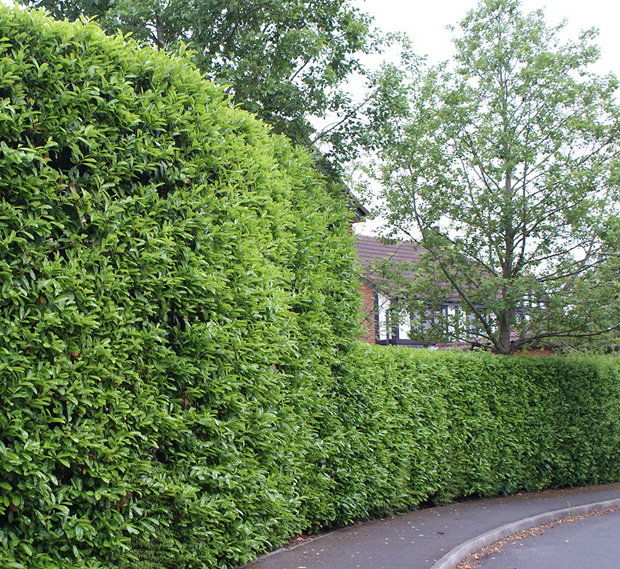 The success of a landscape has to, and does, begin somewhere. When we design at the drafting table, the birth of a design is often a line. At your home landscape project, that beginning of an organizational line can be just that as well: the line is the seemingly ubiquitous hedge. Framing the edges of your property, setting off an entry point, or creating a backdrop for other plants are common needs for a hedge. Think "green wall" without the potentially boring nature of a wooden fence. What I hope comes to mind are the hedgerows of the English countryside, the elegance of the tall privet hedges of the Hamptons, or the elegance of the ficus hedge of many a Palm Beach estate. And, perhaps yes, not utilized on such a grand or impressive scale. Here's how:
Use native or locally proven plants to create your own impressive hedge. I like Upright Yaupon Holly, Japanese Yew, Wil Flemming Holly, Alphonse Karr Bamboo, Cherry Laurel, Japanese Blueberry, and even Little Gem Magnolia.
Dig in the plants closely together, provide drip irrigation, and don't be afraid to prune aggressively to create a relatively thin, upright growing tendency. This will encourage upright growth so to meet a tall height line in as little amount of time as possible.
No, this is not a maintenance free, "plant it and forget it" sort of project. But, for those (I include myself) of us who appreciate the aesthetic of strong linear elements as defining features within one's landscape, a hedge is the way to go. Additionally, we are blessed in our climatic zone to be able to grow Creeping Fig. If you're like me, you love the classic, old-world elegance of the "green wall" look of closely-cropped Creeping Fig covering a stucco wall.
Please note that the placement of a hedge is important as well. Don't think that it can only be utilized to outline the perimeter of a property. It can outline a patio and thus provide a bit more intimacy to the space. It can also be a relatively short "segment wall" that provides back drop, for instance to a large planted urn or garden sculpture. It can also be shorter in stature to outline or divide a space within a space. This creates a parterre like effect which brings interest and perhaps allows for a differing use within a larger space, but without the effect of blocking too much air space.
I strongly advise you to hedge your bets, and give serious thought to all that an elegant, well-clipped hedge can bring to your garden. Not a better way, in my humble estimation, to keep within all of the satisfaction that your landscape can bring to you.