Transitional Style
03 Jan 2017
Architect Michael Spivey designs a unique build in Brickyard Plantation that offers a mix of contemporary and historic elements
By ROB YOUNG » Photos by NEWPORT653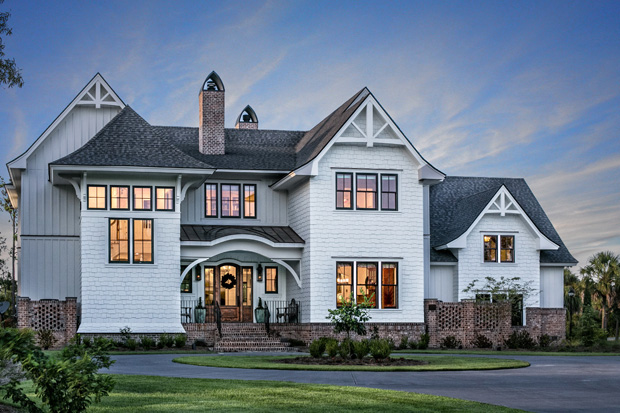 One might call it a match made in Mount Pleasant. Once Tom and Paula Keating settled on moving to the Lowcountry, they quickly stumbled upon a designer to help realize their vision: Michael Spivey, principal of the Charleston architecture firm, Spivey Architects Inc. "We absolutely love it, and we're so happy to be here," Paula says. "It's so great to be living in this house."
The Keatings found Spivey Architects online after perusing the firm's website and other affiliated pages. "They originally contacted us," Spivey says. "They did their research and interviewed us and several others. We got lucky. We get some work through our referrals, but we find now that we get as much work from people that we may know, as opposed to recommendations."
It represents a change from a previous era, a new perspective, really, as savvy consumers lean on the Internet and home design, decorating and remodeling sites for referrals or to screen potential designers, architects or construction firms.
"We happened upon a house on Daniel Island, and my husband and I made it a point to see it the next time we were visiting the area," Paula says. "We were very impressed by the house and design. You could tell it was quality construction, and that the plans were well conceived. Then we researched who designed and constructed the home, and found it was Michael (Spivey)."
The Keatings set up three interviews to select an architect; Spivey was the first they interviewed. "We would have hired him on the spot if we hadn't already set up the other interviews," Paula says. "We both left and said, 'Wow.' Michael understood what we were trying to describe. He understood us from the beginning. He definitely left a good impression."
The Right Fit
The Keatings moved to the area from northern Virginia, where Tom was last stationed. He served in the U.S. Marine Corps for 20 years as a military officer, retiring as a lieutenant colonel. He primarily flew Sikorsky Cargo helicopters for the majority of his career prior to leaving the Pentagon in 2014.
Paula is from Pensacola, Fl., and Tom grew up in the San Francisco Bay Area and lived in San Diego. Both loved the coast and knew they wanted to live there. "We just decided on Charleston because it has so much to offer," Paula says.
They also wanted their three children – two boys, one girl – to attend public school, and found the perfect locale in Mount Pleasant. "It's certainly a beautiful area," Paula says.
In total, the Keatings spent about two years viewing sites to pick just the right one. "We had always remodeled, and if we had done the same, it would have been ready faster," Paula says. "But then we quickly decided that we wanted to build and started looking at properties. Ours just popped up one day, and it's just such a unique property."
The couple settled on a site in the Brickyard Plantation neighborhood of Mount Pleasant. Bordered by Boone Hall Plantation and Horlbeck Creek, Brickyard Plantation contains 513 acres, more than 100 of which are reserved to lakes, forests and wetlands. "They were very interested in coming South and living on the water," Spivey says. "It's a very interesting piece of property because there's the main residence and a land bridge that connects to a small island on the same property."
The Keatings began meeting with Spivey in January 2013, and began the build in April 2014. They moved into the home in late September 2015. "We took the better part of a year for the design. We encourage our clients not to move too fast," Spivey says. "Many times, families only build their home once in a lifetime. It's very important to get it right. Rushing into something is not the best thing to do. We moved at a comfortable pace for them to reflect on the design phase."
The Keatings also hosted Spivey at their home in northern Virginia prior to beginning work. "They gave me the opportunity to visit their then current house, and ask them questions about what they like and didn't like, and how they lived their lives," Spivey recalls.
Simply, he did his due diligence. "Michael helped out so much," Paula says, remembering the visit. "He wanted to understand the functionality, how we moved throughout the home, and other key pieces. It was very well devised."
Even during the construction process, Spivey would continue to check in. "He would always come out and was available. He had great insight. He's just very good at what he does," Paula says. "He makes it very comfortable for clients to communicate with him."
A Mix of Contemporary and Historic
At more than 5,000 square feet, the home contains five bedrooms. The master and children's bedrooms are on the second floor, which varies from many home layouts. "We've always had our bedrooms on the top floor. It's kind of how we've always operated as a family," Paula says. "But it's nice because when we have guests, they can have their own space downstairs."
The Keatings settled on bluestone for their patio space, which also features a fire pit. A handsome variety of sandstone, the layered bluestone is typically found in the northeastern corner of Pennsylvania, parts of northern New Jersey and the southern portion of New York. From there the small island and dock is just a short stroll away. "You walk maybe 20 feet to the gate and then out to the island," Paula says. "It gives us a little distance from the home to the water. We have a boardwalk over the marsh to the island area and dock. It's just really unique."
Special to Brickyard, the exterior features a tower component and siding comprised of wooden boards and narrow wooden strips, called battens. The interior offers a transitional style. "Since we had lived in so many places, we wanted a mix of contemporary and historic elements, such as the dual posts you might find in a late 1800s historic home," Paula says.
An oyster shell tabby fireplace, and transom windows in the great room also lend the home unique character and a sense of openness. "We really wanted the transoms in the great room. It's a wonderful element in the house," Paula says. "Overall, it helps form clean lines for a modern feel."
Spivey also designed an elaborate man cave, so to speak, for Tom Keating. Situated above the garage, it contains a home theater and bar area, leather sofas and even an area to play poker. Most remarkably, the room also serves as an homage to Tom's military career. Several pieces of memorabilia were resin-embedded and encased in epoxy on the bar. The keepsakes consist of coins and patches Tom received from flying helicopters over the decades. "It's a really neat feature and very personal to him," Paula says.
For Paula, Spivey drew up plans for a craft studio, containing storage space and working space, as well as a work table. Situated near the living room, the area room gives Paula an opportunity to continue dabbling in paint. "We had a similar studio in our previous home, but we had that done as an addition," Paula says. "This room is really nice and serene."
Spivey can rattle off several other unique touches as well, such as the "decorative brackets, lots of crown and trim moulding, and the custom-made range hood in the kitchen." Then Paula sounds off a few more: "Wood ceilings in the kitchen and great room. The brick paver herringbone in the entryway. The fireplaces in the bedroom and great room. A shiplap element in the entry and tower."
All of it adds to the general impression the Keatings wanted to create. "We kind of started dreaming it up even before we bought the lot. I already had it in my head that we wanted those aspects," Paula says. "Mainly, I just wanted a comfortable family space. The house is fairly large, and we chose a lot of black and whites for the colors. When you walk in, it's just a very warm space."
Resources
Architect: Spivey Architects, 843-795-9370, spiveyarchitects.com