Hello, Wallflower
24 Mar 2020
Designer wallpaper makes an impact
By Jennifer Patterson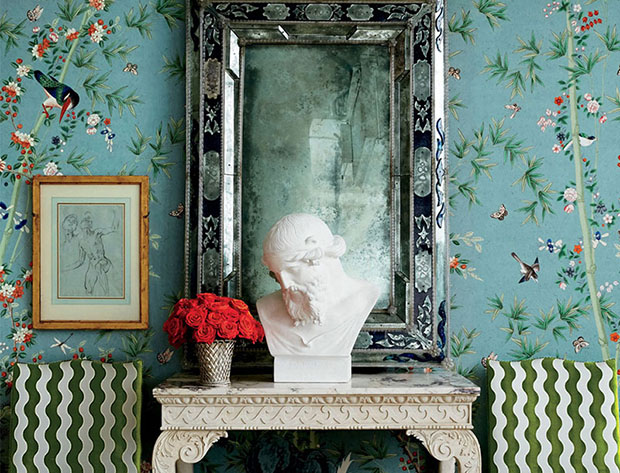 If you have been a loyal follower of the all-gray interior room trend and want to add some color back into your rooms, one of the easiest ways to pack a punch is wallpaper.
In the gloomy days of winter, this is just what we need to brighten up our interiors. With so many designs to choose from, finding the best choice for the right room can be a challenge. How do you know which style works best in your space?
From large scale florals, to emboldened geometrics, wallpapers are making their mark and are here to stay. Before you embark on picking your favorite print, here are tips for finding the perfect paper.
-Take the room dimension to see if it can handle the scale of the wallpaper design. If you desire a large-scale floral or a vertical Chinoiserie design that is sold by the panel, these require larger uninterrupted wall spaces. Large scale wallpapers work best in a dining room, or as an accent wall where you can really see entire pattern well.
-Assess the lighting in the room. Do you have windows or is there good lighting? Powder baths often don't have windows, so papers that have a lighter background or a printed cloth with a shimmer thread can make a small space appear larger.
-Close your eyes and imagine what you want the mood of your room to be. Do you want it to feel traditional, bold, playful or modern? The wallpaper you choose takes your space to the next level.
Below are some top picks for these styles:
Traditional
If you long for a taste of tradition, I love Miles Reed's Brighton Pavillion in peacock, Schumacher's reproduction of a rare 18th century document. Or for a fresh take on a traditional Chinoiserie design Thibaut's South Seas in grey and white feels elegant in a powder room.
Bold
If you prefer bold designs, try David Hick's "Tumbling Blocks" by Schumacher- a stunning geometric in black and white- perfect for a foyer hallway or behind built-in shelves. For a dining room or sunny breakfast room try the bright china blue colorway of Schumacher's Chiang Mai Dragon which is packed with vibrant dragons and flowers.
Playful
It's easy to add whimsy to any space with Schumacher's botanical "Birds and Butterflies," a rendition of a 1960's print with winged creatures and branches. Versatile for a bedroom or laundry room, it adds a playful spirit to any space. Another great option is the marbleized paper look of Schumacher's "Romeo" paper which has a swirling design mimicking Italian watercolor paper.
Modern
To achieve modern style, retro- modern paper "Featherfest" by Schumacher—also a favorite paper of Jackie Kennedy Onassis—has a graphic design with overlapping stylized feathers. For a handmade local paper, try Windy O'Connor's "Habitat" a handmade paper with a kaleidoscope of geodes in candy colors. Either on a bed wall as a graphic accent or as a whole room, these are sure to make a striking impact.
There are so many incredible papers, so my advice for designing with papers is get out of your comfort zone and go with a wallpaper that makes you feel happy and brings you joy.
Jennifer Patterson is the owner of Terra Designs at 630 Johnnie Dodds Blvd in Mt. Pleasant. For more information, visit www.terradesignsinteriors.com