Daydream Believer
04 May 2020
Artist Nathan Durfee's pop surrealist paintings offer an array of colorful stories
By Teri Errico Griffis
Photos by Robert Lange Studios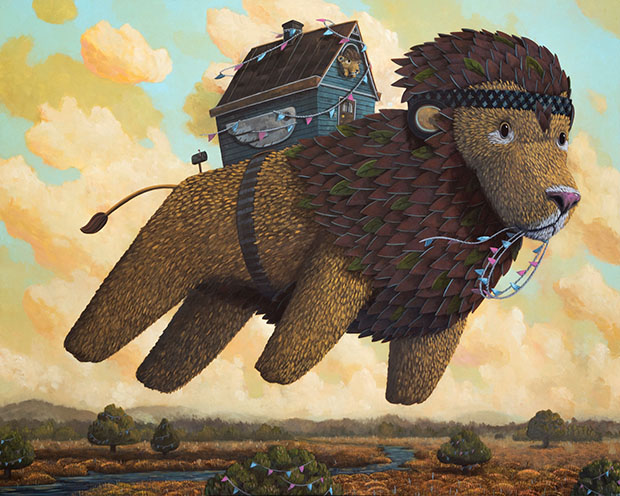 "Eventually I had these paintings that looked like they belonged in children's books, but there was no book for them. So, I hung my work on walls and that's how I made the jump from illustration into the fine arts." -Nathan Durfee
Nathan Durfee may not have always known what type of artist he'd someday be, but he knew his overactive imagination and a love for creating stories would steer his path. From studies in the print industry to illustrations, Durfee is just as imaginative today, and his work of captivating fine art and pop surrealist narratives can be found hanging on the walls of Robert Lange Studio in downtown Charleston.
"As a child I was always trying to build a world and build characters, so naturally my parents put crayons and pencils to paper in front of me," said Durfee, a born "doodler" who is currently based in Charleston. Following his graduating from Savannah College of Art and Design in 2005, he pursued a career in illustration, while also designing album art and commercial promotional materials.
In his own time, Durfee continued to sketch and paint, creating fanciful contemporary narratives featuring an eclectic array of characters. He works with a variety of materials, including acrylics, but is most known for his oil paintings and intriguing colors.
"Eventually I had these paintings that looked like they belonged in children's books, but there was no book for them. So, I hung my work on walls and that's how I made the jump from illustration into the fine arts," he said.
It was the right choice as each of Durfee's gallery exhibitions has been met with critical acclaim and sold out almost immediately. In addition to his current display at Robert Lange Studios at 2 Queen Street downtown, Durfee's paintings are also up at New Orleans gallery, LeMieux Galleries.
He has his own studio at Robert Lange Studios and is collaborating with Lange on a new, collaborative unique body of work.
Pre-quarantine due to COVID-19, the artists passed a single piece back and forth and built upon it. One painting featured a chrome bowl by Lange, passed to Durfee who painted scenes and characters upon it. On another canvas, Lange painted a rock, and Durfee painted a house on top. Lange returned with a panda and then Durfee a boombox above it. The result is a beautiful and dynamic contrast with Durfee's work and Lange's technically precise and detailed photo surrealism.
"The interesting thing is we're not seeing each other physically anymore, but we're seeing each other through art," Durfee explained. To him, art is also a perfect way to express all the uncertain emotions. "Art allows us to sit with our thoughts and emotions and be at peace with them. Art has been a great way to cope and comprehend with what I'm feeling and I hope others have that ability as well."
Like the rest of the community, Durfee looks forward to getting back to his routine in the studio—where you can find him painting on any given day—and interacting with gallery visitors as they explore his work. Overhearing the children's take on his art is an especially favorite joy.
"They inject their own stories and narratives into what they see," Durfee noted. "I know what I was thinking when I created a piece, but it never translates truly to the surface and other people will look at a painting and have a completely different reaction to it. It's a testament to people who say they're not creative but when they try to piece together my stories, it's the same creativity as when I'm thinking them up."
While some artists sit down with the complete picture in their head of what they plan to paint, Durfee instead lets his paintings blossom as he works.
He paints in stages, combining his life experiences, his background, stories he's overheard and his knowledge of children's illustrations. Other times it's like an improvisation scene, he described.
"I won't have this grand idea walking in, but instead it's, 'I want to paint a tree today.' I then build on the idea. 'Why is the tree here? Are there other characters in the tree? Is the tree being chopped down? Is it a Bonsai tree, twisting and turning?'"
Durfee slowly questions with each stroke, with each character, and from this seed he creates a narrative.
"This process takes me to a lot of different places I wouldn't have reached if I tried to think up the idea from the get-go," he noted.
For daily inspiration, art lovers and all who are looking for a distraction and fantasy can follow Durfee on Instagram (@nathandurfee). The artist posts behind-the-scenes peeks at works in progress, allowing fans to follow his creative process and see how his creations begin.
Check it out
Nathan Dufree's painting are on display at the Robert Lange Studios at 2 Queen Street downtown. He works out of the studio where the public can find him painting on any given day.