Home by the Water
03 Sep 2020
Relaxed coastal style on the Bohicket Creek
By Rob Young
Photos by Jim Somerset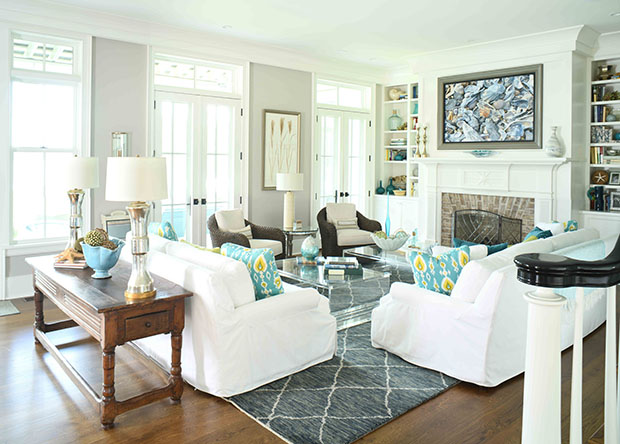 The tour by boat only lasted a day, but it was the Harolds who came away with a home.
Nancy and Ed Harold split their time between the Charleston area and Cheshire, Conn., for several years. They built one of the first homes in the private golf community of Cassique when it was established in the early 2000s on Kiawah Island.
When looking for a new home, architect Tyler Smyth suggested they take a boat trip out to the Rockville waterfront.
Smyth grew up boating and fishing along the Bohicket Creek waterfront on Wadamalaw Island, and considers Rockville to be a quintessential sea island village.
"These homes, many built as summer retreats for planters on Wadamalw, have a subtle variety of style and detail," he says. "But they share patterns and a sense of proportion."
He figured the Harolds should understand the larger context within Bohicket Creek before they began designing their home.
Together, they rode by water over to Rockville, slowly wandering past the homes along Bohicket Creek, then to Adam's Creek to see the Ambrose family's historic residence from the back side.
"The Bohicket Creek area has always intrigued us in the way the homes were able to integrate into the Lowcountry. They had these brick pillars and deep porches. I was after a cottage. I didn't want to repeat our Kiawah look. We wanted something less formal," Nancy Harold says. "And I liked Tyler's approach. He knew exactly what we wanted."
Moving to Bohicket
The Harolds wanted a property much larger than their Cassique home, one that included ample solitude and space to indulge Nancy's passion for gardening. "We had two priorities—deep water without a long walk to the dock and privacy," she says."
On Bohicket, they found an 11-plus acre site containing wide creek frontage, a private pond impoundment, a simple barn and two existing residences.
"It was large enough to improve over time with fabulous sunset views year-round while still being close to their many friends on Kiawah," Smyth says.
The existing buildings resembled a fish camp. They were quickly built in the 1980s or '90s and in deteriorating shape. The corner of one structure encroached upon a neighboring property and needed removal.
"We decided to remove the structures and design a new residence that would be better suited for the Harolds and their property," Smyth recalls. "They wanted to put together an architect and builder team and for us to design a home to suit their particular needs."
And perhaps best for the architect, he could work with a blank canvas.
"After working through programming to ensure we had an understanding of their needs, and site analysis to determine the best way to situate the house, we were left to design the residence without a preconceived mandate for a particular style or materials," Smyth says.
Unique Materials
The property ended up comprising 4,300 square feet with 4½ bathrooms, three bedrooms, and an office that can be converted into a fourth bedroom. It also contains substantial porches along the front and rear.
"On the back porch, the back deck, we can watch these beautiful sunsets. That's usually where we end up," Nancy Harold says. "We opted not to screen it in because we get a lot of breeze being on sort of a peninsula."
Smyth ended up designing a three-story rectilinear structure, including the ground-level garage, in proportion to a typical sea island river house.
"The foundation was designed to have the appearance of being 5 to 6 feet above grade, the garage tucked around to the side with a more concealed access," he says.
The build proved difficult in regards to the climate and costs.
"It was a challenge to design a home with a robust envelope to stand up to the heat and humidity of the Lowcountry and with first class materials and features, such as integrated automated shades, a geothermal HVAC system and copper roof, while keeping the costs under control," Smyth says.
Porches For Days (and nights)
Favorite features include the simple, hipped rooflines which boast hand-crimped standing seam copper, detailed above exposed rafters and purlins. The porch ceiling design allows the cooper material to be seen from below. The porch railing and columns are painted Sapele mahogany for its smooth finish and durability, while the decking uses traditionally painted tongue and groove pine material.
"We think the porches have a nice size and proportion with adequate depth to furnish in multiple ways," Smyth says."
The Harolds' interiors are a mix of old and new. Nancy worked with a designer from Connecticut, buying several pieces of furniture. Then she repurposed several items from Cassique, including an altar table crafted in 1811.
"It's a blend of casual, light-colored furniture," she says.
Operable French doors with transoms line the rear of the residence. Each is fitted with a Sapele screened door, granting the home ample exposure during fair weather. An uncovered porch just off the kitchen is used for grilling.
Landscape architect Bill Maneri skillfully sculpted the site grading around the house; he had worked with the Harolds previously, the experience providing him a good starting point.
"He did a fabulous job," Nancy Harold says. "There's terracing to the front door and terracing in the back with a gradual slope to water in the back."
The wide rear porch limits the railing as not to affect the views from the main living spaces. It overlooks an elevated garden and skimming pool, while a bevy of old oaks line the margin of the high ground along the marsh edge. Blueberry bushes and wooded areas also feature on the property.
"The back porch and back deck lets us see beautiful sunsets," Nancy Harold says. "That's where we end up."

Next on the docket
Smyth has a couple of additional projects on the docket as well.
"We're excited about the pending completion on a true masonry residence in Cassique with a lime plaster exterior and slate roof that will be highly storm resistant, low maintenance, and that we expect to age beautifully, like a European villa," he says.
There's also a property on Wadamalaw. "We're also excited to begin the design on a collection of buildings—the main, guest home, and pool house—which will comprise a new primary residence on a sizable Wadmalaw property on Bears Bluff," Smyth says. "It has long views, is high above flood, and has incredible trees, with several live oaks over 60 inches in diameter."
No doubt, Smyth's newest clients will benefit from the same devotion he gave the Harolds. "Tyler was so accommodating, because sometimes architects think it's their house or their building. Tyler wasn't like that," Nancy Harold says. "He reviewed every step of the way and was creative in looking at our design options."
Builder Resources
Colin Regan, River Creek Construction
www.rivercreekconstruction.com/about
Bill Maneri
landscape architect
(843) 243-0390
Botany Bay Landscape
landscape installation
(843) 884-7563
Southern Lumber and Millwork
framing and trim material, including custom Sapele columns and rails
(843) 744-6281
Skyline Roofing
copper roofing
(843) 769-2366