2020 College Football Preview
03 Sep 2020
Carolina coaches navigate an unprecedented year
by Willie T. Smith III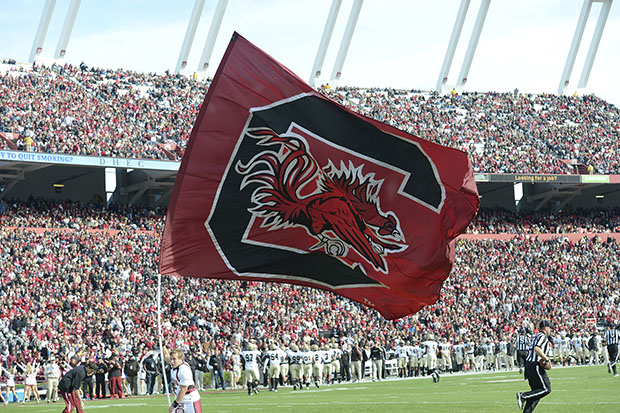 Following disappointing endings to the 2019 college football season, Clemson and South Carolina were anxious to get back to work in anticipation of better outcomes during the 2020 campaign.
Then everything changed.
No matter the favored term – COVID-19, the pandemic or coronavirus – the world stopped. Instead of preparing for the 2020 season, college football programs were forced to sit and wait while others determined if there would be a season.
Instead of working out in spacious facilities with all the trimmings on campus, athletes at both schools and throughout the country were forced to remain in their homes and figure out a way to remain in shape.
If that wasn't enough, things were turned upside down again when George Floyd died after a Minneapolis police officer kneeled on his neck for eight minutes and 46 seconds.
Protests broke out throughout the country. Most were termed "The Black Lives Matter" movement.
The Palmetto State wasn't excluded as both the Tigers and Gamecocks contributed to the protest in their own ways.
Clemson quarterback Trevor Lawrence, the overwhelming choice to become the first player selected in the 2021 National Football League Draft and also considered the face of college football, was one of the first to jump into the fray.
"There has to be a shift in the way of thinking," Lawrence wrote on his twitter account. "Rational must outweigh irrational. Justice must outweigh injustice. Love must outweigh hate. If you put yourself in someone else's shoes and you don't like how it feels – that's when you know things need to change.
"I'm siding with my brothers that deal, and continuously deal, with things I will never experience. The injustice is clear and so is the hate. It can no longer be explained away. If you're still 'explaining' it – check your heart and ask why."
The football team, along with others, planned a peaceful march on June 13th in Clemson.
Lawrence, along with teammates running back Darien Rencher, linebacker Mike Jones and wide receiver Cornell Powell, spoke.
"I've learned a lot in this past month," Lawrence said at the gathering. "There's three main things that I'm learning. I'm learning to listen more. I'm learning that listening is usually more valuable than talking. You learn when you listen, and you begin to understand when you listen. I'm learning to try and put myself in the shoes of those who are in pain. Empathy and compassion will be vital as we take the right steps towards reconciliation.
"I'm also learning that love can conquer all things, and love is what will bring change. One of the most timely verses right now is 1 Peter 4:8, it says, 'Above all, keep loving one another earnestly, since love covers a multitude of sins.'
"So, let's continue to listen, learn and love, even when it is uncomfortable, especially when it's uncomfortable because this is when change happens. And the world for generations to come will be different, it will be better. Let this just be one of many steps in the right direction in the future."
Clemson coach Dabo Swinney, who caught some national criticism for taking longer to make a statement on the movement, attended the event.
"This is a historic time in our world and in our country, and as a coach and as a team, we will do our part to create positive change against racism of any kind, social injustice and police brutality," said Swinney. "I always have believed that actions are a lot louder than words, and I love our team for the actions that they have already taken with a great town hall meeting and lots of communication in our position meetings.
"We had a wonderful senior meeting last week with just great discussion and it was just awesome to see and hear our young men speak, and just wonderful brotherly love. We've got a team meeting coming up and many other things, so I'm proud of the actions that our guys have already taken. We're just a football program and I'm just a football coach, but Clemson has been a leader on and off the field for the past decade, and we will continue to be a leader and a light for many. We are a unified football team and we will work to unify others by how we serve, by how we play the game and by how we do our jobs as a staff.
"We have always had great leadership within our program and, man, this team is no different. It has been incredible to see this brilliant group of young people lead right now, and (I am) so proud of them. This group of leaders on this team, they are ready to lead the way to being a part of the solution for this country. I stand with my players and I will help them any way I can to unify people and help create positive change."
Several days prior to Clemson's march, the Gamecocks led a large contingent on a walk to the Governor's Mansion. The team was joined by coach Will Muschamp along with several campus leaders.
The event went viral, thanks to a sign made by USC quarterback/wide receiver Jay Urich.
The top of the sign read 'matter is the minimum.' The lower part said, 'black lives matter, black lives are beloved, black lives are needed.'
After a tweet featuring the sign was retweeted by Bernice King, daughter of former Civil Right Leader Dr. Martin Luther King Jr., it took on a life of its own and led Urich to begin a foundation.
The foundation is called "Original Design." Its aim is to help raise resources, opportunities, and supportive relationships necessary for children to live healthy and honorable lives.
"We want to go deep, not wide," Urich said. "We won't reach necessarily as many people, but we want to impact these children, no matter how many, the number we decide. We want to impact and develop them in a deep way."
While social issues occupied much of the Gamecocks' and Tigers' free time, football again became the focus in July.
The Atlantic Coast Conference announced its teams would play a 10-game, league only schedule with an additional date for a non-conference opponent. Notre Dame joined as a fulltime member.
Clemson will travel to South Bend, Indiana to play the Fighting Irish.
The Southeastern Conference opted for a 10-game, league only schedule which ends a streak of 112 consecutive encounters between Clemson and USC and 118 overall battles between the two.
"Disappointed," Swinney said of the absence of the game this season. "I'm sure the same as everybody. It's kind of crazy. But, to be honest, we're going to go all the way to Notre Dame. They're going to go to Texas or Mississippi to play, but we can't ride somewhere to meet each other. You drive an hour and a half, and we drive an hour and a half, and let's play a game. It's kind of crazy where we are. But those are decisions Will (Muschamp) and I don't make. I'm sure they would love to play as well, but that's where we are."
The Gamecocks were against the 10-game only SEC schedule, but couldn't do anything to combat it.
"Unfortunately, we're all disappointed we aren't going to get to play Clemson," Muschamp said. "I expressed to (USC Athletics Director) Coach (Ray) Tanner and (USC) President (Robert) Caslen how important that game is to both institutions, our state, our region and college football.
"We're extremely disappointed in the decision. We only had one vote among the member institutions and we just didn't win the vote. I know President Caslen and coach Tanner expressed their feelings to our league. We're extremely disappointed that happened this year."
Both teams returned to their respective campuses to resume practice. The Tigers are set to begin play Sept. 12 against Wake Forest. USC's first game is scheduled for Sept. 26. Which opponent they will play has not been announced.
Despite the schedule being set, there remain hurdles that must be met if the season is to take place.
Twenty-three Clemson football players tested positive for the coronavirus when the team checked back into school for practice in early July. It's most recent tests, however, resulted in no positives.
USC hasn't released test results.
"The biggest issue we've had to deal with probably the last three weeks has been the uncertainty, the uncertainty of the season, the uncertainty of the start time, the uncertainty of the start of the season," said Muschamp. "That was the biggest issue I was hearing every day and I don't blame them. It got to me. When are we going to start? What's going to happen? What is it going to look like?
"I think this has settled our guys down a bit. We've been able to put up a calendar of camp – the more definition you can put in front of a young person the better."
Following a 4-8 season, the Gamecocks chances to rebound with an improved record were made more difficult when games against Coastal Carolina, East Carolina, Clemson and Wofford were replaced by a road encounter against Mississippi and home contest with Auburn.
Muschamp has been pleased with his team's conditioning and attitude since the squad came back to Columbia, but understands the return of students to campus could create problems for the team's ability to remain coronavirus free.
"I would guess there are at least 10,000 students on our campus right now," he said. "If you drive through Five Points at 9:30 (p.m.), there are a lot of people out. They are not social distancing either.
"It's just like I told our guys, you've got to make smart, mature decisions. You've got to lead a boring life.
"That's fine right now. That's what we need right now. A lot of our classes will still be online. You'll still be learning from remote places. It is a concern, but that's something we've got to continue to work through."
The Gamecocks hope bringing in Mike Bobo as offensive coordinator will revamp the squad on that side of the football. Sophomore Ryan Hilinski will compete with graduate transfer Collin Hill for the starting quarterback slot, while freshman Marshawn Lloyd, a highly sought-after recruit from Wilmington, Del., could give the running game a lift.
An additional target for playing time could be freshman quarterback Luke Doty.
"I let the offense draft our best 11 players (during fall practice), then I do the same with the defense," said Muschamp. "Luke Doty's name kept showing up. He's got speed and plays with heart every day. He's really intelligent and he can contribute to our football team. He can help us win football games, bottom line. He is a guy who is going to play multiple spots for us offensively.
"Luke wants to play. Coach Bobo talked to him a little bit, then I talked to him. I said I don't want you to feel like we're moving you around and moving you around. He said: 'Coach, I want to play, and I want to win.' Another selfless guy on our football team."
Freshman defensive end Jordan Burch, who attended Hammond School, was one of the most heavily recruited high school seniors in the country and is slated to be a starter.
Lawrence and All-American running back Travis Etienne are part of the reason Clemson is ranked first in preseason polls.
Although the Tigers have won two national championships and advanced to the College Football Playoff title game in each of the last five seasons, returning to the Championship game could be more difficult as defensive end Xavier Thomas will be redshirted, which would mean playing in only four games if any at all.
"Xavier Thomas hasn't opted out," said Swinney. "We're holding him out for medical reasons. We're treating him like an injury. X has probably had more on him than anybody since March.
"He was having a great spring. He was super excited about this season and really excited about setting goals.
"We leave March for spring break and, obviously, the whole world is shut down, facilities get shut down and then he gets COVID and had to quarantine and all that. Then he got strep throat just when we were getting ready to go. He probably picked up 10-12 pounds during the quarantine thing, he was not able to do what he needed to do which put him in a bad place. We got back going with our mandatory stuff and it was pretty obvious early on he was nowhere near where he needs to be to play football."
Following a Clemson 42-25 loss to LSU last season, Lawrence hopes to turn that around this year prior to heading to the NFL.
Swinney believes his team couldn't have a better person leading the way.
"He's embraced every ounce of (being the team leader)," Swinney said of Lawrence. "That's what you want to see in a quarterback – to be a leader offensively but be a leader on the team. Everybody has such tremendous respect for him, not because he is a great player, but because of how he works. He doesn't ask anything of anyone he's not willing to give."
Everyone continues to prepare for the season, however, the pandemic could still force college presidents to either cancel or postpone the season.