Home is Where the Art Is
06 Mar 2018
Herlong & Associates and interior designer Theresa Bishopp create a soulful home that inspires music, textiles and more
BY ROB YOUNG » Photos by JIM SOMERSET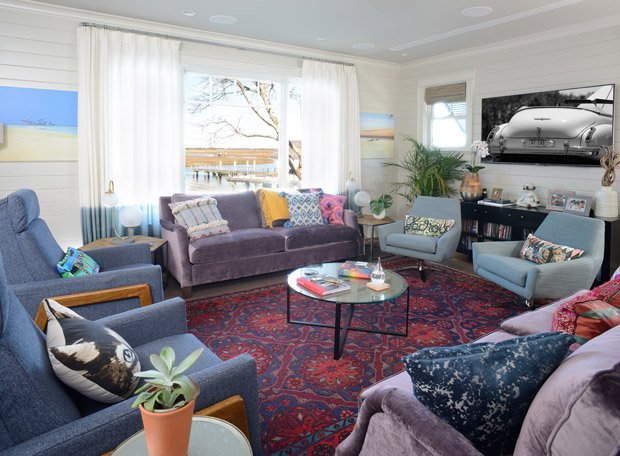 New space, new sound. For Samantha and Nelson Ploch, and in particular their three sons, the renovation of their Sullivan's Island home has sparked a reinvention or rechristening of sorts. Indeed, The 3 Dudes are all grown up.
The Ploch sons – twins Jack and Roger, 18, and Sam, 17 – have longed performed together as a band, taking on the moniker, The 3 Dudes. But as their sound has matured and interests have progressed, they redubbed themselves Station 15, a callback to their oceanfront upbringing and home.
In no small part, credit is due to Charleston-area architecture firm Herlong & Associates and interior designer Theresa Bishopp, who have helped the family repurpose several areas of the home, transforming a pair of rooms into a recording studio as well as a creative rehearsal and writing space.

Rare, too, is the occasion where the architect or designer receives more from the relationship than his or her client. But in this instance, there may be an exception. "The family was an absolute joy to work with. They're just such open and soulful people, and passionate about music and artistry," Bishopp says. "They've inspired me as a designer, too."
Inside the Studio
Over the years, the boys' instruments and recording gear began consuming more and more space. "There was so much recording equipment and musical instruments, it started taking over the house," Samantha says. "We needed to find ways to rework the space."
They leaned on Herlong & Associates, and Bishopp, for help. Herlong and the Ploch family have actually enjoyed a fruitful partnership for several years now. The firm originally designed their home, which was built in 2005. "When we first moved to Charleston, we were looking on Sullivan's, and you could always tell a Herlong house," Samantha recalls. "We went to an auction at the Sand Dunes Club, where (Herlong) was offering six hours of consulting. We bought that, and we just love how he works. He stresses maximizing indoor and outdoor space, and we loved his attitude and ease."
Then six years ago, the Plochs again approached Herlong & Associates about remodeling their master bedroom. They repainted the walls and gave the room new window treatments, and then began addressing other areas of the home.
"We updated the living room and kitchen several months later, and opened them up to each other. We repainted all the walls and cabinetry and brought in new furniture and window treatments," Bishopp recalls. "I think then that Samantha truly felt like their home better reflected how the family had evolved."
Then more recently, Herlong & Associates helped give life to the recording studio and practice space containing some of the group's acoustic guitars and a computer featuring Pro Tools software, which can be used for sound recording and sound production endeavors. "It's a fun, bright area, where they can experiment and try different sounds," Samantha says.
Station 15
In designing these renovations, Samantha and Nelson truly put their sons first. The encouragement comes naturally. "We're very supportive of their interests," Samantha says. "We believe that life lessons are much bigger than anything you can read in a book. We'll talk to them about their drive and determination, and potential choices or sacrifices they will have to make."
Jack, Roger and Sam have been homeschooled and plan to spend the next year focusing on their musical careers prior to potentially pursuing college or work. Nelson and Samantha, Bishopp says, "have been super supportive. They just let them be artists. They're brilliant, talented and kind kids."
"Having these spaces is great," Sam adds. "It creates a separation between home life, music and school, which we take pretty seriously. We've been given an environment to be creative, and it helps us move from school to music fluidly."
Roger plays drums, but is adept at other instruments as well, while Jack plays guitar and Sam doubles as the bassist and primary singer. "They complement each other nicely. There's just not a lot of fighting," Samantha says. "One is gifted at something in particular, which allows the others to try something else."
Once, the Ploch sons even moved a drum kit into the living area, while their mom was away. They wanted to make use of the high ceilings and great acoustics. The drum kit and instruments remain, though the boys strive to be respectful of their parents. Plus, now they've got other great work areas.
The studio, for instance, contains vintage rugs, posters, lights and other knick-knacks. "It gets you in the mindset to create something new," Sam says. It's also virtually sound-proof, aided by foam padding and heavy drapes. "Samantha and I commissioned these gorgeous, multi-colored velvet drapes, which help absorb the sound as well," Bishopp says.
Now, comparably speaking, Station 15 sounds more like an alt-rock band as the group recently recorded music in Los Angeles. "When we were young, our music had a poppier sound, but then puberty hit us like a freight train," Sam says. "Now we're probably more Cage the Elephant-inspired, or more like Red Hot Chili Peppers, Beck or Phoenix."
Stylistics
In all, the house presents a more Bohemian, eclectic look. It's still gorgeous, but comfortable with patterns and textures interspersed to create an inspiring feel. "We're not traditional Charlestonians, so to speak," Samantha says. "But we like comfort and fun. We want people to be able to prop up their feet on the couch and feel comfortable."
The house features a reverse floor plan, where the ground floor leads to a vestibule. The additional three floors contain the bedrooms, den area, main living space and the areas specifically repurposed for music. The Plochs also use several antique rugs throughout the house, a sensory element providing texture to the home. "Samantha is open to doing things that not everyone else is doing," Bishopp says. "Much of it is completely different than anything else you would see from an interior and exterior standpoint on Sullivan's Island."
Bishopp characterizes Samantha's style as fearless. "She has always been firm in making decisions and knowing what she likes and doesn't like, but throughout this process I think her style has evolved into a very funky, yet very sophisticated place that is also truly comfortable," Bishopp says. "It feels like their house 'hugs' you when you go in, due largely to the soulfulness it exudes, like its owners."
The attitude likely reflects the family's commitment to the arts. Though Dad Nelson is a physician, Samantha is an accomplished artist specializing in textiles. She has a room dedicated to sewing in the home. "Samantha creates unbelievable textile pieces," Bishopp says. "It's just such a soulful place with great art throughout the house. There's just so much creativity and artistry here, which is so inspiring."
The Plochs have only two spaces left to be redone: the ground floor entry and the main living level screened porch, which features a grilling area, dining area and lounging area that overlooks the intracoastal waterway.
And with those tremendous views of the water, stimulation is never far. "The environment where we write definitely inspires what ends up coming out, especially since we're in such close proximity to the water," Roger says. "It gives us a unique sound, and a positive, creative space."
Resource
Architecture + Interior Design: Herlong & Associates, 843-883-9190, herlongarchitects.com