Brunch is Springalicious!
06 Mar 2018
By SHENNICE CLECKLEY
Photos by SALLY SCOTT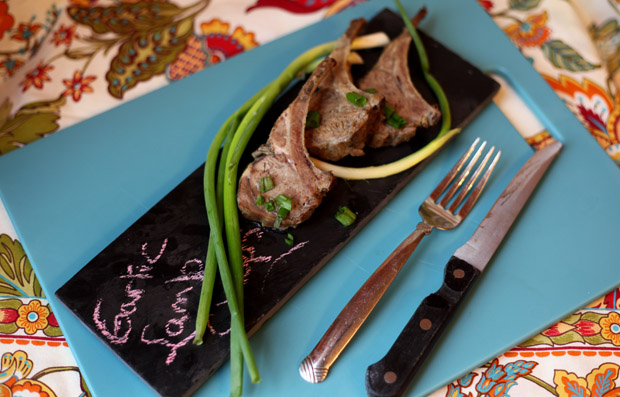 Some people may think it's totally crazy to celebrate breakfast and lunch at the same time, but it's the perfect combination of my two favorite meal times. There's something about indulging in the fluffy eggs of a quiche and meaty lamb chops that awakens my taste buds. Maybe it's the sensation of the crisp, fresh spinach or the sweetness of sun-ripened strawberries that gets my juices flowing. But let's be honest: the best thing about brunch is that the dress code can be anything from PJ's to a flirty spring dress. So, grab a few friends, set a beautiful table and enjoy brunch!
Garlic Lamb Chops
1 to 2 lbs. of lamb chops (approx. 8 chops)
¼ teaspoon salt
¼ teaspoon pepper
1 tablespoon garlic powder or minced garlic
Extra virgin olive oil
Minced onion
Salt and pepper each lamb chop to taste. In a separate bowl, mix together garlic powder or minced garlic and olive oil. Coat lamb chops with the garlic olive oil mixture. Place chops on a broiler pan and pour the remaining garlic olive oil mixture on top. Broil each side for 3 to 5 minutes (to desired doneness). Let the lamb chops rest for 1 minute before plating.
Spinach, Cheddar and Gruyere Quiche
9-inch pie crust
1 teaspoon butter
½ onion, finely chopped
10 oz. frozen chopped spinach, thawed and squeezed
¾ cup grated Gruyère cheese
¾ cup grated sharp cheddar cheese
4 large eggs, lightly beaten
1 can cream of mushroom soup
Salt and pepper, to taste
Preheat oven to 375ºF. Bake piecrust for 15 minutes then remove from the oven. In a saucepan or skillet, add butter and sauté onions for about 4 minutes or until translucent. Add thawed spinach to sautéed onions, salt and pepper, cream of mushroom, eggs, cheddar cheese and Gruyère cheese in a large bowl and mix. Pour mixture into pie shell. Bake quiche for 40 to 45 minutes until set. Remove from oven and let sit for 10 minutes before cutting.
Spinach, Strawberry, Feta Salad
10 oz. fresh spinach
1 quart of fresh strawberries
¾ cup crumbled feta cheese
½ cup toasted almonds (candied pecans also an option)
Favorite balsamic dressing
Wash and rinse fresh spinach, pat dry and put in large bowl. Wash and slice strawberries and add to the bowl. Add feta and toasted almonds to the bowl. Toss with desired amount of your favorite balsamic dressing and serve.
Orange and Ginger Muffins
2 ½ cups all-purpose flour
¼ teaspoon baking soda
1 ¾ teaspoon baking powder
1 teaspoon salt
1 cup sugar
2 large eggs
1 ½ teaspoon orange zest
1/2 cup orange juice
1 stick melted butter
¼ cup whole milk
½ cup of crystallized candied ginger cut into small pieces
Preheat oven to 350°F. In medium bowl, whisk together flour, baking powder, baking soda and salt. In a separate bowl, whisk together sugar, eggs, zest, juice, and milk. Whisk in butter. Add wet ingredients to dry ingredients. Stir in ginger. Don't over mix. Spoon mixture into paper-lined muffin tin, filling each to 2/3.
Bake for 20 to 25 minutes. Test doneness by inserting a toothpick into the center of the muffin.
Moscow Mule (Non-alcoholic)
1 oz. sweetened lime juice
½ cup non-alcoholic ginger beer
2 oz. sparkling water, tonic or club soda
Ice cubes
Pour in copper mugs or cocktail glass.
Garnish with lime wedges and mint.