Hospital Guide
08 May 2016
Charleston area hospitals differentiate themselves by rising above and beyond―our Guide provides an update on these medical centers
Compiled By CLAIRE VOLKMAN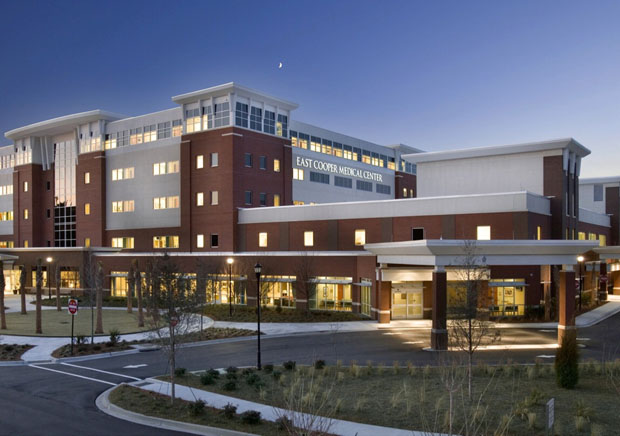 East Cooper Medical Center
2000 Hospital Drive, Mt. Pleasant
eastcoopermedctr.com
(843) 881-0100
East Cooper Medical Center has been providing healthcare to the East Cooper community since 1986 and is currently celebrating it's 30th anniversary. The facility provides a number of services including women's services, diagnostic imaging and interventional services, orthopedics, sports medicine, adult and pediatric rehabilitation services and wound care services and surgical care. With only 130-acute beds available, the care is both personal and intimate, making each patient the center of attention and care for the staff.
In addition, East Cooper has been nationally recognized for spine surgery and breast reconstruction surgery. With a focus on comprehensive joint and spine health, East Cooper has been long accredited by The Joint Commission, the nation's oldest and largest hospital accreditation agency. Along with the traditional amenities, like 24-hour emergency care and traditional pain care, the hospital also offers a Level II Nursery in Mount Pleasant – which can only be found within East Cooper's medical practice.
Areas of Expertise: Maternity & Women's Health, Orthopedics, Sports Medicine, Comprehensive Joint and Spine.
Above & Beyond:
East Cooper has won 9 Gold Seal Awards from the Joint Commission – most in the state of South Carolina

The facility received the American Heart Association's "Get with the Guidelines Stroke Gold Plus Achievement" Award

Has been awarded with Five-Star Patient Satisfaction Award for 11 consecutive years

Achieved the Tenet Healthcare's Circle of Excellence Award

Bestowed the BlueCross BlueShield of SC Blue Distinction Center+ for Maternity Care; Knee Replacement; Hip Replacement; Spine Surgery
Although the hospital has no plans for expansion, East Cooper has opened and added new departments to it's world-renown hospital, including the Current ECMC building, which opened in April 2010 and the Mullis Building Medical Office Building, which opened in Fall 2014. In thanks to the community that has supported it over the years, East Cooper Medical Center will continue the year-long initiative Random Acts of Community. The hospital started this campaign in 2015 as a way to give back to local residents. Every few weeks the hospital will partner with a Mount Pleasant business. In addition to helping local businesses, East Cooper partners with local nonprofits in Charleston, including the Lowcountry Food Bank, Rotary Club, East Cooper Meals on Wheels, the annual Walk for Autism, Mom's Run for Depression, the American Cancer Society, the Sweetgrass Cultural Arts Festival, March of Dimes and more.
The Medical University of South Carolina
650 Ellis Oak Drive, Charleston
academicdepartments.musc.edu/musc
(843) 792-2300
The Medical College of South Carolina was chartered by the South Carolina legislature on December 20, 1823, becoming the 10th medical school in the United States and the first in the Deep South. Founded primarily as a Medical University, MUSC now includes six colleges: Medicine, Nursing, Pharmacy, Graduate Studies, Health Professions and Dental Medicine.
The clinical enterprise of MUSC covers the entire spectrum of patient care, from digestive disease care to neurosciences and primary health. In addition to the MUSC Primary Care facility, the entire MUSC system was recently designated a baby-friendly hospital by the World Health Organization and UNICEF for implementing a rigorous 10-step program for maternity nurses. Plus, a focus on modern and new health information technology has kept MUSC one of the most "wired" hospitals in the United States.
Areas of Expertise: Oncology, Organ Transplants, Primary Care, Digestive Disease, Pediatrics, Neurosciences, Cardiology, Musculoskeletal and Telehealth.
Above & Beyond:
MUSC Health received an "A" rating for patient safety by Leap Frog.

Recently ranked 15

th

out of 116 academic medical centers in the nation for quality and accountability by the University Health Consortium.

MUSC was voted Charleston's Hospital of Choice for 17 consecutive years by the National Research Corporation.

Five of MUSC's degree programs ranked in the top 30 on U.S. News and World Report's prestigious 2017 Best Graduate Schools ranking.

For years, MUSC has received the honor of being recognized as a Leader in LGBT Healthcare Equality by the Human Rights Campaign Foundation – an educational arm of the country's largest civil rights organization.

In 2015, MUSC achieved the coveted Magnet recognition – the gold standard for nursing excellence.
The future of MUSC is just as bright and inspiring as the past, with plans to expand on several fronts, most notably with the planned construction of a new children's hospital and a new research – commercial – residential area called the WestEdge. The $385 million MUSC Shawn Jenkins Children's Hospital's groundbreaking is scheduled for late 2016, and will be located on Calhoun Street and Courtenay Driver near the Ashley River Tower, and will replace the current children's hospital, which opened nearly 30 years ago. WestEdge, noted as a "discovery district," will encompass 22-acres and will combine a mix of residential places for students and facility, research-office spaces and commercial establishments. The public-private project involves both MUSC and its' foundation as well as the City of Charleston and HPF, Inc.
Trident and Summerville Medical Centers
When your child or loved one is ill or injured, you want to get them help fast. But not just any care - you want the best care. That's why Trident and Summerville Medical Centers were created - to deliver the highest quality care in a comfortable, safe environment close to home. Over the past four decades, they have achieved just that.
Based in the heart of the fastest growing Charleston suburbs, Trident and Summerville Medical Centers are serving the rapidly growing Northwest communities of Dorchester, Berkeley and Charleston Counties. As the community has grown, these hospitals have grown and advanced with it.
Trident Medical Center
9330 Medical Plaza Drive, N. Charleston
(843) 797-7000
tridenthealthsystem.com
Areas of Expertise: Trauma Center, Primary Stroke Center, Cancer Center, Level II Nursery, Sports Medicine
Above & Beyond:
Joint Commission Top Performer on Key Quality Measures (5 years in a row)

Bestowed the BlueCross BlueShield Center of Distinction for Hip & Knee Surgery, Cardiac Care, Maternity, Bariatric and Spine

Leap Frog Safety rating of "A"
"As the incoming Chairman for the Charleston Regional Development Authority, I see the great success our community has had attracting new businesses to the region," said Trident Health CEO Todd Gallati. "With that success, comes growth that impacts the entire community. But Trident and Summerville will ensure that the future healthcare demands will be met and our families well cared for."
In 2014, the team opened Centre Pointe Emergency, a free-standing ER adjacent to the Tanger Outlets and the North Charleston Coliseum. "We know this area of our community has been underserved since the closing of Roper North in 2001," Gallati said. "So we filled that gap and this year, we will serve more than 16,000 patients at Centre Pointe." At Trident Medical Center, the team has recruited specially-trained Trauma surgeons to provide care for those most critically injured at their greatest time of need. The hospital also continues to expand care for those struggling with mental health issues, including opening a 17-bed inpatient unit in 2015 and a new outpatient program earlier this year.
Summerville Medical Center
295 Midland Parkway, Summerville
(843) 832-5000
tridenthealthsystem.com/smc
Areas of Expertise: ER, Pediatric Intensive Care, Robotics Surgery, Weight Loss Surgery, Reflux Center
Above & Beyond:
Joint Commission Top Performer on Key Quality Measures (5 years in a row)

Bestowed the BlueCross BlueShield Center of Distinction for Hip & Knee Surgery, Cardiac Care, Maternity, Bariatric and Spine

Leap Frog Safety rating of "A"
Summerville Medical Center has built an advanced Pediatric program. Over the past three years, the Summerville team has invested more than $20 million to ensure that our families are well cared for. This included creating a dedicated Pediatric ER, inpatient Pediatric Unit and a Pediatric Intensive Care Unit for the most critically ill children. Parents find a warm, family-centered environment with specialists who've dedicated their lives to the care of kids and equipment that is sized specifically for them.
"As a parent, I know the worry you feel when your child is ill or injured," said Summerville Medical Center CEO Lisa Valentine. "That's why we've recruited physicians, nurses and staff with specialized pediatric training who are all about kids. Their training and their focus is designed to calm parents and patients alike."
Roper St. Francis Hospital
Highly regarded with its leading edge in technology and best medical practices, Roper St. Francis Hospital has been a staple in the Carolinas since 1829. As a proud recipient of national awards, like the Blue Distinction Award and Excellence in Healthcare Awards, Roper enjoys an outstanding reputation built on excellent outcomes, personalized attention and comprehensive and astounding outpatient services. In addition to the standard amenities, Roper Hospital offers a one-of-a-kind rooftop helipad with a direct connection to the hospital, a state of the art Heart & Vascular Center, Breast Cancer Care, Valet Parking and a Rehabilitation Hospital. Plus, Roper has multiple locations around Charleston – with the flagship on Calhoun Street - offering reputable and attainable care for all of the Lowcountry's residents.
Locations:
Roper Hospital
316 Calhoun Street, Charleston
(843) 724-2000
Bon Secours St. Francis Hospital
2095 Henry Tecklenburg Drive, Charleston
(843) 402-1000
Roper St. Francis Mount Pleasant Hospital
3500 Highway 17 North, Mount Pleasant
(843) 606-7000
Roper Rehabilitation Hospital
316 Calhoun Street, 8th Floor, Charleston
(843) 724-2800
Roper Hospital – Berkeley
730 Stoney Landing Road, Moncks Corner
(843) 899-7700