Best of the Best Reader's Choice 2016: Charleston SC
07 Jul 2016
There are an endless array of websites, blogs, chat rooms and forums that argue the bests of their city, and Charleston is no exception. Our annual Best of the Best takes the many opinions of our readers (thousands, in fact) and condenses them into one assemblage of the best places to dine, to shop and to enjoy the Holy City's finest. So, here you go...
By JENNA-LEY HARRISON and TERI ERRICO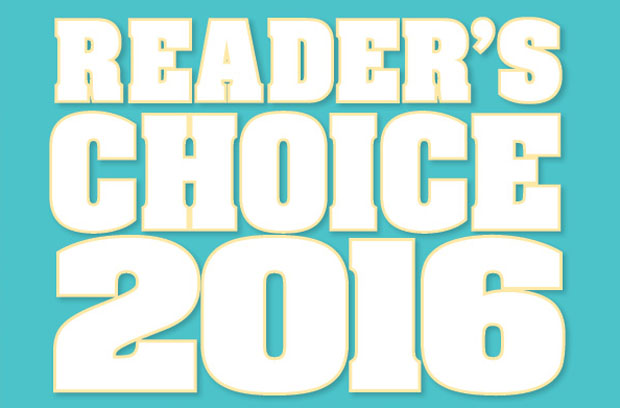 DINING
Authentic American
Rutledge Cab Co.
843-720-1440, rutledgecabco.com
Step back in time to the Golden Years when eating at this 1950s-themed hub offering all your favorite finger foods and all-day breakfast. The former site of a gas station and convenience store, it's no wonder this eatery, now decked out like the inside of a taxi cab, has an authentic blue-collar feel for a relaxing all-American experience.
Authentic Caribbean
Jamaican Me Hungry
843-727-0040
With a tropical tone set by brightly colored yellow walls and speakers sounding chill reggae music, you can't help but lounge back in your seat and enjoy a dish of slow-cooked jerk chicken, rice and grilled plantains, as well as other authentic tastes straight from the kitchen of an owner born in the very heartland that inspired this local eatery.
Authentic Asian
Basil
eatatbasil.com
Marked as Charleston's top spot for "refined Thai" food, it might be hard to find a dish or décor piece lacking genuine Asian flare. From Cambodia to the Lowcountry, the two owners, also brothers, know their heritage and have created a menu filled with authentic tastes. Try three curry varieties, Pad Thai, fried wontons and numerous other "spicy mild" or "spicy medium" meals.
Authentic Italian
Amalfi's
843-793-4265, amalfisofmountpleasant.com
If you can find it baking in a kitchen in Italy, it's most likely also being served to customers at Amalfi's. That's because the owners have roots in Napoli. Find the eatery's menu covered in pizza, pasta, subs, Stromboli, spaghetti and more tantalizing titles. Feast on a generous portion of hearty Italian sausage and transport your taste buds to an overseas culinary heaven.
Authentic Mexican
Zia Taqueria
843-406-8877, ziataco.com
Fresh mashed guacamole, sizzling sautéed veggies and piping hot queso are only a portion of Mexican classics served all day everyday to meet your need for international cuisine. Load up any meal — taco, quesadilla, salad or burrito — with beef, pork, chicken, shrimp and barbacoa, or pack in a portabella mushroom if meat's not your style.
Bakery
Saffron Café & Bakery
843-722-5588, eatatsaffron.com
From the oven to your palate, Saffron fulfills that craving for something sweet, freshly-baked and custom-made — everything from bread and pastries to towering wedding cakes. Indulge in a three-layer tiramisu, apple tart or melted chocolate chip gourmet cookie. Not a fan of sugar? Try a less decadent menu option like a loaf or thick slice of berry, honey wheat or apricot ginger bread.
Breakfast Spot
Toast
toastofcharleston.com
Start your morning right in either Summerville or Charleston and choose Toast to fill up on the most important meal of the day. Wake up with a short stack of fluffy pancakes topped with fresh maple syrup or dive into a plate of country steak and eggs. Everything from a tropical fruit parfait, shrimp omelet and gravy biscuits can be found on this breakfast nook's menu. And don't forget a side of bacon or sausage.
Burgers
Sesame
sesameburgersandbeer.com
Sister restaurant to Five Loaves Café, this popular vegetarian joint is everyone's favorite place to grab a beef, black bean, turkey or chicken patty, throw it between two buns, and dress it up with caramelized onions, goat cheese crumbles or fig and bacon jam. At Sesame you can stay health conscious and don't have to double your daily dose of calories to enjoy an All-American staple.
Candy/Chocolate
Christophe Artisan Chocolatier
843-297-8674, christophechocolatier.com
Rich. Decadent. Creamy. Smooth. It's all about chocolate and its presentation at this high-class, French-inspired sweet shop with nearly 20 hand-painted truffle varieties, each with a unique color, pattern and design. A snapshot of flavors includes peanut butter, lemon, coconut and coffee. But there's also specialty chocolates to try; they range from chocolate bars and macaroons to chocolate almonds and a chocolate hand-painted owl.
Caterer
Cru Catering
843-534-2433, crucatering.com
Since 2000 Cru Catering has transformed Lowcountry weddings, celebrations and other party occasions into unforgettable, full-service events tailored perfectly to your taste. In addition, menu items boast modern flare, each one created with international inspiration — chefs including touches of French, Italian, Asian, Southern, Southwestern and Caribbean flavors.
Coffeehouse
Bakehouse Bakery Café
843-577-2180, bakehousecharleston.com
Local and international flavors are available here, so you can sit cozy in a side booth with that mid-morning coffee or hot tea in one hand and a freshly-baked café treat in the other. Jump on the free Wi-Fi and surf the Internet in an environment perhaps more easygoing than the office. Made daily, bakery items include breakfast and lunch items along with ones that are just plain sinfully delicious.
Crab Cakes
Hyman's Seafood
843-723-6000, hymanseafood.com
For more than a century this Lowcountry seafood front-runner has been a favorite for its menu items, particularly its lump crab cakes, known as the "real deal." Try them as a pre-meal snack — one of customers' top five appetizer picks — or on a Kaiser roll. Either way, the cakes get Hyman's red thumbs up.
Desserts
Kaminsky's
843-853-8270, kaminskys.com
What could be better than a café filled with tantalizing award-winning desserts? And we're not talking just brownie, cookie and ice cream sundaes; add to the list signature milkshakes, coffee drinks and even dessert martinis. Stop in after dinner and try a Dreamsicle, Kahlua Espresso, Thin Mint or Toasted Almond alcoholic treat. All items are prepared fresh daily and even switched up multiple times each day.
Family Restaurant
Fleet Landing
843-722-8100, fleetlanding.net
Load up the car with friends and family and find a seat inside or outside this waterfront dining facility, filled with U.S. Naval history because of its former operation as a military building. The menu offers an array of your favorite seafood dishes, and meals specific to kids too. Located at the foot of Charleston's historic downtown, bring your appetite and enjoy the panoramic views.

Fine Dining
Circa 1886
843-853-7828, circa1886.com
Ranked by Trip Advisor in years past as one of Charleston's top places to eat, this classy dining location gets its posh appeal from its classic, carriage house setting and sophisticated décor. Dine inside a renovated 19th century mansion where it's all about presentation and taste, and don't forget to dress for the occasion. Leave casual wear at home and think date night elegance.
Healthy Fare
Mustard Seed
843-849-0050, mustardseedsc.com
Part of the Dine with Sal restaurant group, this Mt. Pleasant kitchen thinks it's vital to prepare only the freshest of locally grown food and provide patrons with healthy vegetarian, vegan and gluten-free menu options.
Ice Cream
Ye Old Fashioned
yeolefashioned.com
With six locations across the Lowcountry, you're never far from a scoop of that cool treat offered in at least 32 different flavors — from standard chocolate and vanilla to java chip, bubblegum, and rainbow sherbet, to name a few. Stack it in a cone, blend it in a shake or top it with sprinkles and a cherry.
Lunch Spot
Chez Fish
843-768-8901, chezfish.com
Craving a hot bowl of tomato basil crab bisque or she-crab soup? What about a crab cake sandwich, ultimate cheeseburger or white clam Bolognese over linguine? Don't forget to also try the fresh catch of the day. These lunch dishes and more are always ready for you to order at Chez Fish, open seven days a week.
Outdoor Dining
Red's Ice House
843-388-0003, redsicehouse.com
It's all about the water, sun and ice cold drinks at this laid-back outdoor eatery, located along Mt. Pleasant's popular boating highway, Shem Creek. Put on your shades and gather friends, family, and even your pup for lounge time at this hot spot also popular for its pub food and live music.
Pizza
Marco's Pizza
marcos.com
With multiple Tri-county locations, this pizza joint boasts "a little bit of Italy in every bite." Stop in and find out for yourself, with a menu filled with hand-tossed pies loaded high with anything and everything you crave — meats, cheese, sauce and veggies. Try a thin or thick slice with bbq chicken, Roma meats, Hawaiian toppings or a number of other pizza varieties.
Raw Bar
Pearlz Oyster Bar
pearlzoysterbar.com
Satisfy your raw bar craving for oysters at this Holy City hotspot, now also in locations throughout the Carolinas. Customers can enjoy a raw dozen on the half shell without breaking the bank, especially during discounted happy hour 4-7 p.m. weekdays. Or choose to wash down just one spicy, peppery oyster in a $5 vodka shooter.
Romantic Atmosphere
Crave
843-884-1177, cravekitchenandcocktails.com
The perfect date night occasion calls for a trip to Crave, where the lighting, service and entrees — made with only fresh local ingredients — will shoot a love arrow through your heart. Known for its top menu item — the "most award-winning mac n' cheese in America," the website boasts — it's hard not to fall in love over good food.
Salads
Langdon's
843-388-9200, owensdininggroup.com/langdons
Never view salad the same way again after feasting on Langdon's original mixtures; they are instead tossed with unique ingredients like apples, pork belly, roasted beets, caramelized pears and hazelnuts, to name a few. Each of the healthy mixtures is paired with a flavorful dressing. Drizzle a wedge, baby arugula or frisse greens with one of three different vinaigrettes: mustard seed, smoky bacon-shallot and cider-szechuan.
Seafood
Coast Bar & Grill
843-722-8838, holycityhospitality.com/coast-bar-and-grill
You may not be surfside when sitting in a booth at this downtown Charleston eatery, but your palate won't know the difference when you taste a spoonful of crab and avocado ravioli, creole fried oysters, shrimp ceviche or salt and pepper calamari. That's because chefs meet with fishermen and farmers in the area daily to procure the best of the best for its customers.

Service
Peninsula Grill
843-723-0700, peninsulagrill.com
Dreaming of service unlike anything you've ever experienced? At Peninsula Grill it's a reality — servers in black-tie uniforms wait on you to fulfill your every dining need. Service doesn't get much better than that. Add to that, indoor chandelier lighting and flickering lanterns illuminating an outdoor courtyard, hemmed in by a wrought-iron gate. Come visit this secluded oasis in Charleston's Historic District.
Steakhouse
Halls Chophouse
843-727-0090, hallschophouse.com
Customers can't stay away from this succulent steakhouse popular for its assortment of 4-week-old aged USDA beef cuts. Feast on a flavorful New York strip, ribeye, prime rib, filet mignon or porterhouse — not one seasoned the same. Whether you like it rare, medium or well done, don't dine elsewhere or you'll be missing out on Charleston's premier steak experience.
Sushi
Zen Asian Fusion
843-766-6331, zenasianrestaurant.com
Feast on a variety of sushi rolls with modern rock tunes setting an eclectic mood. Nine different signature rolls, including one dubbed "Black Angel," feature all your favorites: creamy wasabi; shrimp tempura; spicy, crunchy tuna; smoked salmon. No dish and its unique display, whether sushi appetizer or sushi entrée, will disappoint at this hip Charleston dining spot.
Sunday Brunch
Fat Hen
843-559-9090, thefathen.com
This French-inspired eatery may be small and cozy on the outside, but its weekend brunch draws crowds through its door between 10 a.m. and 3 p.m. every Sunday. Menu items like Crème Brulee French toast, eggs benedict, chicken pot pie and Fat Hen burrito pack power and punch to transform your week ahead.
Vegetarian/Vegan Options
Five Loaves Café
fiveloavescafe.com
Not a fan of meat? Five Loaves gets that. Its menu is made with you in mind, with multiple tasty options crafted from local farm-fresh ingredients. Order a garden burger, eggplant fritters or goat cheese gnocchi, along with a variety of other vegetarian, vegan and even gluten free dishes marked special on the menu with a star.
Water-view Dining
The Fish House
843-284-7070, charlestonharborfishhouse.com
Situated on a Lowcountry waterway with an unforgettable backdrop of Charleston's most beloved infrastructure, the Ravenel Bridge, this seafood restaurant is a popular place to grab local market staples and daily fish specials while also enjoying an unforgettable view. Stop in for dinner and find a seat on the rooftop bar to also catch a glimpse of a colorful sunset.
NIGHTLIFE
Appetizers
Vickery's
843-884-4440, vickerys.com
Park your boat on Shem Creek and hop on over for some appetizer snacks at Vickery's, particularly chefs' award-winning oyster bisque, recognized as a top entry at Charleston Oyster Festival. One of the restaurant's more visually-appealing appetizers is the fried green tomato tower blended with feta cheese, pesto and marina oil. Other choice options include "Vix wings," fried calamari, crab cakes and the Cuban black bean cake.
Bar
The Rooftop at Vendue
800-845-7900, thevendue.com
Grab a drink and take a seat among the clouds, or at least high above downtown life. Whether a tequila shot or cocktail combination, it's all about your drink of choice and the view, everything from the Holy City's sea of steeples to the Ravenel Bridge and the setting sun. It's only a matter of time before you order a second and third sip just to keep you parked in paradise.
Club/Nightspot
Prohibition
843-793-2964, prohibitioncharleston.com
If you're looking for a step up from the standard dine and dash joint with average food and little excitement, dive into this jazzy world of unpredictability, where the dance floor comes to life and big band music is the norm. Take free swing dance lessons on Sundays, then return another night decked out in a 1920s-era suit or flapper dress to practice your new moves.
Cocktail Selection
Opal
843-654-9070, owensdininggroup.com/opal
Inspired by Californian and Mediterranean paradises, both taste and presentation are meant to please each cocktail customer. Investigate the taste rivalry of the tangy-sweet grapefruit-jalapeno margarita, a blood orange cocktail or the "Sunset over Sullivan's." A mixed drink unique only to Opal, it blends bourbon, lemon and pomegranate liqueur.
Craft Brewer
Holy City Brewing
843-225-6089, holycitybrewing.com
What started as a humble home garage brewing operation between friends has grown to top the list of Lowcountry craft breweries, offering seasonal and year-round favorites as well as a variety of beers always on-tap for you to sample or pour into your very own growler. Order up a round for you and your friends and toast to relaxation. Stop in Friday nights and also enjoy live music.
Happy Hour
Fish
843-722-3474, fishrestaurantcharleston.com
Known for its blend of French cuisine and Asian flavors, Fish blends eclectic cocktails using unique flavors from ingredients like house-made ginger beer and cinnamon syrup. But that's one snapshot of the variety of bar combinations thirsty patrons can indulge in by the glass or bottle for discounted prices Sunday through Thursdays from 4:30-8 p.m.
Late-Night Menu
The Shelter Kitchen and Bar
843-388-3625, theshelterkitchenandbar.com
Don't go home just because it's dark out. Take your friends and follow that fourth-meal craving all to way to this late-night hangout, where the kitchen stays open daily through midnight and the music is almost always live. Sip on a cold beer and try waiting for your meal with friendly, on-site pool or cornhole competition.
Pub/Tavern
Madra Rua Irish Pub
madraruapub.com
Celebrated as Trip Advisor's top pub in the North Charleston/Summerville area, choose to unwind here with a beer in hand. Whether you speak Gaelic or not, you're a friend. And there's no need to dress up — unless you're attending one of the hangout's annual costumed events. Also pop in to watch the latest European futbol match or throw darts as you drink.
Specialty Drink
The Cocktail Club
843-724-9411, thecocktailclubcharleston.com
Looking for a craft cocktail unlike any other? Sneak over to this upscale King Street bar to find a wealth of "creative couture" options, served the classic way or bottled and chilled overnight — a perfect serving for two. Also gather a few friends to sip on one of three punch bowl varieties, which serve 4-6. Raspberry, lime juice, sugar cubes, vodka — this club's got every taste you like.
Wine List
Charleston Grill
843-577-4522, charlestongrill.com
This swanky, upscale King Street eatery offers more than 1,300 wine labels, which can be picked out specially for your meal. The facility boasts two of its own sommeliers who can pair any bubbly, red, white or sparkling glass they deem suitable for your taste buds. Sip your favorite sweet or dry label inside the large dining room or in the private eating area for two.
PEOPLE
Chef
Mike Lata
843-805-5900, eatatfig.com
Chef at Charleston's FIG Restaurant and the owner of his newest oyster hall initiative dubbed The Ordinary, self-taught culinary expert Mike Lata is involved in exploring, creating and transforming every aspect of his surrounding food culture. He's decorated with awards and featured in a number of high profile publications and network television shows.
Architect
Camens Architectural Group
843-768-3800, camensarchitecturalgroup.com
Start with a hand-drawn rendering of your dream home, and finish with a high-end custom reality. Camens maps homebuilders' journeys from creation to completion with creative designs, researching trends and personalized service. They fell in love with the Lowcountry in 1982 and have been designing dream homes here ever since.
Dentist, Adult
Pleasant Family Dentistry
843-881-8881, pleasantfamilydentistry.com
Pleasant smiles and pleasant people await you at Pleasant Family Dentistry in Mount Pleasant. Their team of caring professionals blow away customers with their excellent service and care. They warmly welcome new patients and help them fully understand the oral health issues and treatments available to them so they can be informed decision makers.
Dermatologist
Germain Dermatology
843-881-4440, germaindermatology.com
You'll love the skin you're in after visiting Germain Dermatology. Not only is the expert staff committed to helping you feel healthy and beautiful, but their latest procedures will raise your confidence, too. Their customized skin line treats anti-aging, acne, rosacea and more, so you're one step closer to flawless.
Dentist, Pediatric/Orthodontist
Gardner Ortho
843-881-0767, gardnerortho.com
Gardner Ortho wins clients over from the first visit—a complementary evaluation of their orthodontic needs. As a one-location, one-doctor practice, patients enjoy that they really get to know their doctor and receive consistent treatment. Dr. Roberta Gardner's all about making her patients smile and she's a pro at it!
Interior Designer
CHD Interiors
843-357-1700, chdinteriors.com
Houzz recently dubbed CHD Interiors the "Best Customer Service" and the Lowcountry agrees! The custom interior design firm embraces the comfortable, relaxed style of the South, and their expert staff adds unique touches to all their projects to ensure their clients' homes are true reflections of their personalities.
Pediatrician
Coastal Pediatric Association
843-971-2998, cpakids.com
Kids don't just get sick during work hours, and parents love that Coastal Pediatrics offers late night and weekend appointments—in four locations. Patients are greeted at the door by name, and the friendly staff helps with everything from insurance to treatment. You can even check online to see who's on call!
Personal Trainer
Lila Bennett
843-830-0031, transformationtrainingfitness.com
Gyms can be overwhelming. So many machines, so many weights and so little direction. Lila Bennett wants to transform how you treat your body, and she offers tailored workout routines to improve not only your overall fitness but your energy levels. She'll change your life in more ways than one.
Plastic Surgeon
Jack Hensel
843-971-2860, lowcountryplasticsurgery.com
Dr. Jack Hensel is a board-certified plastic surgeon at Lowcountry Plastic Surgery Center. Though he specializes in breast surgery, he also focuses on liposuction, body contouring surgery and body lift surgery. Lowcountry residents know they are in trustworthy hands when they work with Dr. Hensel and his trained staff. Need proof. Just read their testimonials!
Real Estate Agency
Carolina One Real Estate
carolinaonerealestate.com
There's no place like home and Carolina One is committed to finding you the perfect one. One of the biggest real estate agencies around, they have offices throughout the Lowcountry with real estate sales associates, mortgage loan officers and insurance professionals ready to help you buy or sell any time.
Veterinarian
Ohlandt Vet Clinic
843-795-7574, ohlandtvet.com
Since animals can't talk, pet owners rely on their vet to understand their animals' health issues and provide the very best care. Ohlandt Vet Clinic is a Lowcountry favorite, and they offer general and emergency vet services; chronic pain management; and dental, soft tissue and orthopedic surgery for your four-legged friends!
SHOPPING
Appliance Store
Plugs Appliance Center
843-531-5147, plugsappliance.com
Plugs has a promise for you: you'll find the biggest selection of home appliances and the best service with a knowledgeable staff dedicated to helping you find what you want. Whether it's cooking, refrigeration, clean up or laundry, outdoor living, air conditioning or mattresses, Plugs offers what the big box chains can't.
Art Gallery
Mitchell Hill
843-564-0034, mitchellhillinc.com
Michael Mitchell and Tyler Hill design your home with passion and creativity. They assemble the perfect items to make your space unique, uncovering fresh pieces from around the world, whether your style's classic or modern. If they can't find the right product, they create it! Furniture, lighting or upholstery, they do it all.
Bridal Boutique
Maddison Row
843-720-7979, maddisonrow.com
Saying yes to the dress is sheer bliss at Maddison Rowe—and the best part is, you don't have to fly to NYC to find a classic couture gown. Try on a romantic Monique Lhuilier or slip into a stunning Sareh Nouri, all with the help of fashion savvy bridal specialists and the finest Southern hospitality.
Bridal Registry
Vieuxtemps
843-577-6811, vieuxtemps.net
Brides love Vieuxtemps because it has the most complete bridal registry in Charleston. Be it selecting silver, china or crystal, bedding or brass, a Bride can choose from the largest selection around. The "I do" is the best part about the wedding, but face it, gifts from Vieuxtemps are pretty fabulous, too.
Car Dealership
Baker Motor Company
800-792-2537, bakermotorcompany.com
Baker's high-quality brands drives car lovers wild! Whether you're in the market for a $10,000 pre-owned vehicle or ready to buy the luxury car of your dreams, you'll find it at any number of their local dealerships. They know what vehicles customers want. And they have it within your budget!
Clothing, Kids
Southern Belles
843-881-1741, southernbelleschildren.com
Seersucker pants, smocked dresses, monogrammed bloomers. These are the classic items you can't find at any generic clothing store—but you can at Southern Belles. Lowcountry moms call this their go-to shop for traditional yet trendy clothes and shoes for boys and girls, ages preemie to 16.
Clothing, Men
Grady Ervin & Co.
843-722-1776, gradyervin.com
Clothing, footwear, formal attire, accessories and sportswear. Grady Ervin & Co. has it all for men! This classic clothiers to gentlemen offers old world service so your shopping experience is a rewarding one. As a bonus, they sell an exclusive line of Tees featuring gamefishing art by John Carroll Doyle.
Clothing, Women
Copper Penny
shopcopperpenny.com
Try this on for size: Copper Penny has some of the coolest, laid back styles for fashionable women. Their unique mix of upscale design with Southern flair is why they are a favorite shop, whether on King Street or Coleman Blvd. From clothing to footwear, jewelry to accessories, Copper Penny's styles are pure gold.
Consignment Clothing
Consigning Women
843-216-9993, consigningwomensc.com
Stereotypes of consignment stores get thrown out the window in this Mt. Pleasant shop. Find next to new name-brand clothing, shoes and accessories—without name brand prices. Walls are lined by sizes to help you hone in on what fits, and with seasonal items added daily you can shop here year round.
Consignment Furniture
Next to New
843-606-2715, nexttonewsc.com
Anyone can get factory-made furniture, but there's something special about finding a one-of-a-kind piece. It's almost like treasure hunting and X marks the spot at Next to New. From tables to lamps, sofas and chandeliers, it's a store you could shop in every day and still find something new to take home.
Flooring Company
Carpet Baggers
843-571-0013, carpet-baggers.com
All of your options are literally laid at your feet at Carpet Baggers, which makes one-stop shopping for your new floor a relaxing reality. See the samples, feel the textures and visualize how your home can be revitalized with nearly 100 carpet or wood flooring options installed in the showroom.
Furniture Store
Southeastern Galleries
843-556-4663, southeasterngalleries.com
Charleston appreciates its history, its local businesses and its shopping! What better way to incorporate all three than to shop at one of Charleston's oldest furniture stores. Founded in 1955, this family-owned shop has a 30,000 sq. ft. showroom that displays some of the Carolinas' best selections of living, dining, bedroom and outdoor furniture.

Garden Center
Abide a While
843-884-9738, abideawhilegardencenter.com
Green thumbs don't come naturally for everyone, and that's why voters love Abide A While. The staff knows what'll work best in your space based on sunlight and dirt conditions. Whether it's the perfect flora search or learning how to plant a bulb, they have answers to questions you didn't know to ask.
Gift Store
Palmetto Moon
palmettomoononline.com
If you can't find a gift at Palmetto Moon, then you don't know how to shop! YETIs and Columbia PFG for him. Simply Southern T-shirts, bags and jewelry for her. There's frames and home décor, Tervis for every occasion—and enough Clemson and Gamecocks gear to get you through the season.
Home Accessories Store
Steven Shell Living
843-216-3900, stevenshellliving.com
Have you ever found the perfect piece of furniture, but begrudged that it doesn't match your home? You won't have that problem at Steven Shell Living! Shell offers custom-colored work with more than 200 finishes. Hand-crafted, hand-finished and made of solid mahogany, every piece at Shell's furniture store is unique.
Jewelry Store
Paulo Geiss Jewelers
843-577-4497, geissjewelers.com
A diamond is forever, and so is your relationship with a good jeweler. Paulo Geiss Jewelers can customize the ring of her dreams, featuring some of the world's most carefully selected diamonds. They offer an amazing selection of completed rings, earrings, necklaces, and bracelets as unique as the woman who wears them.
Lighting Store
Charleston Lighting & Interiors
843-766-3055, charlestonlightingandinteriors.com
Here's a bright idea! Shop at Charleston Lighting & Interiors. They not only have the Lowcountry's largest fan room, but their extensive catalog features more than 75,000 items to choose from. Be it ceiling or wall lights, indoor or outdoor fixtures, you'll leave aglow with excitement that you found the perfect lights.
Organic Food
Whole Foods
wholefoodsmarket.com
A typical grocery store but with a healthy spin. That's what makes Whole Foods popular among Lowcountry shoppers. In addition to organic items — ones grown without toxic pesticides — the business provides recipe and other cooking guides meant to improve your quality of life and keep your diet on track.
Outdoor Furniture
Backyard Retreats
843-856-0049, backyardretreatssc.com
You shouldn't have to fly across the world to relax. Put your mind and body at ease by creating a retreat in your backyard. Add a spa. Add a firepit. Sit with guests in gorgeous wicker or polymer furniture. Let the good life begin—and let it begin with Backyard Retreats!
Shoe Store
Phillips Shoes
phillipsshoes.com
Phillips isn't about the flashy fads—they're about quality. They carry over 60 name brand shoes that look and feel good. Think Birkenstocks, Dansko, New Balance, Toms... Pop in for shoes, and stay for the friendly service as you also peruse their accessories and handbags to complete your look.
Sporting Goods
Half Moon Outfitters
halfmoonoutfitters.com
Shopping at Half-Moon Outfitters is an adventure in itself. They're the leading dealer of gear for stand-up paddleboarding, kayaking, surfing, hiking and other outdoor excursions with brands like North Face, Patagonia, Mountain Hardware—the list goes on! No one loves the great outdoors like they do!
Surf Shop
Parrott Surf & Skate
843-884-1035, parrotsurfshop.com
Before you Hang 10, check out what's hanging on the racks at Parrot Surf & Skate. Wetsuits, rashguards, fins and surfboards mingle with decks and hardware, trucks and wheels and complete setups. Parrott also outfits men and boys with everything from flannels to board shorts, watches to shoes.
Swimwear
Las Olas
843-768-4672, lasolascharleston.com
Soak up the sun in this coastal town and find the perfect suit to bathe on the beach in style. Whether it's women's bathing suits or clothing, men's board shorts or watches, Las Olas is Charleston's premier beach destination on upper King Street. Their Instagram (lasolaschs) is top notch, too!
Wine Store
Bottles
843-849-9463, shopbottles.com
Looking for a hub with one of the area's largest selections of liquor, wine and beer? Stop by Mt. Pleasant, and Columbia now, too, to shop inside this beverage superstore. With more than 30 beers on tap, also pop in and fill-up a 32- or 64-ounce growler of your preferred draft beer.
SERVICES
Assisted Living Center
Franke at Seaside
843-856-4700, frankatseaside.org
Active retirement living isn't what it used to be. Located in Mt. Pleasant, Franke at Seaside offers retirees resort-style amenities in a stand-alone community. Residents can live independently yet enjoy the comfort of being cared for with wellness activities, special programs for memory loss, out-patient rehab and more.
Day Spa
Urban Nirvana
urbannirvana.com
Open the door and find your nirvana. One 60-minute appointment will feel like you've been relaxing for hours as you indulge in a luxurious massage that combines gentle to firm pressure in areas that crave a little extra TLC. Restore vital energy, reduce stress and promote a balanced body. You deserve it.
Exercise Facility
O2 Fitness
o2fitnessclubs.com
Fitness buffs and casual gym-goers alike love O2 for their unique classes, membership that allows access to all locations and their variety of equipment from cardio to weights! The staff is friendly, knowledgeable and ready to help with your training. They even have daycare to make your workout as convenient as possible!
Eye Care Vision Center
Preferred EyeCare Center
843-856-4775, preferredeyecarecenter.com
Life is all about perspective, and Preferred EyeCare Center wants you to be able to see the clearest picture. As the leading provider of optometry services and vision care products in Mt. Pleasant, they are committed to focusing on your needs for prescription lenses, sunglasses, contacts, vision correction and more.
Florist
Belvas Flowershop
843-884-9576, belvasflowershop.net
Roses are red. Violets are blue. Need a florist? We've got one for you! Mt. Pleasant's first and oldest flower shop was founded in 1956 and they are still the most beloved 60 years later. Locals love their customer service, quality flowers and ability to suit any style or budget!
Funeral Home
J. Henry Stuhr
843-723-2524, jhenrystuhr.com
Saying good-bye to someone you love is never easy, but J. Henry Stuhr, now in its fifth generation, is committed to being there for you through the tough decisions. Their five chapels, two crematories, memorial garden and dedicated staff of funeral professionals make up the largest funeral service provider in the state.
Golf Course
Dunes West
843-881-9542, duneswestgolfclub.com
Fore... good reasons to love Dunes West! Local golfers love the playability of this course, complete with driving range and pro shop, clinics and an array of membership options. The quality of the greens, fairways, tee boxes and hazards also make the course a fun challenge for golfers of any level.
Home Audio
Daniel Island Audio & Visual
843-471-2990, danielislandaudio.com
TV isn't just entertainment. It's an experience. That's why voters call on Daniel Island Audio & Visual, Charleston's premier home theater company, to transform their homes and businesses into places of automated visual inspiration. Whether it's a new home theater or automation, lighting or whole-house audio, they'll indulge all your digital dreams.
Home Builder
Shelter
843-278-2914, sheltercustombuiltliving.com
Your next home should be your dream, and Shelter ensures building it is the best experience of your life. Second to living in it, of course! They work hand-in-hand with clients to execute your vision perfectly and provide expert guidance through each step from lot procurement to design and moving in!
Home Cleaning Service
Castle Keepers
843-569-4400, castle-keepers.com
Your home will be fit for a king following a visit from Castle Cleaners! They have a 200% satisfaction guarantee and come back for free if you're not happy. Our voters especially love the Deep Clean's extra attention to detail by trained, certified and background checked cleaners. Schedule your appointment online.
Home Security Provider
Sonitrol
888-747-0904, sonitrolsc.com
Today's world is wrought with worries about identity theft and security breaches. It feels good to know at least you don't have to worry about your home (or business) being invaded with Sonitrol's verified electronic security. Their latest technologies provide the most reliable security solutions for both families and businesses.
Hotel
Francis Marion
843-722-0600, francismarionhotel.com
The Francis Marion Hotel is a Charleston legend. Located on Upper King St. in the heart of downtown, it's walking distance to shops, restaurants and the farmer's market. Did we mention there's also valet parking? It's gorgeous and rich with history and surely the reason so many tourists (and locals) choose to stay!
Insurance
CT Lowndes
843-763-0120, ctlowndes.com
Insurance can be a nightmare, but working with CT Lowndes is a dream. Family-owned, they've been serving the Lowcountry since 1850 and represent some of the most reputable insurance companies. Get free quotes for every insurance: car, home, jet ski, golf cart, wedding, small and large business, life insurance and more.
Kitchen/Bath Remodeler
Classic Remodeling
843-763-3297, classicremodeling.com
Precision, patience and personalization is the motto for Classic Remodeling, the most reputable and distinguished Design-Build firm in town. They mix functionality with aesthetic, and voters love how they bring their ideas to life regardless of size or complexity. This company truly respects the architectural integrity of a home.
Landscape Designer
Charleston Plant Works
843-579-1033, charlestonplantworks.com
When you want a picture-perfect yard, you need the very best landscapers. Charleston Plant Works offers award-winning landscape design that will win you Yard of the Month—year round. Create an edible garden or one with "100-year-old Charleston Brick." Premium landscapers provide professional installation of trees, gardens, irrigation systems and more.
Marina
St. Johns Yacht Harbor
843-557-1027, stjohnsyachtharbor.com
Newly renovated, St. Johns Yacht Harbor has unrivaled amenities. Their dock facilities include 175 wet slips and 55 over-water lift slips available for the year, bi-annually or quarterly. Dock your boat and then relax at the waterfront pool, café, or Captains Retreat with panoramic views of the Stono River.
Mortgage
Wells Fargo
843-577-8328, wellsfargo.com/mortgage
Your home is the biggest investment you'll ever make and Wells Fargo is a favorite for financing your most important asset. Choose from a variety of home mortgage loans that meet your needs. Whether your goal is buying a home, improving it or refinancing, Wells Fargo has a plan for you!
Pest Control
Ledford's Termite & Pest Control
843-779-1143, ledfordspestcontrol.com
Not every business can say they are truly family-owned and have been for nearly four generations. Ledford's specializes in the prevention and extermination of unwanted guests you don't want hanging around. No, not your in-laws! Termites, fleas, roaches, spiders and ants! Their team is trained, certified and friendly.
Pool Company
Blue Haven
843-522-6000, bluehaven.com
Add a blue heaven in your backyard with a Blue Haven pool. The most trusted pool builder around, Blue Haven specializes in custom pool construction, unique designs and outdoor living (think hot tubs and waterfalls). Through their 3D software, they can show you your pool before they even break ground.
Salon for Women
Studio M
843-414-7377, studiomcharleston.com
Pamper yourself at Salon M! Whether it's a cut, highlights or make-up for a night out, Studio M has you covered. Their hairstylists and makeup artists are some of the best in the industry and offer outstanding beauty services, from the latest trends to techniques, all in a relaxing space.
Salon/Barber for Men
Lowcountry Barber Shop
lowcountrybarbershop.com
Hats off to Lowcountry Barber Shop! Classic men who prefer the tradition and feel of an old-school barbershop trust them the best. The shop's modern amenities and services cater to men of all hair types with haircuts, facials, shaves and more. Six over-sized chairs also means a short wait time!
School
Bishop England
843-849-9599, behs.com
Bishop England is the largest, Catholic four-year high school in South Carolina and was established in 1915 to provide Charleston's Catholic Community with an opportunity for higher parochial education. Students are enriched in an environment that promotes a climate of safety, trust and respect, as well as a love for learning.
Wedding Reception Venue
Boone Hall Plantation
843-884-4371, boonehallplantation.com
There isn't a more iconic setting for a Southern Wedding. After all, it was the house where Noah and Allie fell in love. Marry against the brick backdrop of the main house, full of rich history, or along some of the most romantic oak tree-lined roads that are perfect for pictures.