How Sweet It Is
04 Mar 2023
The 'Birthplace of Sweet Tea' & Charleston Tea Garden
By Tim Lowry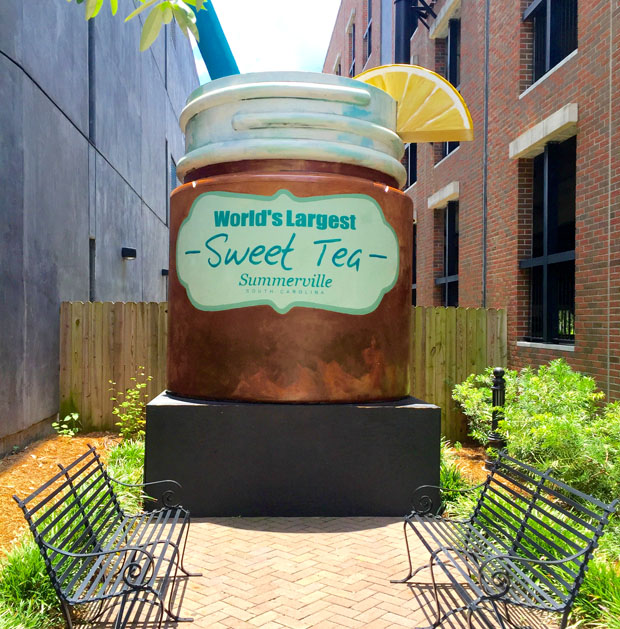 Believe it or not, Summerville—about 25 miles from downtown Charleston—is known as "The Birthplace of Sweet Tea."
The town successfully made its case to the Federal Trademark Commission back in 2013 and has used the copyrighted tagline ever since. Admittedly, the origins of something as iconic and universally Southern as a mason jar filled with ice cold summer refreshment and garnished with a sprig of mint and a slice of lemon may be difficult—nearly impossible—to trace to a single and particular source, but nevertheless, there is ample evidence to sustain the claim.
The cultivation of tea was introduced to American agriculture in 1799 by the French botanist Francois Andre Michaux, who planted the species known as Camellia Sinensis at Middleton Place plantation in 1799. Many people are more familiar with the tea plant's showier cousins, Camellia Japonica and Camellia Sasanqua, which sport beautiful winter blossoms. However, the tea plant is also a camellia.
The historic record shows that the next attempt to grow tea for commercial purposes was undertaken by Dr. Junius Smith in Greenville County, SC. This effort came to a tragic end when Dr. Smith was shot to death in 1853. In 1874, Dr. Alexis Forster planted a crop of tea near Georgetown, SC. However, the enterprise came to a sudden end with his equally tragic death when his buggy flipped over as he fled highway robbers.
In 1880, the United States Government leased 200 acres of property in Summerville from the storied Middleton family for the cultivation of an experimental tea crop. This experiment was somewhat related to other efforts attempting to help Southern agriculture rebound after the devastation of the Civil War and Reconstruction eras, which was exacerbated by the boll weevil and the decline of rice cultivation in the Lowcountry of South Carolina.
In 1888, Dr. Charles Shepard, a chemist and professor from the Medical College of South Carolina, took advantage of a farmer's subsidy offered by the government and used plants from this federal farm to create Pinehurst, the first commercially viable tea farm in the United States of America.
The tea cultivated in Summerville did well. Dr. Shepard even won a prize at the 1904 St. Louis World's Fair for his excellent product. It was also at the fair, according to food historians, where iced tea was first introduced to the public. However, it is thought that the beverage was served unsweetened.
About this time, there was an old soldier's reunion in Summerville. The former comrades in arms ordered copious amounts of tea, ice and sugar. Undoubtedly, folks had been putting sugar and ice into their tea long before this particular occasion, but nonetheless, this is an important moment in American food history: It is the first time that historians can document the serving of sweet tea on a large public scale. From this time forward, sweet tea grew in popularity.
Dr. Charles Shepard died in 1915 and his tea growing enterprise was brought to a halt by a factory fire. The tea farm was mostly abandoned and the tea pants were allowed to naturalize and continue growing on their own. The area once known as Pinehurst is now a Summerville subdivision called Tea Farm.
After several decades, there was renewed interest in the cultivation of tea. Incorporating plants from Summerville, a new tea farm, known today as the Charleston Tea Garden, was established on Wadmalaw Island, a little over 40 miles South on a former potato farm. Since 1963, the tea that is cultivated there has been used to make sweet tea all over the world. In fact, known as American Classic, this fine leaf became the first tea ever to be made with 100 percent tea grown in America and has been the official tea of the White House since 1987. William Barclay Hall, a third-generation tea taster who received his formal training during a four-year tea apprenticeship in London, purchased the land in 1987 and today he shares the business in partnership with the Bigelow Tea Company.
The Charleston Tea Garden offers educational trolley tours of its factory, greenhouses, and the acres of tea bushes that have been cultivated there over the past 60 years. There is no admission charge to the garden, although the trolly touring the site has a nominal fee.
While tea growing operations moved further South in the Lowcountry, in Summerville, sweet tea is still a big deal. A very, very big deal.
In 2016, the City of Summerville combined 210 pounds of loose leaf tea with 1,700 pounds of sugar and 2,524 gallons of water to make the largest sweet tea ever, certified by the Guinness World Book of Records. The giant tea vessel that was used to contain the tea is affectionally known as "Mason" and now stands near City Hall as one of several attractions on Summerville's Sweet Tea Trail.
Visitors to the historic town can stop by the visitor's center and pick up a copy of the Sweet Tea Trail guide. Participating businesses and attractions offer stamps that can be collected in the little booklet and redeemed for Sweet Tea gifts and merchandise.