Improvements in Pediatric Healthcare
13 Nov 2015
Access for children to reach pediatricians more timely, even for those in rural settings, has seen great advancements in part due to medical teleconsultations
By SYBIL FIX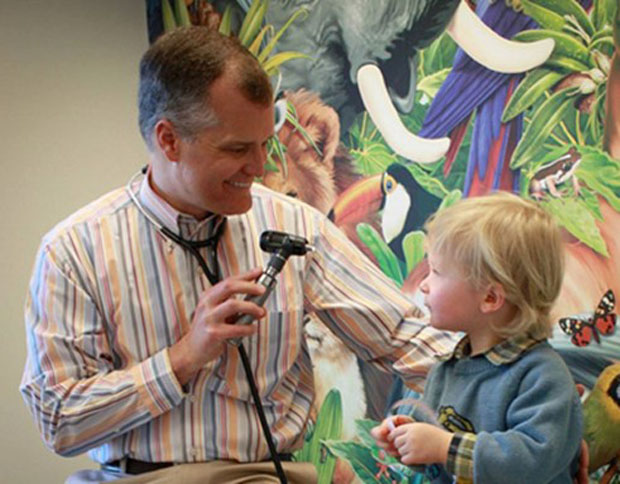 Growing up, Robert Clifford always knew he wanted to be a doctor and treat the most vulnerable of populations: children. Watching "The Little Home on the Prairie," he found an easy role model in the kind Doc Baker.
"If you could not go see him, he would come to you! Old, young, pregnant or animal, he always seemed to have the answer," said Clifford, now Dr. Clifford, managing partner of Coastal Pediatric Associates.
Lots has changed in pediatrics since Doc Baker—among others, the understanding that the physiology of children is different, and, within that, the attainment of a great amount of specificity and specialization.
"A child having a chest pain is having a respiratory problem; an adult having a chest pain is having a cardiac problem," said Clifford, in pediatrics for 16 years. Pediatrics, he said, is about "understanding how an organism is changing and preventing things that manifest later in adults. It is far from work that Doc Baker used to do."
Even more unimaginable to Doc Baker now would be the important recent pushes, some made possible by new technologies, to expand primary, critical, emergency, and specialty healthcare to children in the Lowcountry who are remote by location or excluded by lack of transportation, parental work schedules, or whatever else makes doctors unreachable to them.
"It is a very exciting time. We are seeing a huge desire for improved access and decreased barriers, not only more providers in underserved areas, but more early-morning access, and late night, and seven days a week," said Clifford. "The very real need to communicate better with patients and to increase access is where we are all working."
Dr. David McSwain, who is the medical director for the Medical University of South Carolina's inpatient and emergency teleconsultation program, which provides pediatric critical care in rural areas through medical teleconsultations, agreed.
"Because of the development of these technologies, we can examine patients now at a distance in a way that very closely simulates an in-person examination. The benefits for the patients are huge," he said.
A Medical Home
With four locations—Mount Pleasant, North Charleston, West Ashley, and James Island—and nearly 40 doctors, Coastal Pediatric Associates is the largest primary care pediatric provider in the Charleston area, with more than 25,000 established patients.
Yet, need for pediatric care at all levels is on the rise while the availability of primary and critical care pediatricians is on the decrease, particularly in rural and poorer regions, according to the American Academy of Pediatrics. Thousands of children do not have a "medical home," said Clifford, who has traveled around the world to provide medical care in underserved and war-torn regions.
"Even as we go out to places like Johns Island and Moncks Corner and Ravenel, places that are reasonably close, the children cannot identify a primary care physician. The numbers are staggering," he said.
To change that, his practice now offers office hours from 7 a.m. to 9 p.m., long hours on weekends, and 24-hour phone access to a pediatric nurse and physician who document calls, are able to determine if a situation is an emergency, and make sure the child has an appointment as soon as possible.
In primary care, said Clifford, overall the goal is for all children to have a first-line doctor who knows them, follows their care, is able to refer them to the right specialty care physician without an emergency room visit.
"It is really about continuity. I would rather have a staff member available to make sure that the kiddo is appropriately managed so that the obvious stressors to the family are decreased," Clifford said.
Meanwhile, innovations in technology through smart phones and digital cameras make it possible now to have virtual consultations and to eliminate unnecessary office visits. Young mothers today are not only equipped to handle the technology, but they demand the access and continuity that it affords, said Clifford. He hopes his practice will be fully equipped for appropriate virtual home visits by the summer of 2016, once all critical privacy and recording issues are ironed out.
"I think we are just beginning to scratch the surface on this and I think it will become the standard," he said.
In some ways, the expansion and refinement of telemedicine, said McSwain, "brings back the house call... with great advantage for the patient."
Critical Care in Rural Areas
The pediatric telemedicine program that McSwain runs and helped found in 2013 has become one of the most advanced in the country. It allows teleconsultations between critical care pediatricians and specialty doctors at MUSC and doctors with patients in hospitals in Georgetown, Conway, Murrell's Inlet, and Beaufort.
It is great relief to McSwain, in pediatric critical care since 2009. "As a pediatric intensivist, it was incredibly frustrating to hear about a critically ill child over the phone and sometimes not be able to actually see them for several hours," he said. "With critical illness, seconds count, and the patient's condition can change dramatically in a very short period of time. Telemedicine allows me to see the child within minutes."
Involving severely ill in-patient children with everything from poisonings to burns, injuries and illnesses requiring organ support, the teleconsultations take place via tele-carts equipped with a high-definition, top-mounted camera, a handheld examination camera, and a telemedicine-enabled stethoscope capable of transmitting heart and lung sounds in real time. The visits are so vivid and immediate that they are almost like in-person visits, and they help not only determine the best immediate care, but also make possible visits with specialty doctors who are simply not available in those areas.
Thanks to high-definition cameras, McSwain said, those are decisions that can be made much more confidently now than ever before—and the cameras are so good that doctors are using them as diagnostic tools even when visiting patients in person.
"I think we are at a tipping point, and we are already making a very big impact," McSwain said. He said MUSC pediatric emergency medicine and critical care specialists have done more than 50 teleconsultations since the program started.
Meanwhile, on the emergency and critical care front, children north of Charleston have Trident's Summerville Medical Center at their reach. Providing care 24 hours a day, seven days a week for newborns and children through age 17, this state-of the-art pediatric department offers board-certified pediatric emergency and intensive care physicians and pediatric emergency nurses at all times. Opened in 2013, SMC offers a pediatric emergency department specifically designed for children, and, since 2014, an inpatient pediatric unit and a pediatric intensive care unit.
Seeing 1,000 children a month in the emergency department alone, Summerville's pediatric hospital "has been able to adjunct what already existed in the community by providing more access... both in terms of emergency care and in keeping patients closer to home," said Dr. Craig Duncan, director of pediatrics there.
"When [Trident] began to look at what we wanted to do with the pediatric program, we realized there really was not good access," Duncan said. "From a distance perspective, we have been able to cut travel time by 50 percent."
The Complexity of Little Patients
Meanwhile, children's care continues to challenge medicine to deepen and refine the understanding that they are not like adults; that their healthy growth is a fluid work in progress to which contribute ever-complicated factors such as nutrition, the environment, and family—a fact that long ago was not understood.
"Now we recognize the specificity of the medicine related to various stages of life," said Clifford. "Kids don't behave like adults."
"Kids are not little adults. They are different," agreed Dr. Mark Scheurer, chief medical officer of MUSC's Children's Hospital, a pediatric ICU doctor and cardiologist, "and it is our strong belief that every community deserves a team of people dedicated to taking care of kids."
In that regard pediatrics is becoming increasingly specialized, locally, too. With the advent of the new Children's Hospital in 2019, MUSC, the region's king of specialization, will be expanding into more and more sophisticated sub-specialties and what he called "the complexities of the medically complex child."
At the same time, though, MUSC has committed to making its specialty care resources more accessible through ambulatory services out in the community. In the past several years it has opened three after-hour outpatient pediatric specialty clinics—in Mount Pleasant, North Charleston, and Summerville—specializing in everything from cardiology to endocrinology, with full pediatric-certified staffs. It is also moving toward a pediatric imaging and surgery center in North Charleston and a 5-day multi-specialty pediatric clinic in Beaufort.
This addresses a well-documented need: According to the American Academy of Pediatrics, most pediatric subspecialists practice in academic settings that are far removed from rural areas and regions; approximately 1 in 3 children must travel 40 miles or more to be seen by a pediatrician certified in adolescent medicine, developmental behavioral pediatrics, neurodevelopment disabilities, pulmonology, emergency medicine, nephrology, rheumatology, and sports medicine.
"We are providing a resource we would all want for our children," Scheurer said. He said the three after-hour clinics received more than 21,000 visits last year, up 86 percent from a few years earlier. "We have gotten the message loud and clear... We view this as our mission, and we are going to keep pushing to get more access for subspecialties into the community."