Just Getting Started
23 Sep 2018
Having survived breast cancer, Erin Scheffer is looking ahead towards a normal life

By TERI ERRICO GRIFFIS Photos by LEA AUSTEN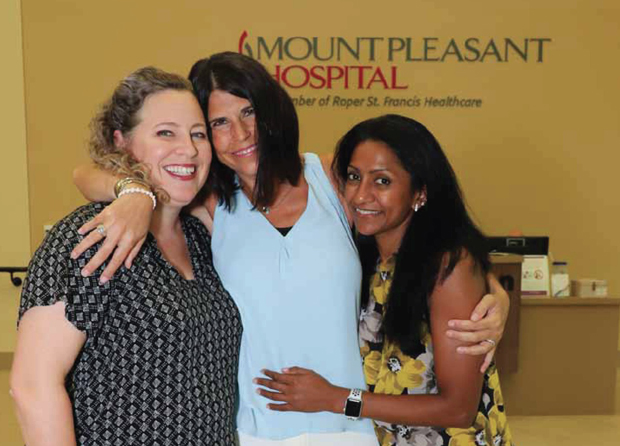 October is special. For 31 mindful days, everyone reflects on their gratitude for the women in their lives. The mothers, wives, sisters, best friends. While we are all acutely aware that Breast Cancer can claim anyone at any time, October is a month to honor the survivors, the fighters who grow in strength along with the modern technology that heals them. Erin Scheffer is a three-year cancer survivor this October. (It's also her birthday!)

Scheffer, a Mt. Pleasant resident, wife and mother of now 8-year old son, Giovanni, has one of the most optimistic outlooks for a cancer survivor. But speak with her long enough, and you'll hear the devastating reality as well. She put it best in her blog, saying, "Breast cancer is terrifying. It disrupts every corner of your life—mental, physical, family, financial, social. Believe me, it leaves no stone unturned. It forever changes how you think about your life, your health, your strength."

When Scheffer was diagnosed in October 2015 with Stage 2B Breast cancer, it upheaved her world. "You now have breast cancer. What does that mean? My son was five at the time and all these crazy things run through your head." Her hope was planted in the fact that the pathology results concluded the cancer wasn't aggressive.

In fact, her type of cancer's prognosis is upward of 85% of women will be alive and well and cancer-free 10 years from the time of diagnosis, according to her doctor, Dr. Megan Baker, M.D., who specializes in Breast Health and Breast Cancer at Roper St. Francis Healthcare. "And Erin is doing everything she can to make it one-hundred percent."

Scheffer describes that moment she got the call with her test results. Her cell phone rang with an unfamiliar number and her heart raced as she pressed the green icon to answer. "It was the Radiologist," she recalls. "And then my life completely changed."

From that moment on, Scheffer's timeline will have been defined as before cancer and after cancer. But she'd move forward. She didn't allow herself any other outcome. She had a son. After losing her father at a young age, there wasn't the option for her son to lose a parent, too.

The First Sign

While her life-changing diagnosis came in 2015, Scheffer's journey actually began a year earlier when her gynecologist at the time found a lump during a routine exam. The mammogram and ultrasounds were clear, and her doctors let it go. A year later when that same lump manifested into cancer, it was hard not to look back in anger and wonder what could have happened had it been treated sooner.

"It just did not show up on scans. I'm perplexed in that my gynecologist and radiologist at the time didn't advise that we should still just check it," she says. "I think my life would have been much, much different had they done the biopsy and checked it." The fact is that roughly 8% of all breast cancers, at least at the time of Scheffer's diagnosis in 2015, do not show up on imaging.

The doctor who finally gave her concerns a second look is the one Scheffer refers to as her hero: her general practitioner, Dr. Swapna Omraju. Scheffer had simply visited her for a cholesterol check in September 2015. The lump in her breast was still present but the follow-up mammogram she got three months previous was again clear. However, she was now seeing striations in her left breast when she lifted her arm.

"There was something intuitive with Dr. Swapna," Scheffer notes. "She said let's not worry about it anymore, let's just get it tested. That decision saved my life."

It was hard not to let the resentment and "what ifs" take over: What if doctors had discovered the cancer a year ago? What if Scheffer or her gynecologist had been more proactive? "But Dr. Omraju said you can't look backwards. The only thing you can do is deal with what we have right now."

Six reconstruction surgeries later, one as recent as this past May, Scheffer perseveres and actually considers herself one of the "lucky ones." As hard as her diagnosis and treatment was, she never had to go through chemotherapy. Her toughest struggle was an apparent infection after the first surgery, and then radiation, which she never expected to be so rough. Scheffer experienced second- and third-degree burns that spanned from her neck and side across her chest over the course of the 28 sessions of radiation.

Today, she considers herself fully recovered, but understands there are residual effects from the treatments. "There are always things to deal with as an aftermath of breast cancer. So even though it's over, it's not completely over—but that's the journey."

Advocating for Yourself

Trust yourself and your body is the best advice Scheffer can give her fellow women. "You have to be an advocate for yourself. If something doesn't feel right, keep pushing," she says. "I'll never know why those original doctors didn't pursue things, but get a second opinion."

Dr. Baker recommends starting mammograms at age 40 and continuing every year after to reduce mortality related to breast cancer. "The sooner we find something, the less we have to do, and sometimes it can spare a woman chemotherapy," she says.

"One of the beauties of working in the world of breast cancer care is with all the improvements, the majority of women with breast cancer do well and overcome," Dr. Baker says, noting two main factors for increased survival rates are early detection and personalized medicine. With today's advancements, patients can be treated in the most specific way to minimize side effects.

It can be so easy to get discouraged by the women who have tried every cutting edge test and kept their faith—and still lost their battle to breast cancer. "But there are also some great stories of wonderful women who persevere. What gets lost in perspective is these women, these fighters, maintain a normal life while doing it," Dr. Baker says. "What inspires me are these no-nonsense women. They take it by the horns, go for it and keep it in perspective."

Scheffer is one of those women—and one can't help but agree. "I feel like a badass. I went back and re-read my first blog entry and I just started crying. How far I've come and how scary that was!" She adds, "It's been a long, long journey but I feel incredibly strong. I feel I grew a lot as a person and you don't know how strong you are until you face some pretty harrowing things."

This includes losing her mother suddenly just after her second surgery and right before her radiation treatments started. "I wasn't always strong and positive by any stretch and going through all of that, emotionally I was wrecked. I couldn't talk to people. It was a dark time," she says, saying it's surreal to look back and think this has been her life. She still sometimes wonder how she got through it all. "But this is my story. I didn't give myself a choice to give up."

Scheffer was lucky to have a great support system of friends which she will always be grateful for, knowing it could not have been easy to stand by her. The same goes for her husband, Grant. "He was amazing," she says. "He was scared too, but he didn't let me see it because he had to be strong for me and for our son."

Despite coming out the other end together, the emotional turmoil they endured took its toll. "Our foundation is so strong, but there's only so much you can take and we definitely went to marriage counseling," she admits. "It wasn't because we were in trouble, but because we felt we needed help sorting things out. Cancer hit in every corner of our life. It was hard on all of us."

Nowadays, it's hard to hurt Erin Scheffer. Appointments are always nerve-wracking, wondering, what if something comes up? "But three years later, I'm turning corners," she says. "You can lay down and crumble, and I definitely had those moments that brought me to my knees. But you just get back up, and get back up, and get back up. I'm just getting started. I'm going to be around for a long time.