Dedicated to Weather
23 Sep 2018
Since 1987, Rob Fowler has guided the community through every storm

By Holly Fisher » Photos by Lea Austen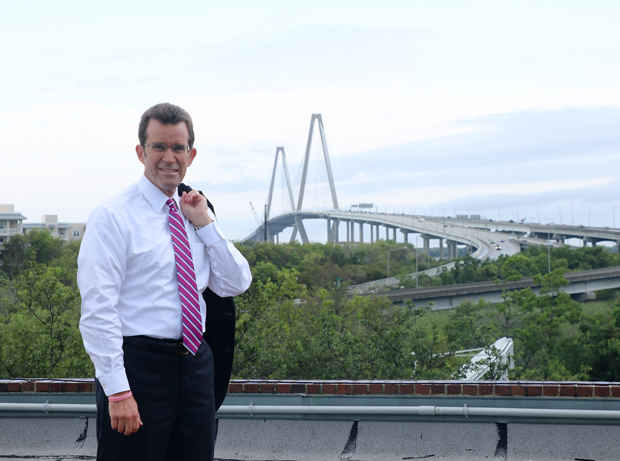 In September 1965 Hurricane Betsy hit New Orleans, making landfall as a Category 3 hurricane. Rob Fowler was just 5 years old, but the memory is as vivid today as it was then. He hasn't forgotten the sound of metal bending, wind howling and branches hitting the windows. When his family returned to their house the next day, it was flooded to the second floor.

As terrifying as it was for a young boy, it also sparked a curiosity in Fowler. Living through Hurricane Betsy, in many ways, prepared Fowler for another hurricane that would later launch his career as the Lowcountry's chief meteorologist at WCBD News 2.

Finding His Way to Charleston

Fowler was only 9 years old when he lost his father to cancer. His mother moved Fowler and his three siblings back to her native Mississippi—and when she ultimately remarried, the blended family relocated to Atlanta. But his interest in the weather never waned and he went to Georgia Southern University for a communication degree and then Mississippi State University for his broadcast meteorology certification.

For Fowler's first job, he covered news and weather with a CBS station in Savannah. Three years later a consultant called with a possible job offer in Green Bay, Wisconsin. Fowler accepted it, which turned out to have a plus side for his personal life as well.

"I saw this cute girl holding tapes and asked her to lunch," he says. In December, he and "that cute girl" will celebrate 31 years of marriage. "God sent me there for a reason."

While the work in Green Bay was good, Fowler continued to hold onto the dream of being a chief meteorologist. Flipping through a copy of Broadcasting Magazine, he spotted a listing for the exact role in a coastal city. The magazine was a couple of months old, but Fowler decided to call up the station and see if the job had been filled. The news director had received plenty of applications, but none were the right fit. Fowler sent off his tape, and the station flew him in for an interview.

Immediately, Fowler knew this NBC affiliate in Charleston was where he needed to be. He proposed to his girlfriend Cara and they headed to South Carolina.

Hugo Hits Hard

Two years after Fowler moved to the Lowcountry, the devasting Hurricane Hugo made landfall near Sullivan's Island. The Category 4 storm left a wide path of destruction and billions of dollars in damage.

With social media still a long way off, the main news sources in 1989 were TV and the newspaper. During Hugo, WCIV Channel 4 voluntarily left the air due to its location near Sullivan's Island. WCSC Channel 5 was off the air for a portion of time due to technical difficulties, Fowler explained.

That left News 2's Fowler as a key source of information. His wife—pregnant with their first child—evacuated to Atlanta, leaving a 29-year-old Fowler free to work 69 hours. He broadcast from the National Weather Service, spending the night at the airport as he worked to keep Charleston area residents informed.

"Professionally, [Hugo] was probably the best thing that ever happened to my career," he says. "People tell me, 'You brought us through Hugo.'"

After his coverage of the hurricane, Fowler was named Meteorologist of the Year by the National Weather Association—and his role as Charleston's weatherman was cemented.

Hot, Humid and Hurricanes

The summertime forecast of "hot and humid with a chance of thunderstorms," Fowler admits, can get a little monotonous. But as hurricane season kicks into high gear or severe weather threatens, forecasters get excited. "It keeps our adrenaline pumping," he says. "It keeps us sharp."

The last three years especially have kept local meteorologists on their toes. The Lowcountry experienced a 1,000-year flood event due partly to moisture from Hurricane Joaquin in 2015, followed by Hurricane Matthew in 2016 and Tropical Storm Irma in 2017.

And while the predictions are for a below-average hurricane season this fall, Fowler's been in the weather business long enough to know, you can't completely predict the weather.

He recalled the analogy one of his professors used: fill a pot with water, add food coloring and stir. Then, try to predict the pattern. It's almost impossible.

While the weather itself can be unpredictable at times, today's technology makes it much easier for Fowler to get the word out faster. Today he uses Twitter, Instagram and Facebook—and even started a Snapchat account at the urging of his 26-year-old daughter. The technology allows him to host a live broadcast between regular TV news programs.

"We can tell the weather story better. We can reach more people where they are," Fowler says.

Living Out the Golden Rule

Fowler continues to keep a busy pace at the station. During the week, he arrives around 1 p.m. and is on the evening news from 5 to 6:30 p.m. He takes a break and is back at 8 p.m. for the 10 p.m. and 11 p.m. newscasts. He returns to his Belle Hall home around midnight.

His mornings too are often filled with visits to local classrooms or leading school or camp groups on tours of the station. And many weekends are booked with community events—emceeing fundraisers or participating in station-sponsored activities. "I live for naps," he jokes.

But Fowler loves being in the community, talking about weather and meeting viewers. He embraces his status as a local celebrity and uses his place in the local spotlight to advance area charities and good works. Since he joined News 2 in 1987, Fowler has been working with Toys for Tots to supply local children in need with toys on Christmas morning. Last year, they helped 13,000 children in the Lowcountry.

Toys are distributed on Christmas morning and Fowler is right there, playing Santa. "I look forward to that every year," Fowler says.

His Catholic faith plays a large role in his desire to give back to the community he's called home for more than 30 years. "I'm a big golden rule guy," Fowler admits. "I hope people can look at me and say, 'He's a pretty good guy.'"

Charleston area residents can rest easy knowing Fowler is committed to News 2 for at least another five years—and will be with us through another five hurricane seasons. "I'll keep going as long as people watch," he says.