Langdon's Restaurant and Wine Bar
08 May 2018
Langdon's Restaurant and Wine Bar
By WENDY SWAT SNYDER
Photos by JAMES STEFIUK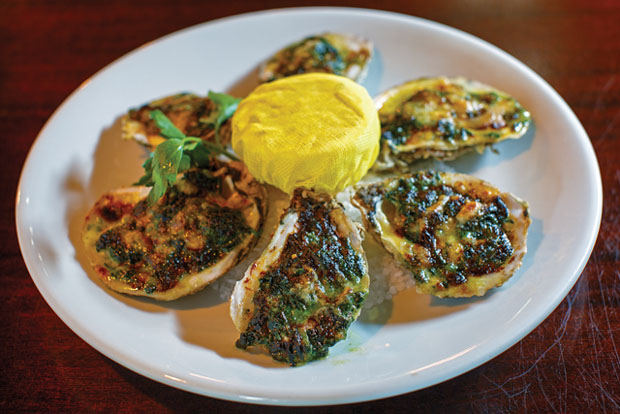 A common culinary thread running through each of the Owens Dining Group's restaurants is the combination of beautiful product and a standard of excellence—whether white-cloth or casual eatery—delivered consistently across all three Mount Pleasant properties. Langdon's Restaurant and Wine Bar is where it all began, earning local praise and AAA's Four Diamond Rating every year since its debut in 2003, for an experience that would help define Charleston's commuter town as a fine dining destination.
"What we do is very simple," says chef-owner Patrick Owens. "We find the best ingredients possible and treat them appropriately—season them properly, cook seasonally—it's a pretty straightforward process."
Mount Pleasant is home to the Lowcountry native and, gauging his trifecta of successes, Owens seems to have a good sense for what the community wants. His approach, characterized by a light touch, French technique and a concentration on classics—he says some of his favorite foods are Italian— played well in an uncertain economy.
"We started off in 2003 with a bang," notes Owens, "but 2010 and '11 were challenges." By then, driven by a desire for a new venture, he had opened Langdon's more casual sister-restaurant, Mediterranean-inspired Opal Restaurant and Bar, in an upscale mixed-use community near the Isle of Palms connector.
Owens prevailed, and today Opal continues to please patrons further East of the Cooper with the chef's twist on contemporary American cuisine.
A marriage of craft pizza and raw bar, Owens' newest venture, Wood & Grain, imbues artisan pies with old-school authenticity in a world-class Mugnaini open-hearth oven. Its wood-fed fires also roast up earthy delicacies like wood-roasted octopus and oysters.
The Lowcountry native found his passion for cooking as a youngster, watching and learning in the Southern kitchens of his mother and grandmother. In his teens, he parlayed his skills into catering, working for Charleston Bay Gourmet, and moved on to posts at the much-lauded Circa 1886 and Magnolias in Charleston's historic district.
Owens was just 27 years old when he launched Langdon's in a centrally-located shopping center in the heart of Mount Pleasant. Now celebrating its 15th anniversary, the local favorite continues to flourish, and carries a reputation as the best fine dining destination in town. The restaurant consistently places at the top of OpenTable's rankings and has garnered the Wine Spectator Award of Excellence every year since opening.
Inside Langdon's, romantic and industrial touches combine to provide a spot-on setting for both date night and dinner with friends. Atmospheric lighting creates a warm glow throughout the space, and original artwork by Lowcountry artists such as Tate Nation is showcased beneath a ceiling with trendy exposed ductwork. The main dining room features intimate banquettes and white-cloth tables, while a separate bar area offers additional, more casual seating.
The early spring evening of our visit, my guest and I were interested in sampling the signature dishes Owens says his customers routinely look for on the menu—bestsellers he'd be remiss to remove.
"Certain items are longstanding," he explains. "We make subtle changes throughout the year, but it's the specials menu that reflects more changes."
With strawberry season in full swing, we couldn't resist ordering an off-the-menu starter, and the strawberry salad featured on the daily specials list did not disappoint. The beautiful presentation featured the ripe fruit piled high with spicy arugula, soft pillows of burrata, and the crunchy texture of pistachios. A garlic reduction and delicate balsamic Madeira and sherry vinaigrette delivered great depth of flavor to the light-as-spring dish.
A small basket of baguette from local artisan baker Normandy Farm also appeared on our table—and while we were trying to preserve our appetites—its crusty bite and lovely flavor was impossible to resist.
Oysters Rockefeller hot from the oven were next: the Langdon's interpretation of the classic preparation featured spinach, parmigiano, Sambuca, and a reduced triple cream. A perfectly roasted golden crust crowned the briny bites of heaven.
A light first course followed: the chef's seasonal crudo featured tender, buttery salmon ensconced in a delicate vinaigrette flavored with springtime ramps.
Owens is a longtime advocate for sustainable seafood, sourcing shrimp from Cherry Point Seafood Company in nearby Wadmalaw Island as well as from purveyors in McClellanville, Rockville and Beaufort. His kitchen also sources fresh produce locally from Limehouse Produce, Ambrose Farms and Growfood Carolina.
Our selection from the Black Skillet Steaks list was a perfectly cooked center cut filet topped with local shrimp. Chicago-based Meats by Linz provides all of the restaurant's beef, and these were flavorful samples of the family-owned company's upscale fare. The filets were marked with a great sear and were accompanied by al dente asparagus, buttery potatoes and a classic house Bearnaise sauce.
The day's fresh catch was golden tile fish which arrived, lightly dusted and cooked, in a very fresh, straightforward presentation, and served with the house leek and sweet corn risotto, moistened with a Meyer lemon and chive beurre blanc. The sweet corn was balanced with just the right bite of salty cheese, making the risotto a flavorful foil for the fish.
Other menu offerings feature dishes such as orange-soy grilled salmon, rack of lamb with Chinese duck sausage and Hawaiian tuna, reflecting Owens' partiality for an Asian flair in his preparations.
A fantastic dining experience was brought to a sweet close with a beautifully presented chocolate cake topped with coffee ice cream and a toffee garnish. The layering of assertive flavors, rich, molten cake and crunchy candy was irresistible—we finished every bite.
Langdon's Restaurant and Wine Bar tenure as a local standout illustrates a tenet that Owens follows in all of his endeavors: His following of happy diners is long and loyal, and he listens to them.
In this era of culinary excesses, it is reassuring to know we have chefs who believe in the basics, and who have the talent and skill to let great ingredients speak for themselves.
Langdon's Restaurant and Wine Bar
778 South Shelmore Blvd., Mt. Pleasant
843.388.9200