Light and Paper
16 Nov 2014
Lisa Abernathy brings stories to life with delicate art
By JASON A. ZWIKER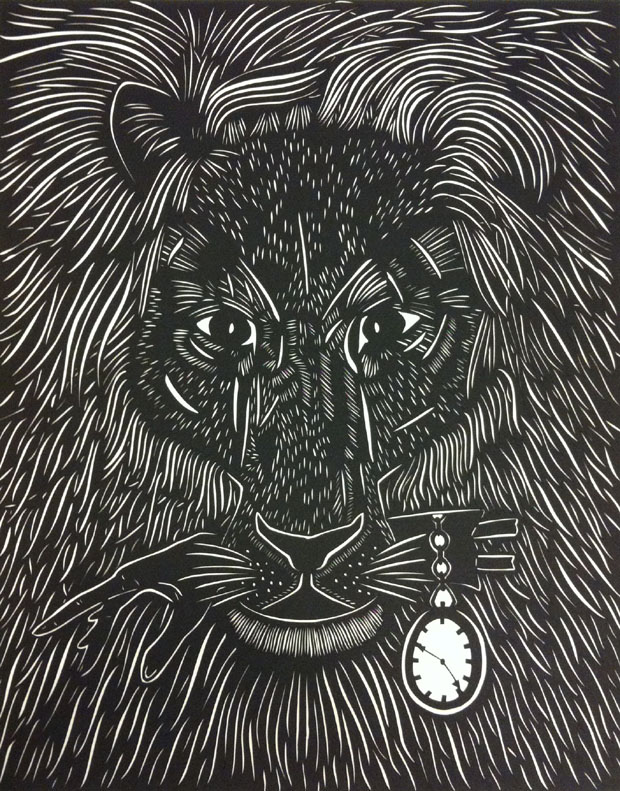 There's a kind of meditation in it, this work of the hands and the heart. Following the outline of her initial sketch, Lisa Abernathy makes ever finer cuts through paper and a story slowly emerges. One leaf, then two, then more and more, fill out the branches of a tree beneath the tip of her knife. Hours pass by. It's a slow, meticulous process but it never fails to leave her feeling happy and grateful.
"I need this time of turning inward," she says. "It feels very comfortable and natural for me."
Papercutting, an art form that has featured prominently in many cultures all around the world through history, takes something of the painter's mastery of the interplay of light and shadow in it, and mixes it with something of the sculptor's deft touch. It is a delicate art that demands patience and precision.
"I love texture and enjoyed working with fabric before I started papercutting," Abernathy says. "The transition was encouraged by the simplicity and texture of paper. It's very hands-on, accessible, nostalgic. Maybe that's also because I love books. Papercutting seems like a natural way to enrich story in art. I like that it's delicate - I enjoy presenting a strong image in this delicate artform."
It's not uncommon for Abernathy to put more than 55 hours of work into a single piece of art. She works primarily in black and white, which lends each image a stylish, high contrast look. Natural forms flow most easily for her: animals, leaves, swirling water, clouds in the sky. Ask about her inspiration and she'll share her insights into the connection between our emotions and natural surroundings, the seasons, and storytelling. A lifelong fascination with folktales and children's stories informs much of her work.
The power of place also features prominently in her art. Growing up in an Air Force family, Abernathy became accustomed to moving from place to place early on in life: all over the Southeastern United States as a young child and, memorably, to Saudi Arabia between the ages of 12 and 13.
She's fallen in love with places as far-apart as Boone, NC, which gave her the mountains and backpacking, and Oakland, CA. "I feel that places are a lot like people," she says. "The connection and appeal are unique to the individual. I felt that chemistry with Oakland. The beauty, diversity and people there inspired me and helped me feel at home with myself."
By the time her journey brought her to Asheville, NC, she knew that was looking for a way to contribute something positive to the world. She found that at the Daoist Traditions College of Chinese Medical Arts, where she studied acupuncture and Chinese medicine. Today, Abernathy co-owns Blue Heron Acupuncture & Apothecary in downtown Charleston with Lauren Becker.
Her papercutting aligns nicely with her career in Chinese medicine, an art and science very much connected to the seasons and patterns of the world. "It's a nice balance," she says. "Each supports the other. The time I spend with my art deepens my ability to see and listen to patients."
Her papercutting art has appeared in numerous shows around Charleston through the years. She has a special love for collaboration and group shows.
Natural forms abound in her art, so when TEDx Charleston, an annual gathering of teachers, thinkers, and visionaries, chose Ripple Effect as its theme for 2014, Abernathy was an obvious choice. Her work stood on both sides of the stage, a tall ship to one side and herons to the next. "AnneTrabue Nelson and Andrea Schenck, who were both serving on the planning committee, recommended me because of the frequent water imagery in my papercut art," Abernathy says. "They wanted art that would complement the Ripple Effect theme as well as embody the feel and identity of Charleston. They also wanted the art to look striking without distracting from the key attraction of the speakers."
"It was an amazing opportunity to be part of this project - to not only make art on a subject I love (the aquatic landscape of Charleston), but to be part of such a high-caliber, inspiring and community-building event."
She is currently working on pieces for two upcoming Ballet Evolution shows: The Little Match Girl (December 2014) and Ancient Tales (February 2015). Her friend Laura Ball, one of Charleston's most beloved musical talents, brought her in to make art for the promotional materials. "I'm really excited to be a part of it," Abernathy says. "It is going to be an amazing production that explores the cyclical nature of the world."
As well, she's preparing materials for an upcoming group show that will be housed at Blue Heron in December. The show, Static in the Snow, will feature not only her art but also the works of her husband, pen & ink illustrator Seth Corts, as well as local artists Jeanette Louise and Riki Matsuda.
"It's a good time of year for the show," she says. "It's cooler outside in Charleston in the winter and that always makes me want to go for walks and just look around. It has a sentimental edge to it."
That time spent outdoors, drinking in the beauty and energy of her surroundings, becomes raw creative material for her art.
"It's an art that requires such simple materials: paper and something to cut it with," she says. "So much can be explored and discovered with nothing more than that." lisaburdyabernathy.com
5th Annual Static in the Snow. Friday, December 12, 6-9 pm. Blue Heron Acupuncture and Apothecary, 680A King Street, Charleston SC.