Lines in the Sand
02 Nov 2022
Unexpected mixed materials add dimension to Marina Savashynskaya Dunbar's colorful abstracts
By Liesel Schmidt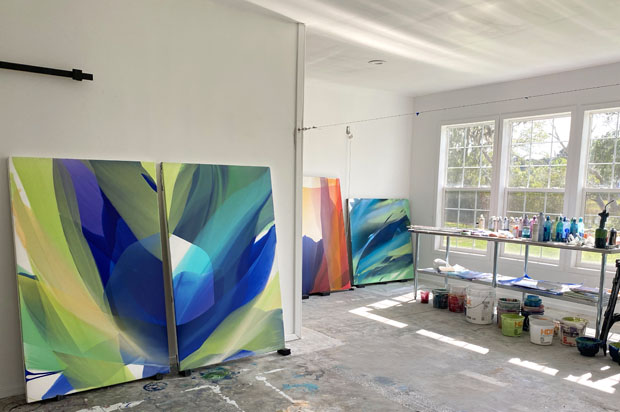 There's a dynamic quality to Marina Savashynskaya Dunbar's work, a realism within the surrealness of it that makes it seem familiar and yet completely unique—and absolutely captivating.
Color and light combine with texture to create pieces that draw the eye and arrest attention. What she achieves with paint and sand is more than what it immediately appears, for layered within the pigment is an expression of something just under the surface, like a feeling you can't quite name.
Born in Minsk, Belarus, Dunbar moved to the United States at the age of nine, when her mother remarried.
"We had little in terms of personal wealth, and the initial move was a culture shock in many ways," she recalls. "I moved from a large city to the small town of Columbus, Georgia, leaving behind my childhood friends and possessions. In the initial stages of the move, I spoke little English, which resulted in spending much of my time at home. During this period, I began drawing from life. My stepsister explained a few concepts of still life drawing to me such as shading, value and density. She was encouraging, and those were the first experiences I remember of drawing representationally."
As artistic as she was throughout her early childhood, her ability to create did not give way to painting until later, when she was a teenager in high school.
"I started practicing with oil paint and began to find my voice within abstraction," she recalls. "Throughout high school, art was the only subject in which I excelled, and it held much of my interest."
Still, Dunbar pursued the "safe choice" in college and chose a path that would lead to a business degree—though it was only a matter of time before passion won out.
"I was trying to be practical with my education, but I quickly realized that I was missing a creative outlet," she says. "I knew I didn't have the means of exploring it while I was working towards another degree. I am a firm believer in doing exactly what you want to, not necessarily what 'makes sense' to society. I believe a person will excel in a field of their genuine interest."
Having come to that realization, she dedicated the second half of her time at university to obtaining a studio art degree.
"This allowed me the space and time to explore various artistic possibilities," says Dunbar, who lives in Charleston. "It was a time of endless experimentation. I worked with oil painting, acrylic painting, resin, ceramics, welding and sculpture as well as digital and film photography. Experimentation is essential, especially in the beginning stages of developing your artistic language. It is crucial to understand why certain materials and processes resonate with you as a maker and keep those experiences with you throughout your artistic journey."
What resonated most with Dunbar was the use of acrylic and sand, creating an effect with it that seemed to embody everything she was trying to express.
"Each type of medium carries a different meaning, visual weight and tension," says the artist, who began to pursue her passion full-time in 2017. "When these differences work in tandem, they produce a dynamic work. Water mediums have proven to be responsive to my temperament and sensibilities. The paint I use has a transparent, ethereal quality, while sand feels tangible and conveys a greater density. Sand is a physical object, yet its existence is a representation of the passage of time. Sand is the result of rock erosion and a material that continually assembles into new patterns. In the Buddhist tradition, sand is used to convey beauty and ephemerality through the construction and subsequent destruction of mandalas. Using these themes as anchors of inspiration, my works evoke impressions of dunes, flora, and natural phenomena while departing from a faithful rendering of reality."
As far as they may be from the structures of reality, there are facets to her work that draw on what is, in fact, very real.
"Someone once told me, 'Your paintings look like things I've seen before but that don't exist,'" Dunbar recalls. "That statement resonated with me. My work is abstract, but there are moments within the paintings that suggest recognizable elements. Eventually these elements become less about certainty and more about interpretation, creating a relationship between the real and the perceived. I intend for my work to have enough suggestive elements that it may bring up specific imagery or a sense of place to a viewer's mind but leave them in a state of curiosity. My work is open-ended that way."
Dunbar's work can be found online at www.marinadunbar.com as well as in galleries and exhibitions throughout the U.S.