Living in the Great Outdoors
06 Mar 2018
With spring right around the corner, it's time to turn your attention from indoor pursuits to the state of your backyard
By MONICA KREBER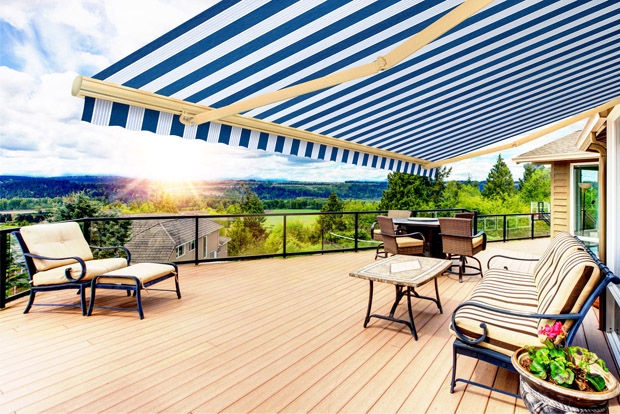 If you're like most people, you're probably not wholly satisfied with your backyard. Maybe you'd like to upgrade your patio, add a water or fire feature, or spruce up your landscaping. We talked with three Charleston-area outdoor living experts for helpful tips and advice on how to turn your backyard into an outdoor living space worthy of celebrating.
Outside Is In
843-718-7181
outdoor-furniture-fabric.com
In creating your outdoor living area, Bob Kelliher said it is about what works for your space. It's finding balance, and finding something unique, but there isn't a style that trumps functionality.
"It has to really fit to what it's supposed to do," he says. "If it's supposed to be comfortable, that's the first thing we want to make sure we take care of."
Kelliher, owner of Outside Is In, is passionate about the business and helping clients figure out what to do with their outdoor space and bring their vision to fruition. Outside Is In is known for outdoor/causal furniture, such as dining, deep-seating, loungers, garden and customizations, and specializes in wood, particularly teak.
Teak is one of the more premium commercial woods and it has been used through the centuries for boat-building and furniture, primarily because the wood is the most dimensionally stable of all, a feature which Kelliher notes, is "important for outdoor furniture."
But form follows function. "It has to be comfortable, it has to be easy to maintain and it has to last decades. That's our fundamental," Kelliher says.
In addition to importing premium outdoor teak furniture directly from Indonesia, the store also handles exotic tropical hardwoods, such as mahogany and synthetic wicker and powder-coated aluminum. Most of the furniture comes in completely assembled as opposed to knock down, ready-to-assemble, which helps to lower shipping costs. It is a better-quality build and Outside Is In delivers it ready to use.
For Kelliher, what makes Outside Is In unique is the custom work they do for clients. They work with both residential and commercial accounts. If somebody wants something different from "off the shelf," the business works with them—and it usually gets done in Indonesia in a reasonable time with cost savings.
In his store, Kelliher said the lazy chairs and the sectionals are extremely popular. They offer deep-seating designs accompanied with custom-made cushions (using Sunbrella fabric), Adirondacks, benches, swinging beds, tables and more. Pieces come in classic, contemporary and rustic styles.
But the uniqueness goes even further beyond the styles. At Outside Is In, prospective customers can find colorful furniture pieces made from reclaimed Balinese fishing boats, on which the paint is the same from the actual boat—as well as mahogany live-edge tables, whose edges are the natural contour of the tree.
Kelliher notes he sees a lot of diversity in what residents are interested in—and a lot of variety in customers. "I stand by the fact, that you want to make sure it's something that will last and you'll be happy with it for years to come," he says. "That's really kind of a big deal for us."
Tips for Customers:
Find furniture that can age gracefully; Kelliher advises shoppers to find something that will not only last, but bring satisfaction.

Shop around.

Buy in-person if you think the company can really service you. Kelliher says you want to make sure it reflects your home style.

Buy affordable quality so you are getting a much better value and not replacing your outdoor furniture every 3-4 years.
Anderson Studio of Architecture and Design
843-937-6001
theandersonstudio.com
When it comes to creating a house, Anderson Studio of Architecture and Design goes from designing the foundation, to selecting the curtains, to figuring out even the cushions on the couch.
Owner and director Scott Anderson has more than 20 years of architectural experience, and his studio has the skill to carry out a wide variety of projects, with the instinct of knowing what works best where. Often times, it's perfecting the views. "Everyone wants to spend more time outdoors and having that living space be seamless," he says.
One particular project on Kiawah Island resulted in a classic, shingle-style, New England-themed house (built by R.M. Buck Builders) that makes a visitor feel as though they've stepped into the Hamptons. The studio and client wanted to make the outdoor living space more enjoyable by spreading it out parallel to the beach and making it so every space in the interior had a view of the ocean. Main elements include a screened-in porch accessed from the den, a center terrace that provides a simple space for the family to sit and enjoy a view of the ocean, and an outdoor kitchen and dining space that visually connects to the terrace.
The furnishings are set up to look like classic pieces that were collected over time; some are antiques and others are completely brand new—all of which Anderson describes as durable and comfortable.
Designers opted to nestle the outdoor living into the natural landscape and make it easier to get up onto the pool deck, the screened porch, and the outdoor kitchen area. They brought in nearly 10 feet of fill and constructed a dune across the back of the house so that the sand and landscape (designed by landscape architect Designworks) were no more than 30 inches below the deck. Anderson notes this eliminates handrails from blocking views.
"From my perspective," he says, "if you're on the beach, finding a way to get rid of that rail is the number-one show-stopper that my clients love in the end."
Another major area is the pool deck. At one end of the lap pool is a modern-looking spa with a shallow sun shelf and chaise lounges partially submerged under an umbrella. Opposite the spa, Anderson built a fire pit, designed to create focus areas on either end of the pool, with a sitting area composed of four swivel chairs.
Leading from the pool deck to the upper terrace are two primary stairs coming up from the pool deck to the upper terrace, lined with sweetgrass and podocarpus in planters. The foliage helps to blend the terrace even further into the landscape.
Anderson said the Studio consists of experts in designing living spaces—spaces people want to be in. "We've got some modern work, but there's a real thing about giving folks something that they're comfortable in and something that's really new and theirs," he says.
Tips for Customers:
Integrate good landscape design into the outdoor space.

The outdoor space should be treated with as much importance as an indoor space, and relate well to the house.

Don't undersize the outdoor area; at around 12 feet, you really start to approach a real living space and can furnish it properly.
Innovative Awnings
833-337-4233
innovativeawnings.com
Photo Innovative Awnings
Innovative Awnings serves as the exclusive provider of Marygrove Retractable Awnings throughout North and South Carolina. Based in Cornelius, NC, Innovative Awnings just expanded into the Wilmington market this spring, having recently participated in the Wilmington Spring Home Show.
"We feel that with the amount of homes, growth, and sun exposure in Wilmington, the market will benefit from our products," says Andy Hoyt, company president.
Innovative Awnings provides retractable and motorized awnings for outdoor living spaces, such as porches and patios. Because their awnings can be easily protected from wind, rain, and other harsh weather, their products do not need to be replaced or maintained, Hoyt explains.
For a lower price point than building a new sun room or putting on a new roof, customers can convert their backyard into an outdoor living space with a retractable awning. Additionally, retractable awnings allow customers to control the amount of sun a space receives in different seasons, whether you want a sunny spot on a warm, spring day or a cooler space to entertain during the dog days of summer.
Innovative Awnings has streamlined their approach to sales, inventory, and delivery with the goal of providing customers with high quality products as quickly as possible. They offer four different sizes and nine fabric choices – all of which they carry in stock – minimizing the time it takes from initial order to final installation. Furthermore, their solution-dyed recyclable polyester fabrics have received numerous awards for sustainability. With a motorized remote control, you can completely control your awning from the comfort of your own home or even control it remotely if you are out of town.
"Nothing comes close to our product in terms of its features, quality, construction, and price, and we cannot wait to get our product out there," Hoyt says.
Backyard Retreats
843-856-0049
backyardretreatssc.com
Families gather where they are comfortable and have fun―this is how Sharon Campbell sees an outdoor living space.
Plus, the Lowcountry gets nice, outdoorsy weather, so why not have a beautiful retreat to enjoy, in a place that is comfortable and will last a while. Campbell has a passion for creating such a space for customers through her business, Backyard Retreats.
"I just have a passion for beautiful spaces," she said, "and I think the outdoors should bring your indoors out, because it just creates more space for you."
The outdoor space should look like a continuation of the inside of the home so it all flows – a space that complements the home, and the customer's lifestyle.
Backyard Retreats offers high-quality outdoor furniture―products that Campbell says are long-lasting. The store offers a lot of different models and manufacturers, and Backyard Retreats tries to offer a variety to satisfy all customers' tastes; transitional and contemporary pieces are really popular.
Backyard Retreats works with commercial and residential customers, and the business tries to find products that best fits each customer's needs, and find items that are durable and have easy maintenance. Backyard Retreats offers consultations to accommodate customers' needs. Campbell said they like to do complete packages and have each area flow together.
"I love to get to know the customer and find out things about them so I can incorporate that in their projects, and a lot of times personality is so important," she said. "They're all special in their own way."
In addition to outdoor furniture, Backyard Retreats sells a number of outdoor décor; the natural rock creatures are popular. Campbell said they are well-known for their accent pillows and custom replacement cushions.
Campbell's daughter, Darla Miller, executive manager and exterior designer, said she wants residents to realize the store is more than Adirondacks; they offer accessories like candles, acrylic glassware and plates, and artwork―anything that can complete an outdoor project.
Miller said they have all types of outdoor furniture: traditional, transitional and modern. "We can meet any of those needs for a customer," Miller said.
Miller advises shoppers who want to enjoy their outdoor furniture for the spring and summer months to shop early, because custom work takes time.
Backyard Retreats has dining sets, chaise lounges, deep-seating, bar chairs, tables and outdoor rugs―so much that they consider the business an "outdoor boutique." Some of their materials include wicker, teak and aluminum. Their polymer is made from recycled plastic.
"We've just got such a variety at our store, we can pretty much take a project and go from start to finish," Campbell said.
And they're not afraid of color―the furnishings and décor in Backyard Retreats come in all sorts. "We love color," Campbell said.
Campbell said she always wants her customers to think happy thoughts about Backyard Retreats. "Living in the Lowcountry like we do, it's just a great place to be outside," she said.
Tips for Customers:
Consider your lifestyle and what you want to accomplish with that space (like children or pets – shoppers might want to consider fabric that will be conducive to who's using the furniture).

Try to merge together the comfort and look that you want; you will use the piece a whole lot more if it's comfortable.

Complete furnishing one area before moving onto another one.