Long-Lasting Children's Furniture
29 Aug 2016
Maxtrix Kids Rooms opens its first retail store in Mount Pleasant
By HELEN MITTERNIGHT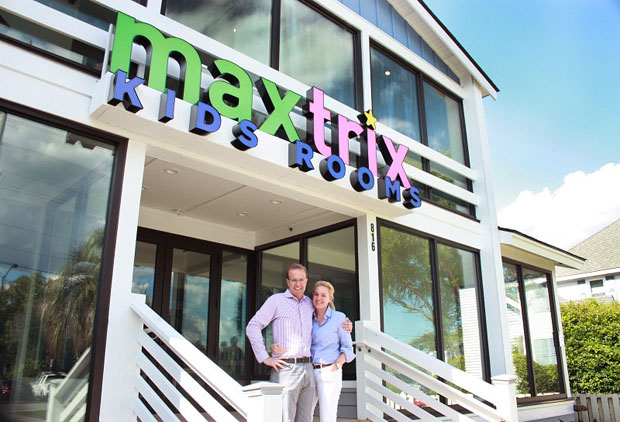 When the store opens in mid-September, Maxtrix Kids Rooms wants to put an end to throwaway kids' furniture.
When Anne and Stephen Jensen moved to the United States about 16 years ago from Germany and Denmark respectively, they took a look at children's furniture.
"What we found was there was a lot of versatile children's furniture, a lot of bunk beds, but they were really rickety. They are really affordable but they will not last very long, and they really are throwaway items," says Anne Jensen, who, along with her husband, Stephen, owns the new store as well as the Maxtrix furniture line. "We started looking at this problem and we thought we could do better than that."
The couple decided to create children's furniture that can evolve with the child.
The furniture, made with clean lines, quality hardwoods, and details usually only seen on fine adult furniture, fits together "like Legos" according to Jensen, and can be combined into 22,000 configurations.
"You get a bed for a child who wants the first big girl or big boy bed. We can really create an incredible fantasy castle for your child and then that exact same castle can turn into the storage loft or a study space, or anything you want as they grow up. You can evolve the furniture to grow with your child," Jensen says. 'That's where the success of this brand has taken hold. The versatility is unbeatable."
The high quality means the furniture will last.
"If people are going to be coming back to add furniture for 15 or 20 years, the furniture had better last that long," Jensen says.
Maxtrix has become the world's largest kids furniture system, but it started 10 years ago, when the couple married and decided to create a business out of their insights about children's furniture.
"We started creating products out of our garage," Jensen says. "At first, I kept working to make sure food was on the table and Stephen started designing. We were making prototypes and then Stephen was literally driving with his showroom on wheels to show to retailers and get customers. We created something we really believe in. The wood is American hardwood; we are in charge of the entire design process and supply chain."
Despite Maxtrix becoming a big name in juvenile furniture, the Jensens didn't have a child of their own when they started.
"Well, my son is 9, so I guess you can say he was on the way when we started, and we knew we were going to call him Max," she says, explaining the company's name.
The couple also have a daughter, Lily, 5, and Lily and Max are already involved in the business.
"They are spoiled rotten with the most amazing bedrooms you can ever think of," Jensen says. "They are our mini test people. When we come out with a new model, we see if they like it, if it is really doing what we intend it to do. We have a lot of play concepts in our furniture – slide beds, tents, toy storage. It's a fantastic way to do a dry run before we start manufacturing. They are very involved in helping us make decisions on color, on finish. They are very opinionated."
They are also part of the inspiration for the company's safety measures.
"Safety is one of our major focal points," Jensen says. "One of the things I can tell you is we educate parents about safety. It is near and dear to our hearts. We always stress to anchor things to the wall. Everything comes with an anti-tip kit that you can put on anything you want."
"A lot of safety has to do with the beds. We offer the highest guardrails in the industry. You know, sometimes parents will buy a loft bed and then a plush mattress because they think that will make their child comfortable. They don't think that the thicker the mattress, the lower that makes the guardrails and the more likely your child is to fall out of bed. We make our own unique line of low profile mattresses. It doesn't mean your child gives up comfort; what makes a mattress comfortable is the ingredients inside the mattress, not the thickness."
The Maxtrix brand is already known online and through many independent specialty retailers throughout the United States and Canada, but the Mt. Pleasant store is the first-ever Maxtrix branded retail store.
"This will be a helpful way to connect with customers, to understand what it is they are interested in," Jensen says. "It will help us understand the way people react to it, the questions they have. It will make us better at what we do."
The store also will offer the company's other furniture lines, Jackpot, a more affordable line, and Craft, designed for tweens and teens. 877-776-3388, maxtrixkids.com