Rutledge Cab Co
29 Aug 2016
By WENDY SWAT SNYDER » Photos by JAMES STEFIUK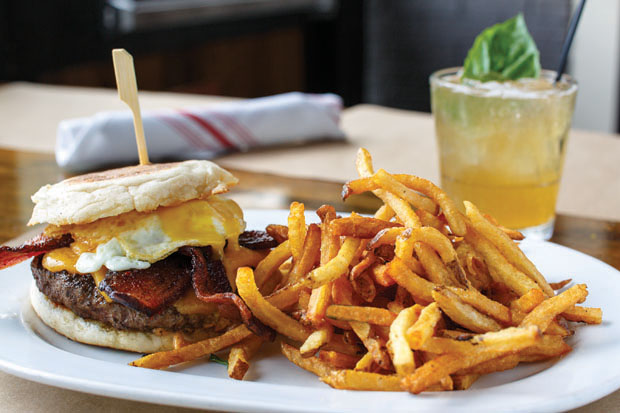 One sure way to shake off the Monday blues is to take yourself out for a burger and a brew, and while one of the best places around may be a bit off the beaten culinary track, it's right on the money. Rutledge Cab Co. has all the parts necessary to transform a neighborhood haunt into a downtown hotspot—and so it has. Since its 2013 opening in Charleston's Upper Peninsula, a funky vibe, smart service and great food have made this American-classic-with-a-twist a local hero. And like a good neighbor, the kitchen pays it forward, cranking out $5 burgers on Mondays as fast as customers can eat them.
Seated squarely in an evolving section of the city, the eatery was carved out of an old gasoline station that had been boarded up for years—one with enough yard space to provide on-site parking, a huge perk not just for its Wagener Terrace neighbors but diners from East Cooper and beyond. And its location could not be more convenient, situated as it is, a stone's throw from I-26, the Ravenel Bridge, the city proper and the fast-growing NOMO (north of Morrison) enclave.
Co-owners Brad Creger, Mike Veeck and Bill Murray have been witness to the explosive growth that has transformed this part of the peninsula, and as Creger points out, Rutledge Cab helped anchor the metamorphoses.
"When we started on this odyssey," says Creger, a native Charlestonian, "many wondered why we chose the location, but it's proven to be a good decision. The locals have always been loyal to us and some have even thanked us for undertaking the renovation."
The retooled building reflects its retro-industrial heritage with exposed brick and beams, lots of natural wood, and vintage touches throughout the sprawling dining room. The Monday night of my visit, my party shuffled into a cozy, oversized banquette near the bar. A larger space beyond the bar is outfitted with tables that can handle anything from a couple to a crowd. Creger points out that Rutledge Cab has become the "go-to place" for small parties and gatherings.
"We have more community tables than most restaurants," notes Creger, "and welcome groups who walk in without reservations. We pride ourselves in responding to those needs."
Light pours in through a wide, covered porch that provides sidewalk seating for people-watching in this residential neighborhood at the intersection of Rutledge Avenue and Mt. Pleasant Street.
The kitchen follows the time-honored tradition of the typical diner—serving breakfast fare all day long. The menu includes standards like eggs Benedict, huevos rancheros, and a build-your-own-omelet.
That is where the resemblance to a diner begins and ends, though. Ever respectful of the community they serve, Creger and his team strive to bring extra value to the table on as many levels as possible.
"One of the things that sets us apart is everything we serve is handcrafted in-house," Creger notes. "We prepare all of our meats here—corned beef, pastrami—we do it all. And our meats are hormone-free. We offer our customers excellent product at reasonable prices."
Executive chef Jeff Marshburn concurs, adding that their approach is, simply put, to bring to the table "straightforward, delicious food prepared with proper proteins and produce sourced in-season, and not too many frills."
Adding fuel to the flavor profiles at the eatery is the Rutledge Cab grill: its charcoal flames sear everything on it with a smokey kiss. Meats and fish, poultry and local shrimp—"everything tastes better over a charcoal grill," notes Creger with a laugh.
And according to Marshburn, his kitchen is one of the few using the method. The Atlanta native discovered his passion for food as a youngster grilling at his father's side, making him a great fit for the restaurant. He worked in kitchens as a teen, graduated from the Charleston campus of Johnson & Wales University, and went on to work under such notable chefs as Paul Albrecht of Paul's in Atlanta and Frank Lee of Slightly North of Broad in Charleston.
Eager to sample the kitchen's trademark charcoal flair, we ordered a few snacks that included the top-selling, buttermilk-brined chicken wings—the spicy, coal-driven aroma of which made everyone at the table a believer before a single bite was taken. The tuna tartare tostadas showcased fresh, sweet bites of tuna enlivened with a touch of heat from harissa and nutty sesame oil on a taro chip that held its crisp texture through the evening.
Salads were very fresh and satisfying: my dish was topped with the crunchiest fried chicken I've ever tasted and loaded with bacon, avocado, blue cheese and the earthy surprise of baby butter beans, all lightly finished with green goddess dressing.
A charcoal grilled salmon salad combined quinoa with baby lettuces, tomatoes and toasted cashews splashed with a citrus vinaigrette. The dish, ordered without the salmon, became vegan and equally satisfying.
Other meat-free offerings include a vegetable platter of pickled and fresh vegetables, smoked butter bean hummus and curried squash butter served with grilled bread. A veggie burger—deemed among the best—came off the charcoal grill with a crunchy bite to the lentil, mushroom and toothsome rice patty.
The mouthwatering red-eye burger was perfectly grilled, crowned with a lightly fried egg and spiced up with sriracha mayonnaise and apple smoked bacon. The bar's wide array of draft beers presented ample choices for a perfect pairing.
"We like supporting the local craft beer scene," notes Creger. "We also offer some interesting brews available by bottle and can."
Classic milkshakes served in old-school fountain glasses are popular among both the young and young at heart. Or add a ration of Stoli or Jagermiester to transform your virgin drink into a respectable adult beverage.
Asked about plans for the future, Creger expanded on "some exciting new offerings" to help maintain the eatery's place in the Charleston culinary scene while staying true to what customers love. Marshburn divulged plans to bring back the beloved grilled kabobs.
And keep an eye out for the Food Truck-O-Rama—Rutledge Cab's plan for a full scale hub designed to bring Charleston's best food trucks to the neighborhood—complete with a scheduling calendar and creature comforts like seating and yes, adult beverages.
Rutledge Cab Co.
1300 Rutledge Ave., Charleston
843-720-1440
rutledgecabco.com