Love is in the fare
02 Jan 2019
Looking for the perfect dining spot to cultivate romance or simply enjoy a good friend's company? Amorous vibes and mouth-watering menu options are right around the corner—there is no shortage of date night hangouts around town. From the upscale eatery offering a three-course meal to the laid-back neighborhood restaurant hideout for two, there's a table with you and your loved one's names on it.
BY JENNA-LEY HARRISON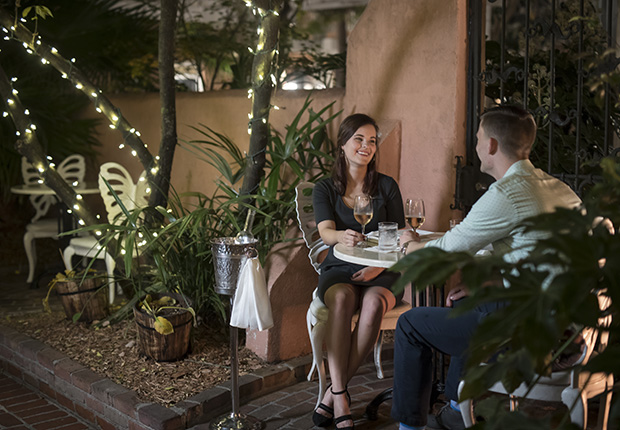 82 Queen
This historic dining spot will fan the flames of romance as you and your date cozy up, perhaps at a courtyard table beside a Magnolia tree. Feast on Southern staples, fresh seafood or weekend brunch in a quaint setting where your taste buds will tingle with excitement over comfort food and bar favorites, including the unique Old Bay seasoned Bloody Mary. Hurry up and book a spot to see why the menu and customer service make this downtown Charleston eatery a premiere pick for an intimate Valentine's Day. 843-723-7591, 82queen.com
Carmella's
Satisfy your post-dinner sweet tooth with a gourmet treat made fresh daily inside this East Bay Street locale. One of Charleston's choice spots for dessert and wine—more than 300 labels available—doesn't disappoint, whether it's a cool bite (like a scoop of gelato) customers crave; or a warm pastry shared among two lovers. The Carmella's experience is one sure to tempt patrons to return. Try also the tiramisu cake, sorbet and cannoli, perfect for nibbling next to a cup of hot coffee or a hand-crafted cocktail. 843-722-5893, carmellasdessertbar.com.
Chez Nous
European-inspired fare is served inside this cozy neighborhood retreat, where the menu—sourced from local ingredients—changes daily, always giving customers two different options each of appetizers, entrees and desserts. Think seafood, meat, salad and all the staple dinner foods you crave. Pop in Tuesday through Sunday to unwind with your favorite human in a simple but elegant hangout, a charming two-story cottage that serves as the perfect hideaway for doting on your date. 843-579-3060, cheznouschs.com
Circa 1886
It's like stepping back in time when dining inside this carriage house-turned-eatery, offering more than 300 wine labels for you and your sweetie to toast to love. From the large, cozy booths to the eye-catching décor, it's evident that comfort and class are top priorities here. So is taste—the kitchen boasts a wood-burning stove for cooking up flavorful eats, using local and seasonal ingredients. While the site's been renovated, it's still partly preserved from its days as the 19th-century Wentworth mansion—its hardwood flooring is still original. 843-853-7828, circa1886.com
The Fat Hen
Head to this cozy Johns Island cottage-like café to hold hands over a Sunday morning brunch—crème brulee French toast and eggs benedict on the menu—or smooch at a corner table during a celebratory evening dinner. This kitchen specializes in putting a touch of French flavor on Lowcountry staples like braised short ribs in veal broth, barbecue-roasted duck, crab cake, meatloaf or the ever-popular simple, Southern eat—fried green tomatoes. 843-559-9090, thefathen.com
Grill 225
Whether dating your spouse or impressing a blind date, look no further than this posh dining spot—housed inside Charleston's Market Pavilion Hotel—to create a memorable evening sure to end in a lip-lock. Kick-start your dining experience with the bar's unique "Nitrotine" cocktail, sure to make the heat rise between any couple. Order up two sizzling steaks or a plate of red snapper or oysters, and you'll quickly find out why this eatery received a top award from Travel & Leisure Magazine. 843-266-4222, marketpavilion.com/grill225.com
Hall's Chophouse
Go simultaneously goo-goo over your date and a thick cut of succulent steak at this upscale date-night locale, where live piano music and low lighting help contribute to an endless array of amorous vibes. Find all your favorite bar drinks, Southern staple side dishes, raw seafood items, entrees and decadent desserts—does whiskey bread pudding make you salivate? Besides filet mignon and prime rib, try the veal or duck. But the menu options don't end there, so reserve a seat soon—they fill up fast. 843-727-0090, hallschophouse.com
Husk
At the heart of this popular Queen Street kitchen, housed inside a restored Victorian-era home, you'll find a large, wood-fired oven and a culinary team preparing dishes with only the region's most indigenous ingredients. Here, it's all about the South and its rural ways—heirloom husbandry and seed-saving. Also find in-house pickling and charcuterie. In between romantic toasts to love, you and your partner will enjoy indulging in satisfying soul fare like deviled eggs, okra stew and fried chicken skins, sure to satisfy your hunger. 843-577-2500, huskrestaurant.com.
Magnolias
Slide into that killer black dress and grab your lover's hand as he sweeps you off your feet with an upscale, Southern cuisine date at this East Bay Street dinner destination—serving the area nearly two decades. Start your dining experience with cornmeal fried oysters or housemade pimento cheese, then share a bottle of wine over an entrée of seared salmon or braised short ribs. But don't request the check without trying out the cream cheese pecan brownie or hot chocolate cheesecake. 843-577-7771, magnoliascharleston.com
Old Village Post House Inn
Plan that much-needed stay-cation for you and your partner at this Mt. Pleasant inn, where passion is sure to erupt. Every detail of your stay will be an unforgettable experience—from a private dining room meal to an outdoor patio lunch or brunch, you'll be gazing into each other's eyes wondering why you didn't book a room sooner. Raise your glasses of blood orange mimosas and toast to a cozy weekend of love. For dinner, find a menu stocked with fresh taste—from fresh crab-crusted salmon to tender filet mignon. 843-388-8935, oldvillageposthouseinn.com
Peninsula Grill
In the heart of Charleston's historic district lies a relaxing retreat—dubbed the "crown jewel" of the Holy City's dining scene—calling you and you loved one to unwind. Reserve a seat inside—perhaps next to the champagne bar, which serves up seafood faves—or in the picturesque outdoor courtyard, where the blend of towering trees and soft carriage lanterns' light will surely put you in an affectionate mood. Feast on a filet then fork up bites of the eatery's most popular dessert: the 12-layer, "ultimate" coconut cake. 843-723-0700, peninsulagrill.com
Oscar's of Summerville
Cruise on over to Flowertown to find a fancy but unpretentious hangout that's been a Summerville staple for more than three decades. The family-owned operation offers a variety of seating options, from laid-back spots at the full-service bar to private dining for a more romantic experience. Feast on posh, filling dishes like braised lamb shank; or choose to rekindle the spark in a more hands-on fashion, munching on chipotle barbecue nachos and other pub fare on the menu. 843-871-3800, oscarsofsummerville.com
Red Drum
Dine in style at this sophisticated Mt. Pleasant hangout, open daily and specializing in Southwestern eats—with a genteel twist. Whet your appetite with a house-smoked salmon dip or flavorful tortilla soup, before getting your hands on an upscale burger, taco or sandwich. Or maybe split a signature plate, pan-seared sea scallops or double enchilada, with a loved one before diving fork first into a housemade pastry—chocolate ganache torte or warm toffee pecan cake—paired with cup of coffee or a glass of dessert wine. 843-849-0313, reddrumrestaurant.com
Slightly North of Broad (SNOB)
Operated by one of the Lowcountry's top food industry names, the Hall family, this downtown Charleston restaurant, often referred to as "SNOB," offers top-notch hospitality and class, along with a touch of history—the location once a warehouse dating back to the 18th century. Whether stopping in for lunch, dinner or brunch, you can be sure the kitchen is utilizing local ingredients to create delectable dishes, like the tuna tartare, duck breast and swordfish. Don't forget to order up one of bar's unique hand-crafted cocktails—the SNOB "house punch" and honey-infused bourbon "barn raiser" both hits. 843-723-3424, snobcharleston.com
Trattoria Lucca
One of the country's top pasta-making chefs—also a sommelier—makes this kitchen a hotspot for Southern Italian wine and hand-crafted noodles, made fresh daily. Customers flock to this Elliotsborough neighborhood food refuge for authentic eats reminiscent of the boot-shaped Motherland—the menu not lacking non-pasta fare like seafood and other meat entrees. Only the freshest, most local ingredients from the Holy City and surrounding Lowcountry region comprise dishes. Patrons will also find relaxing, community-style seating and soft pillows to rest against. 843.973.3323, luccacharleston.com
Wild Olive
Are you and your significant other counting calories? Make a date night reservation at this green-eating Johns Island establishment and you won't break the diet. You'll also discover top-notch Italian cuisine cooked in the state's first-ever environmentally-friendly eatery. The staff also boasts a certified wine specialist to help pair any dish with the best bottle of wine. Whether it's classic pasta dishes or seafood you crave, give Wild Olive a shot at wowing your taste buds and helping reignite the romance from your days of youthful courtship. 843-737-4177, wildoliverestaurant.com