Rappahannock Oyster Bar
02 Jan 2019
A new breed of restaurateurs delivers dishes fresh from the sea
BY WENDY SWAT SNYDER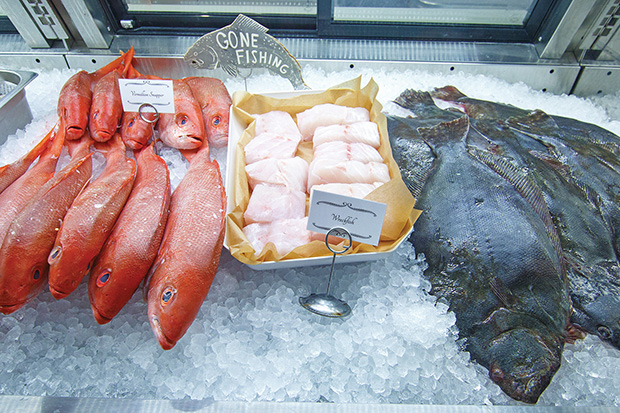 A stone's throw from Charleston Harbor on East Bay Street, the sprawling Cigar Factory reopened to the public in 2015 after an ambitious historic restoration. It's hard to imagine a more suitable home for a restaurant that takes its seafood as seriously as Rappahannock Oyster Bar. Anchoring the north end of the re-imagined 19th century complex, the restaurant and building share similar ideals: Conservation, sustainability and renewability drive the family-owned business as much as putting great fish on a plate. Rappahannock strives to be a place to celebrate "good food, grown well," and all the people who make it happen.
"We wanted to work directly with local fishermen for the highest quality product," explains Rappahannock general manager Kyle Anderson. "So we got a purveyor license from the state that enables us to buy directly from them, which cuts out a couple of days handling time. It's the freshest fish you're going to eat—ours was in the water yesterday."
The restaurant is an offshoot of Virginia-based Rappahannock Oyster Co. Owners Ryan and Travis Croxton took over the family oyster farm in 2001 in an effort to help revive the Chesapeake Bay's once thriving industry. The native bay oyster had become all but extinct due to over-fishing, inspiring the two cousins to dive into the business of aquaculture. Together with a team of like-minded locals, they refined an innovative technique called off-bottom aquaculture to restore the embattled bivalve and depleted river floor.
By 2011, Virginia had regained its position as a leader in East Coast oyster production. That's when the team made the move into hospitality with the opening of Merroir in Topping Va., overlooking the now oyster-rich Rappahannock River. Six restaurants later, the Rappahannock concept—and family philosophy—can be found throughout the mid-Atlantic region, in South Carolina and on the West Coast.
"When I first met Ryan and Travis and learned about how they grow their oysters—they're building blocks for aqua culture—I was impressed," notes Anderson, a sustainable seafood advocate whose credentials include a stint at the acclaimed McCrady's Tavern in Charleston.
"It's the way they do everything throughout the company, using local sustainable products and containers at all their locations—it's that kind of quality that drives the company."
Rappahannock executive chef Kevin KellyTK concurs. "I started at the company's Washington, D.C., raw bar part time," he explains. "When the chef left, they offered me the position. I really liked what they were doing, farming oysters in Virginia. I spent four years as head chef, and when they said they're looking at Charleston, I jumped at the chance."
The Le Cordon Bleu-trained chef worked in a Florida fish market while in school, and hails from a swordfishing family which has among its credits a sport fishing magazine and television show. After culinary school, he went on to work for Michael Mina, a California chef/ restaurateur with multiple restaurants around the country.
Kelly adds that just prior to making the move to D.C. he assisted with the opening of a seaside restaurant owned by Michelle Bernstein, a renowned Florida-based chef.
The build out of the Rappahannock restaurant space was a reflection of the family philosophy of preservation, with a plan to that respected the original architecture of the Cigar Factory.
NCIDQ-certified interior designer Sydney Kerschen of Sydney Kerschen Interiors was brought on board for the project to help re-imagine the 4,000-plus square foot space.
"We wanted to leave the historic structure mostly untouched," says Anderson. "The architectural design really shows off the building, as opposed to sheet rocking over everything."
Old Charleston brick, original beams and a gleaming HVAC system were left exposed to achieve the industrial ambiance that is a Rappahannock trademark. Guests are greeted at the entryway by a centerpiece wall that pays homage to the family lineage of fishers with a large display of old black and white framed photographs.
The dining areas are awash in soft lighting, and distressed-wood furnishings create a warm rustic vibe. A stunning copper-top bar adds a classic touch and seating for 40 in addition to outside dining options.
The night in late November my guest and I visited Rappahannock we parked for free in a generous lot at the Cigar Factory property. Inside an inviting entryway we found a small fresh seafood market featuring fish caught in waters off the Carolinas and Georgia, and a selection of shellfish and Chesapeake Bay oysters for purchase.
We wasted no time launching into a delightful sampler that ranged from buttery sweet half-shells to briny and salty, but not before our knowledgeable server explained the merroir—origin and flavor—of each oyster. Included were bivalves from the Rappahannock River and locals from Lady's Island. She also recommended a refreshing aperitif composed of pamplemousse liqueur, champagne and lemon created expressly to complement the oysters.
Next, we sampled a hearty oyster stew with rich flavor developed by emulsifying Rappahannock's Old Salt oysters in a cream base. House cured tasso ham and plump whole oysters completed the satisfying dish.
Nicely seared U-10 dayboat scallops from Bedford, Massachusetts, followed, plated with local
butternut squash puree and Brussels sprouts, plus a few Clammer Dave's littlenecks. The Japanese flavors Kelly says he enjoys kicked in with a spicy XO sauce made from dehydrated shrimp and scallops, and Fresno peppers.
Our entree of grilled wreckfish matched the superior quality of the mollusks and then some. Sustainably caught off Folly Beach, it was plated in a richly flavored dashi broth with buttery shiitake mushrooms and smokey bok choy.
The final dish of charred octopus from Portugal was quite tender thanks to an overnight marinate. It floated on a light poblano romesco sauce and was finished with the house "Carolina BBQ" vinaigrette and garlic aioli. The accompanying johnny cake panisse, made with Geechie Boy grits, was crispy on the outside and tender within. Assistant general manager Megan Garvey thoughtfully recommended a Reserva Cabernet Sauvignon from Argentina that paired perfectly with the cephalopod.
Kelly says that going forward, the kitchen will be rolling out a tasting menu so guests "can sample pretty much the whole menu." An experience similar to ours, which we highly recommend to get an exceptional taste of "good food, grown well."
701 East Bay St.
843-576-4693
rroysters.com/restaurants